These vegan breakfast recipes have everything! From long and luxurious brunch ideas to quick and easy, out the door weekday favorites - breakfast is served!
breakfast recipe collection originally published March 19, 2012
Vegan Breakfast Recipes
Wow, this month snuck up on me.
September is one of my favorite months, for several reasons. Birthdays, anniversary, I love what fall smells like, cool weather. The list goes on.
This year, I add a new reason to that list: September is NATIONAL BREAKFAST MONTH, y'all.
...and if we're talking about favorites - many of you probably already know that breakfast is probably my favorite meal of the day. I definitely love to create new breakfast recipes, and have so many ideas I still have not shared here. I need more hours in the day...
We are currently out of town again, so while I cannot make any of these new breakfast recipes for you just yet, I am still finding amazing breakfast in another city.
This list of Vegan Breakfast Recipes has enough inspiration to celebrate all month long.
Quick Easy Weekday or Long Lazy Brunch
Breakfast is the most important meal of the day, right? How many of you operate with that sort of thinking? I think my bigger meals are definitely breakfast and lunch, and by dinner I am happy to eat something small. and light.
I also generally eat dinner pretty early.
but that is usually because I eat breakfast pretty early! I am up early, I have my lemon water / BCAA / tea / coffee... then an hour or so later? Breakfast. Like, around 6:am.
Most of the things I enjoy for weekday breakfasts are included in this Vegan Breakfast Recipe Collection. Quick, easy recipes like chia pudding, oats, maybe even a quick flip of a pancake if my schedule allows for that sort of fun.
This collection also includes the more involved deliciousness. The comfort food classics that take a little longer, for those lazy weekends and brunches with friends.
There's even a breakfast salad!
Vegan Breakfast Recipe Collection
from weekend brunch ideas to quick and easy, weekday favorites – breakfast is served! whatever you are craving or have time for, please enjoy some of our favorite recipes to wake up to.
...which will you try first?
about Kristina: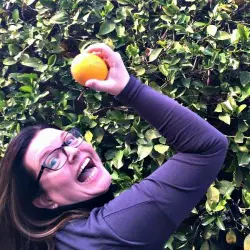 Kristina is spabettie! She found cooking at an early age, and created spabettie in 2010 to share vegan recipes. Kristina turned her culinary training into sharing vibrant vegan food! Read more...
spabettie / Kristina Sloggett is a participant in the Amazon Services LLC Associates Program, an affiliate advertising program designed to provide a means for sites to earn advertising fees by advertising and linking to Amazon.com.