These gluten free vegan burritos are filled with a variety of tasty ingredients, from beans and rice to all kinds of veggies, sauces and proteins.
Gluten Free Vegan Burritos
Burritos are quite possibly the perfect choice for breakfast, lunch, and dinner.
As a kid, equipped with a microwave, tortillas and various ingredients found in the pantry, I could easily make a burrito unassisted. I am pretty sure that hungry kid brain is where I started to experiment with more interesting food combinations and learned just how much I love cooking.
This vegan burrito collection truly has something for everyone - from colorful fresh veggies to a BBQ mac and cheese! Pure comfort food in a portable hand held tortilla tube - the perfect food!
Have you made one of these burritos?
Follow spabettie on Instagram and tag us with #spabettie
We love seeing your recipe photos and remakes - thank you!
Vegan Burritos
Burritos are the ultimate hand held comfort food! This vegan burrito recipe collection has a flavor for everyone, from cheesy to spicy to vegan bacon wrapped!
about Kristina: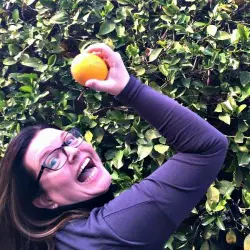 Kristina is spabettie! She found cooking at an early age, and created spabettie in 2010 to share vegan recipes. Kristina turned her culinary training into sharing vibrant vegan food! Read more...
spabettie / Kristina Sloggett is a participant in the Amazon Services LLC Associates Program, an affiliate advertising program designed to provide a means for sites to earn advertising fees by advertising and linking to Amazon.com.