Vegan Air Fryer Buffalo Cauliflower – tangy and spicy, this quick and easy recipe is essential to any game day, happy hour party, or random Thursday.
want more? see: Air Fryer Recipe Collection
Vegan Air Fryer Buffalo Cauliflower
It is no secret that cauliflower is one of my favorite veggies, especially lately.
Also no secret that I love spicy, and everything buffalo sauced.
This quick and easy recipe could not be tastier – definitely one to wow guests at your next party, BBQ, or random Thursday.
I'd probably go ahead and plan for a double batch.
At least.
Air Fryer Recipes
After literally years of contemplating an air fryer, I finally decided to add yet another appliance to my kitchen. Our air fryer has a permanent spot on our counter, and Jason uses it just as much as I do! We love this thing and the endless air fried goodness it brings.
Well, I know someone who uses their multiple air fryers way more than we do! My dear friend JL is equally excited about air frying. So much so, her latest cookbook is all about The Vegan Air Fryer.
In just a week on the shelves, JL's book has quickly escalated throughout our vegan community – she has a Vegan Air Frying Enthusiasts group on Facebook – a great resource and lots of fun.
Air Fryer Cookbook
This book itself is a great resource, whether you are a novice contemplating your own first air fryer, or already have one and use it regularly. Air frying allows for healthier "fried" foods using little to no oil – so even if you prefer no oil, most of the recipes here have a no oil option.
From vegetable dumplings and jalapeño poppers to fajitas and grilled cheese sandwiches, the recipes in The Vegan Air Fryer are approachable and crispy tasty. It is clear JL loves to create, loves her air fryers, and is well researched.
If you are interested in learning more and even meeting JL herself, check out her Vegan Air Fryer Book Tour to see if she will be near you – I can promise you will have a great time for sure!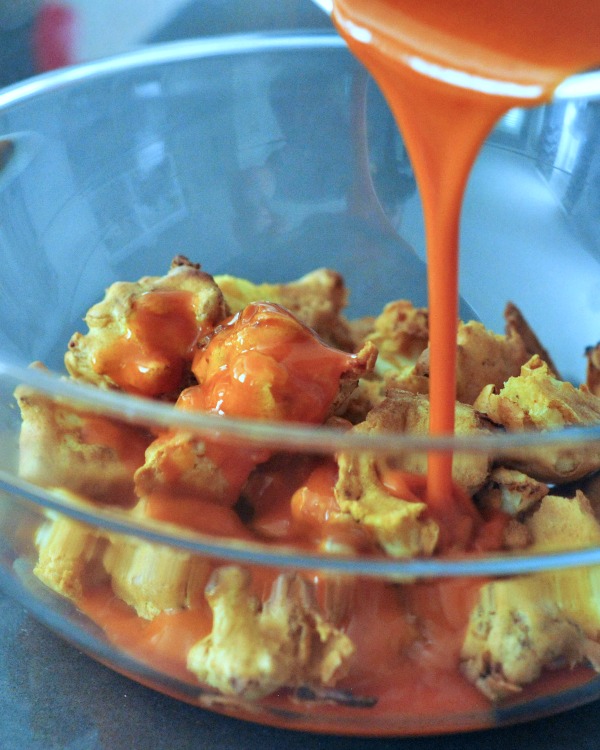 Note: this recipe below is printed just as the original appears in JL's book. I used cashew milk (because it is what I generally have in my kitchen), and gluten free all purpose flour (again, all I have), making mine soy and gluten free as well. The result was great!
Also, in place of oil, I used these Non Stick Perforated Parchment Air Fryer Liners – great for battered recipes like this!
We dipped these in Celery Ranch Dressing – perfect flavor pairing!
Vegan Air Fryer Buffalo Cauliflower recipe reprinted with permission from The Vegan Air Fryer, copyright © 2017 by JL Fields.
Yield: 4 servings
Vegan Air Fryer Buffalo Cauliflower
Vegan Air Fryer Buffalo Cauliflower - tangy and spicy, this quick and easy recipe is essential to any game day, happy hour party, or random Thursday.
Ingredients
1 large head cauliflower
1/4 teaspoon dried chipotle chile flakes
1 cup soy milk
canola oil spray
2 tablespoons nondairy butter
2 cloves garlic, minced
Instructions
Cut the cauliflower into bite-size pieces. Rinse and drain the cauliflower pieces.
Combine the flour, bouillon granules, cayenne, chili powder, paprika, and chipotle flakes in a large bowl. Slowly whisk in the milk until a thick batter is formed.
Spray the air fryer basket with canola oil and preheat the air fryer to 390°F for 10 minutes.
While the air fryer is preheating, toss the cauliflower in the batter. Transfer the battered cauliflower to the air fryer basket. Cook for 20 minutes on 390°F. Using tongs, turn the cauliflower pieces at 10 minutes (don't be alarmed if they stick).
After turning the cauliflower, heat the butter, hot sauce, and garlic in a small saucepan over medium high heat. Bring the mixture to a boil, reduce the heat to simmer, and cover.
Once the cauliflower is cooked, transfer it to a large bowl. Pour the sauce over the cauliflower and toss gently with tongs. Serve immediately.
Notes
*gluten free: I have used both gluten free all purpose flour, and gluten free rice flour.
**oil free: use parchment like these Non Stick Perforated Parchment Air Fryer Liners, and omit the butter from the hot sauce mixture.
***soy free: use an alternative milk - hemp, cashew, almond, rice.
Nutrition Information:
Yield:
4
Serving Size:
1 cup
Amount Per Serving:
Calories:

191
Total Fat:

13g
Saturated Fat:

4g
Trans Fat:

0g
Unsaturated Fat:

6g
Cholesterol:

0mg
Sodium:

230mg
Carbohydrates:

2g
Fiber:

8g
Sugar:

8g
Protein:

13g
nutrition calculations results vary by calculator, are for informational purposes only, and are not intended to replace medical advice or treatment.
Try AmazonFresh Free Trial
for Unlimited Grocery Delivery – add these recipe ingredients to your list. use code FRESH25 for a $25 off discount on your first AmazonFresh order!
about Kristina: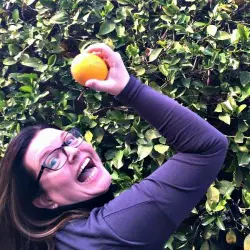 Kristina is spabettie! She discovered a love of cooking at an early age, and founded spabettie in 2010 to share vegan recipes. As the sole recipe developer and photographer, Kristina turned her culinary training into sharing flavorful and vibrant vegan food! She loves dachshunds, karaoke, drums, and travel.
spabettie / Kristina Sloggett is a participant in the Amazon Services LLC Associates Program, an affiliate advertising program designed to provide a means for sites to earn advertising fees by advertising and linking to Amazon.com.