Vegan Goat Cheese Recipe - incredibly flavorful and versatile, this cheese is straightforward, easy, and one you will make again and again!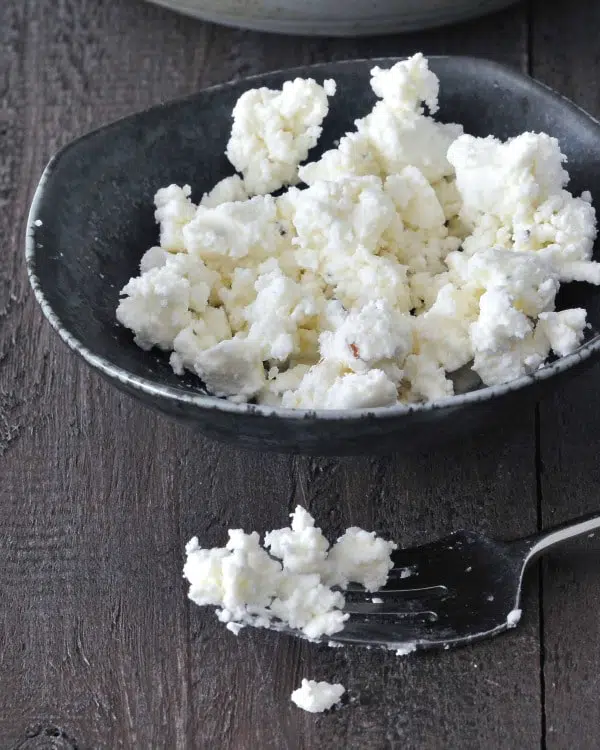 Vegan Goat Cheese Recipe
In the Vegan Fusion class earlier this summer, one of the components in the raw and live phase was culturing. We learned about, made and drank Rejuvelac. We made cultured plant cheeses, as well as raw elixirs, sauerkraut and kimchi. Everything was outstanding, and it was very exciting for me.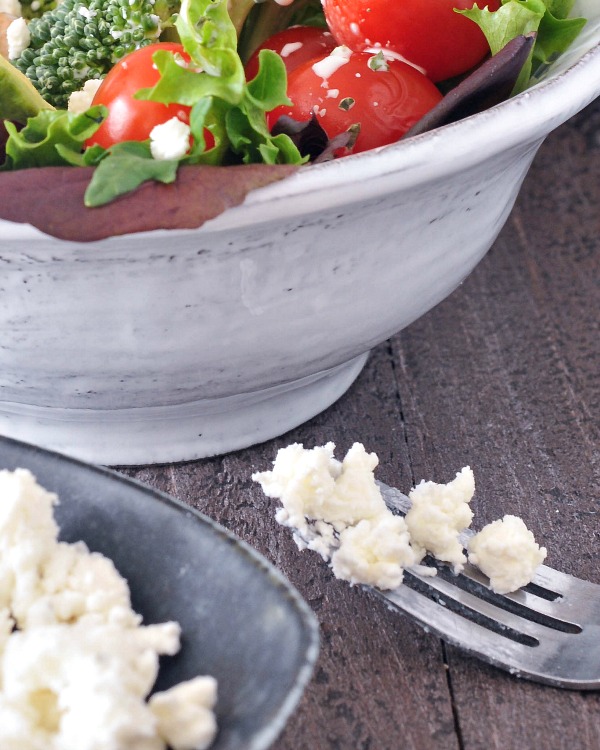 I have always been nervous about attempting any culturing or fermenting at home. After some hands on learning and creating, a cultured cheese was one of the first things I knew I'd try at home - one with tangy flavors of goat cheese.
When cultured, a plant cheese will have a tangy flavor, as well as all the benefits of a live food - nutritionally rich and containing beneficial bacteria.
I based my culturing process on the method we learned in class:
1) Soak nuts in water for several hours.
2) Blend nuts with liquid (in class we blended with water - for this recipe I used apple cider vinegar).
3) Transfer to a sanitized glass jar, covering and leaving in a dark warm cupboard overnight.
In class the next day, we added some fresh herbs to the cultured cheese - at this point you can add whatever flavors you want.
For my 'goat' cheese, I kept the flavor additions simple - some lemon juice for tart acidity, and a bit of salt.
This tastes surprisingly similar to traditional goat cheese, and the consistency is both creamy and crumbly. It is perfect on a beet salad, in a cherry tart, or simply spread on a crisp cracker. The pairings and the flavor possibilities are endless!
*update: A bunch of readers have successfully made and loved this recipe. a few have had varying results - great flavor with a creamy consistency, not crumbly. Sometimes my results are creamy too, more of a cream cheese, like this example here. I will then wrap in cheesecloth to strain another 12 hours or so - in the refrigerator - and can often achieve the crumbly consistency then. Literally piecing it apart with a fork is how I get it to crumble.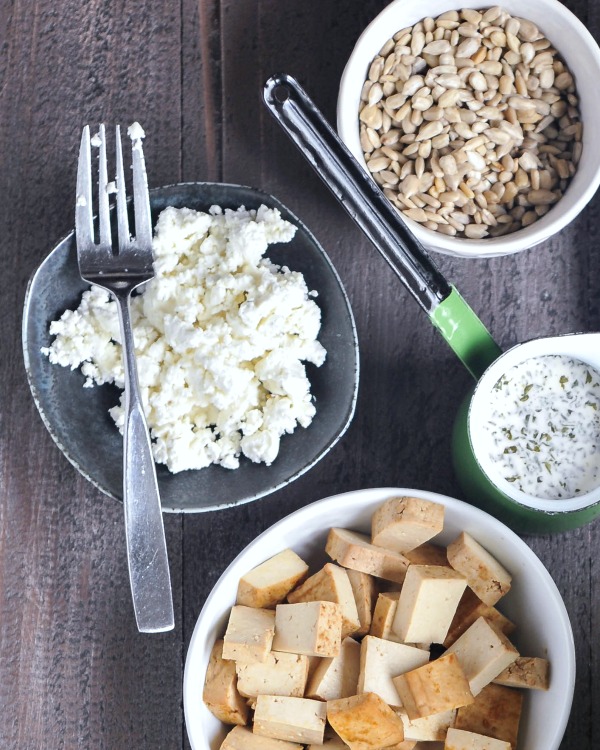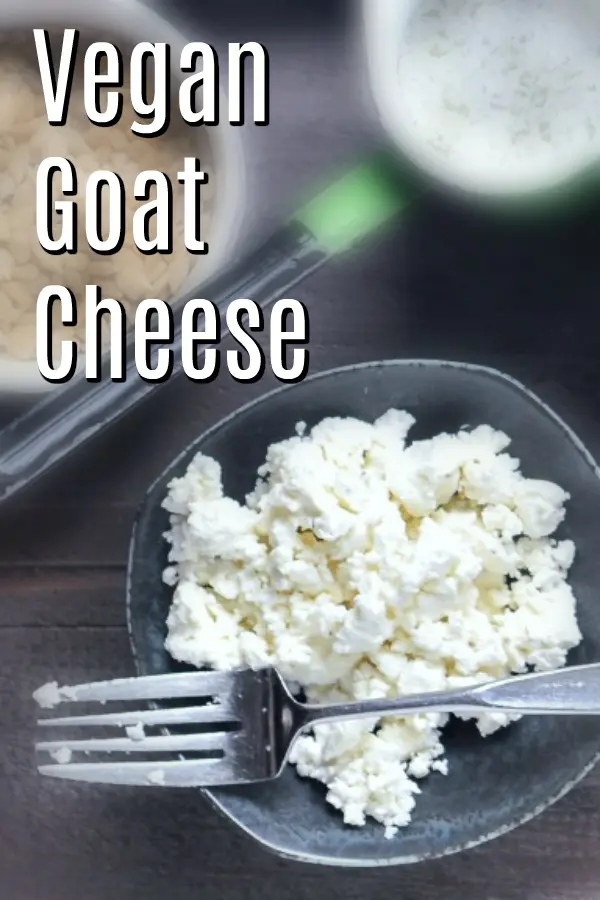 recipes using this Vegan Goat Cheese Recipe:
Maple Roasted Beet Salad with Vegan Goat Cheese
Cherry Goat Cheese Rustic Tarts
Vegan Goat Cheese Bacon Wrapped Dates
Lemon Caper Pasta with Goat Cheese Croutons
Roasted Red Pepper Goat Cheese Dip
Dijon Apricot Goat Cheese Stuffed Squash Blossoms
Lavender Date Goat Cheese Hand Pies
Apricot Goat Cheese on Fig Crisps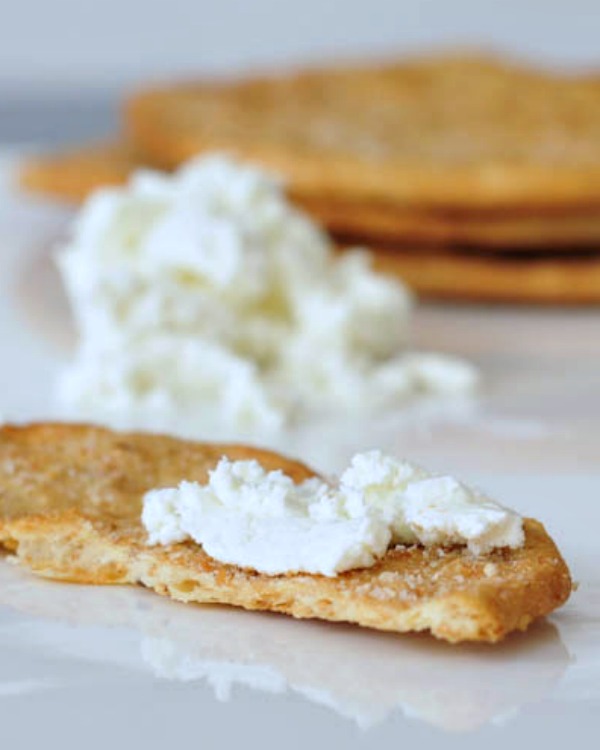 printable Vegan Goat Cheese Recipe:
Yield: 1 cup
Vegan Goat Cheese Recipe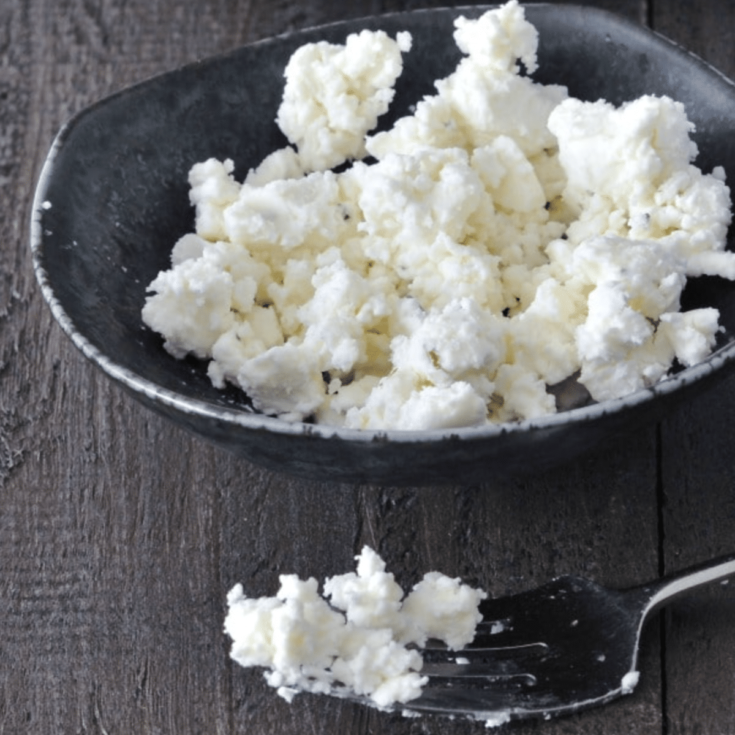 Vegan goat cheese is incredibly flavorful and versatile. This recipe is straightforward, easy, and one you will make again and again!
Total Time
2 hours
5 minutes
Instructions
In food processor or high speed blender, combine soaked cashews, vinegar, lemon juice, contents of probiotic capsule, and water. Blend until smooth.
Transfer to a sterilized glass jar. Cover with plastic wrap and secure with rubber band.
Cover/wrap jar in a kitchen towel and leave in a room temperature place overnight.
Variations:
Add one tablespoon miso to the blended nuts prior to culturing.
Add a very small amount (1 tablespoon) soaked Irish moss after culturing, to make it more of a slice-able cheese. Read more about Irish moss here - vegan brie.
Mix in fresh herbs, garlic, sun dried tomatoes, jam or fruit to finished cheese.
Notes
basic culturing technique adapted from Vegan Fusion Immersion
dairy, soy, oil, and gluten free, vegan, cultured recipe
Recommended Products
As an Amazon Associate and member of other affiliate programs, I earn from qualifying purchases.
Nutrition Information:
Yield:
8
Serving Size:
2 tablespoons
Amount Per Serving:
Calories:

152
Total Fat:

10g
Saturated Fat:

2g
Trans Fat:

0g
Unsaturated Fat:

7g
Cholesterol:

0mg
Sodium:

135mg
Carbohydrates:

2g
Fiber:

1g
Sugar:

2g
Protein:

7g
nutrition calculations results vary by calculator, are for informational purposes only, and are not intended to replace medical advice or treatment.
Try AmazonFresh Free Trial
for Unlimited Grocery Delivery - add these recipe ingredients to your list and make your own Vegan Goat Cheese today!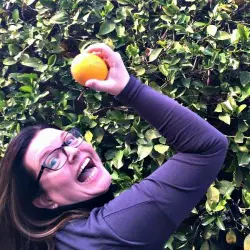 ABOUT KRISTINA: Kristina is spabettie! She founded spabettie in 2010 to share vegan recipes. As the sole recipe developer and photographer, Kristina turned her culinary training into the best way to spend her days - sharing just how flavorful and vibrant vegan food is! She loves dachshunds, Portland, Hawaii, drummers - well, one drummer - and travel.
spabettie / Kristina Sloggett is a participant in the Amazon Services LLC Associates Program, an affiliate advertising program designed to provide a means for sites to earn advertising fees by advertising and linking to Amazon.com.