The Original Vegan Spinach Pancake recipe! Learn how to make dye free green pancakes that can be sweet or savory, as a stack of pancakes or a sandwich.
recipe originally published June 7, 2010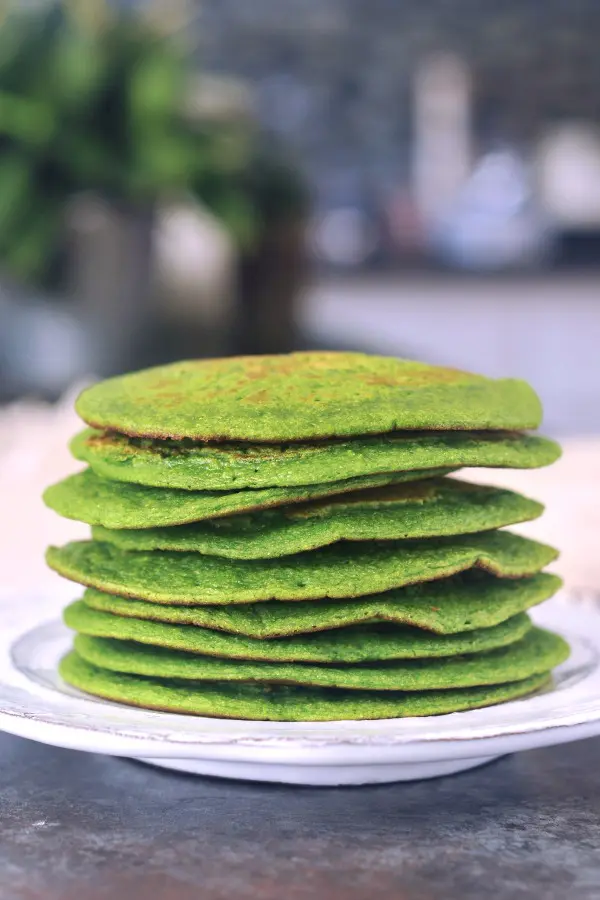 TABLE OF CONTENTS - Jump to any section:
Dye free green pancakes
These vegan green pancakes have long held the title as most popular pancake on spabettie. Loved by everyone with a whimsical side, those who love greens, and those looking for an alternative sandwich bread!
These naturally green pancakes are a super popular recipe all year long.
With spabettie readers, Green Pancakes are all the rage for St Patricks Day and Halloween.
This easy recipe has a super short and all natural ingredient list, making it a popular recipe for moms wanting their kids to eat more veggies. That fantastic green hue is not from dyes, it is from spinach!
Read the how to make green pancakes section for tips on getting that great green color.
Do spinach pancakes taste good?
Absolutely one hundred percent, spinach pancakes taste great! Spinach does not add much flavor. Whether you add savory spice or sweeten these pancakes, the spinach is not prominent at all. The neutral flavor of spinach makes these green pancakes versatile, whether as a savory sandwich or a sweet stack of pancakes.
Spinach just adds a beautiful and natural green color!
How to make green pancakes
These pancakes are quick to make! I combine the fresh spinach with the liquids in a blender - blend until completely smooth. I then sift the dry ingredients into a bowl, and slowly pour the spinach liquid into the dry - whisking continually.
To make these vegan spinach pancakes, the flax is the equivalent of an egg.
You can add a banana or sweetener to the pancake batter, or make savory with a pinch of salt, some minced garlic, fresh basil.
How do you keep the pancakes green? Low and slow! Very low temperatures and a bit of patience are all it takes for your spinach pancakes to be green rather than brown with slightly green edges.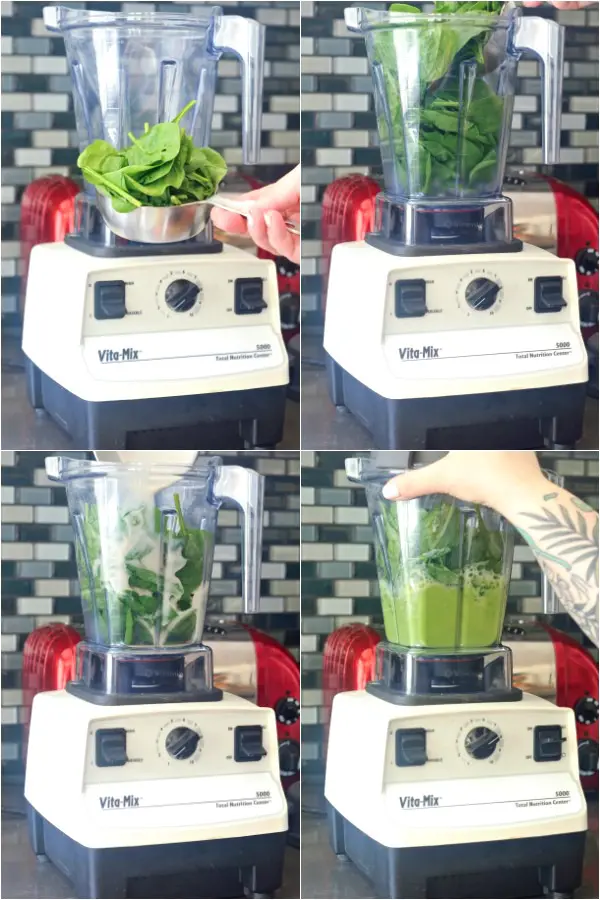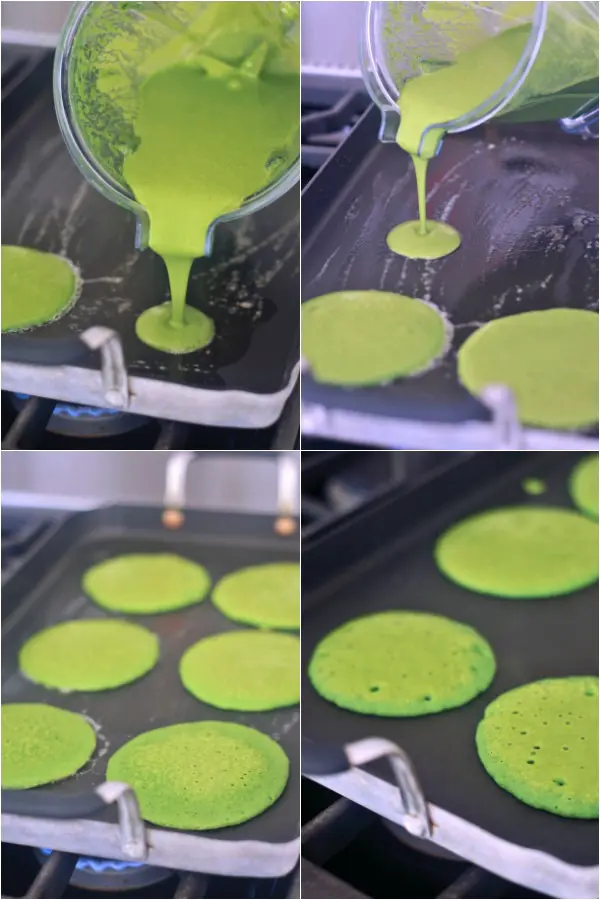 How to serve spinach pancakes
These gluten free vegan spinach pancakes make the best sandwich bread. We use these protein pancakes to make a more traditional 'deli style' sandwich, but this time it was simple but delicious.
This colorful sandwich is a colorful crunchy stack of red pepper hummus, greens, avocado, tomato, and pickled onion - a perfect sandwich full of fresh flavor.
You can sweeten the pancake batter (with a banana, maple syrup or your sugar preference), or enjoy as a savory stack or protein rich sandwich bread by adding minced garlic and sea salt to the batter.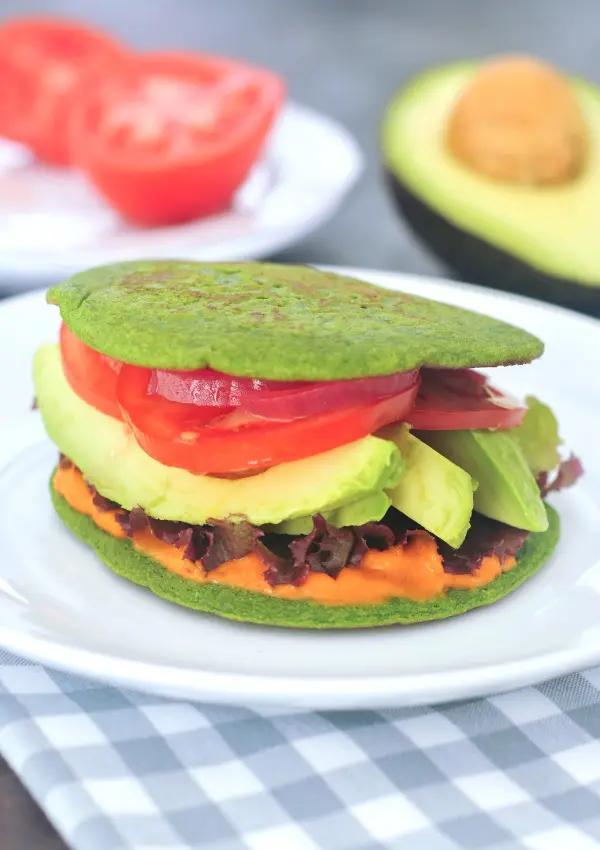 Make an epic breakfast sandwich
We use these spinach pancakes for sandwiches just as often as we enjoy them as a sweet green stack. Breakfast sandwiches are one of my favorites, and here's how I assemble one:
spinach pancake
vegan egg (scramble or Folded Egg)
ketchup
Green pancakes work well as bread for this Vegan Breakfast Sandwich, too. The ingredient combinations are endless.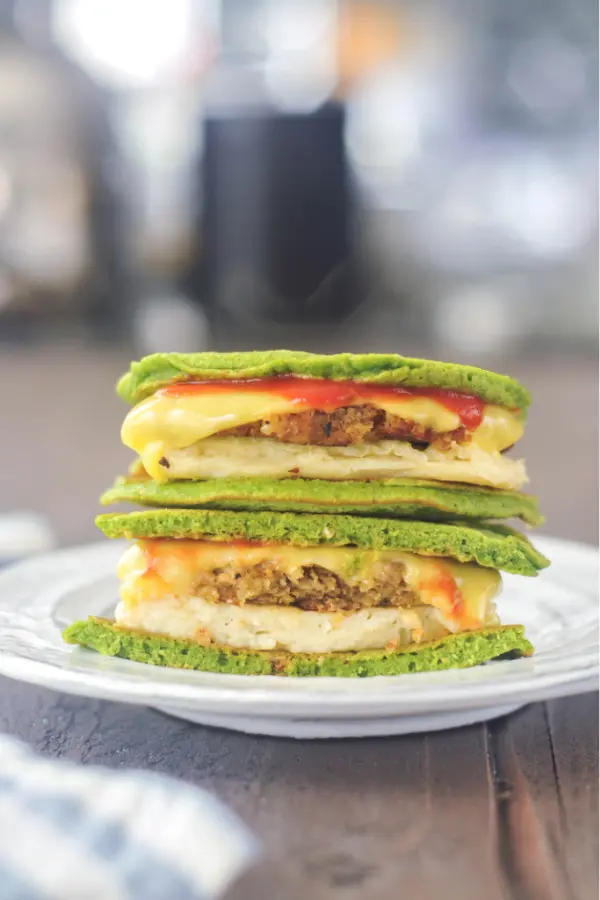 How long do spinach pancakes last? Storage tips
Spinach Pancakes will last a week in the fridge. Once they are completely cooled, tightly wrap the pancakes or store in a container with a sealing lid.
These pancakes can also be frozen if you are meal prepping for longer than one week. Separate each serving stack with parchment, tightly wrap and store in a sealing freezer bag. Use the frozen pancakes within 2 months.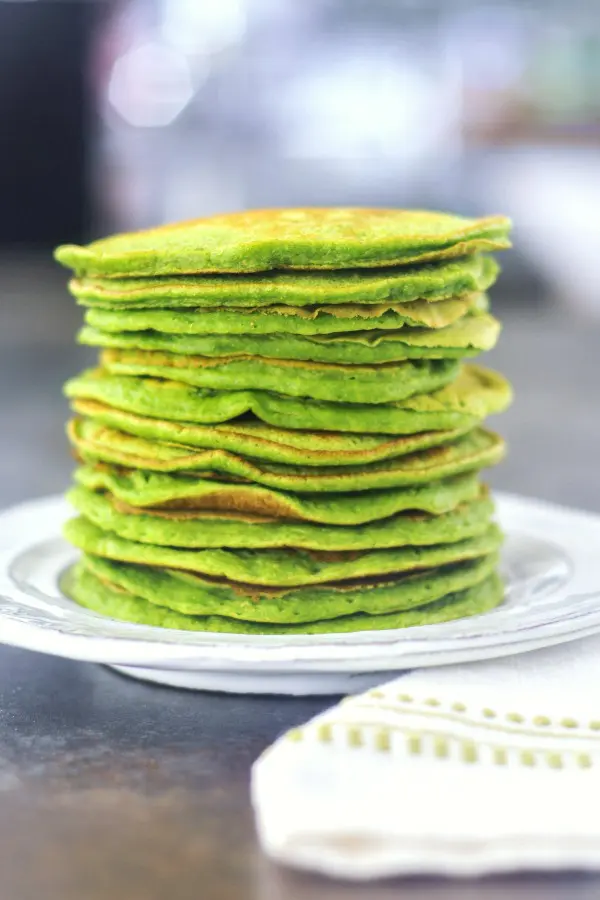 Reader favorite recipes
Just like our dye free green pancakes, these recipes are consistently at the top of the charts! Our readers love these, we hope you do too!
Air Fryer Buffalo Cauliflower: these tangy bites are a winner at every party! enjoy dipped in ranch, or stuff into a taco for a delicious dinner.
Crunchwrap Supreme: everyone's drive thru favorite is made at home, and vegan! see the recipe for step by step photos and folding instructions, and tips from years of making these.
Vegan Egg Salad: if you were an egg salad fan before going vegan, this has the taste and texture of the real thing! added edamame gives more protein, texture and color.
Vegan Cream Cheese: our go to cream cheese! quick and easy method lets you can customize the flavors! low carb and gluten free friendly recipe.
Best Vegan Mushroom Burgers: really. they are the best. they stand up to a slice down the middle without squishing out the sides, and the flavor is fantastic!
Oat Milk Ice Cream: so very rich and creamy, this delicious dark chocolate dessert is so easy to make, you'll want to make it every week!
Salt and Vinegar Crackers: a low carb, gluten free cracker! this super simple recipe gives you a crispy thin vehicle for all of your favorite dips.
Vegan Goat Cheese: another tasty recipe that I have made for years. each batch turns out different - some crumbly, some smooth and spreadable, always tasty!
Vegan Chicken Nuggets: years ago I made this gluten and soy free vegan chicken. these have been buffaloed, barbecued, and stuffed with (vegan) mozzarella!
Did you make these green pancakes?
Follow spabettie on Instagram and tag us with #spabettie
We love seeing your recipe photos and remakes - thank you!
Yield: 12 three inch pancakes
Spinach Pancakes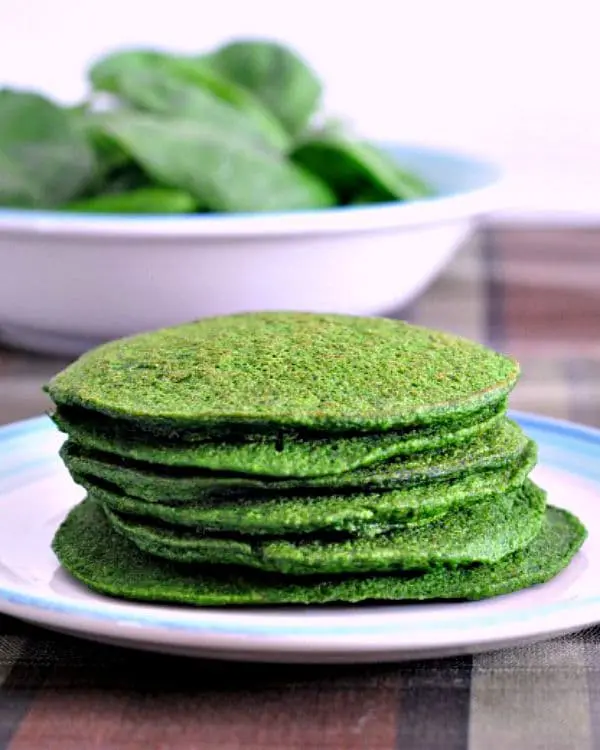 plant based and wildly vibrant green, you cannot even taste the spinach! sweeten these dye free green pancakes with maple syrup, or enjoy spinach pancakes as a savory stack or sandwich bread with some minced garlic and sea salt.
Instructions
In mixing bowl, whisk together flour, flax seed, baking powder, baking soda, and salt. Set aside.
In a blender jar, add spinach, milk, and lemon juice / acv. Blend at high speed until smooth, with no spinach pieces remaining.
Add spinach mixture to the dry ingredients. Fold together until just combined.
Place griddle on stovetop over medium low heat. (For a bright green pancake, low heat is better.) Add dairy free butter or oil.
Wait until butter is melted and griddle is heated to pour pancake batter (about a 3 inch circle). Wait for bubbles to appear before flipping.
Notes
dairy, egg, soy, oil, and gluten free, vegan
½ to ¾ cup milk: for thicker batter / pancakes, use less liquid. I prefer a thinner pancake / "bread" for sandwiches, so I use ¾ cup.
Tip: If you want savory and sweet Spinach Pancakes, make the neutral batter and use half of it for what will be a sweet stack. Then add savory flavor to the remaining batter for savory pancakes or sandwich bread. 
Spinach Pancakes will last a week in the fridge. Once they are cooled, tightly wrap the pancakes or store in a container with a sealing lid.
Recommended Products
As an Amazon Associate and member of other affiliate programs, I earn from qualifying purchases.
Nutrition Information:
Yield:
4
Serving Size:
3
Amount Per Serving:
Calories:

139
Total Fat:

3g
Saturated Fat:

0g
Trans Fat:

0g
Unsaturated Fat:

3g
Cholesterol:

0mg
Sodium:

149mg
Carbohydrates:

17g
Fiber:

7g
Sugar:

3g
Protein:

4g
nutrition calculations results vary by calculator, are for informational purposes only, and are not intended to replace medical advice or treatment.
about Kristina: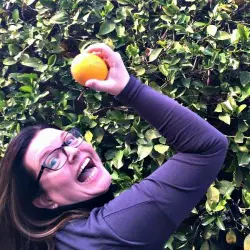 Kristina is spabettie! She found cooking at an early age, and created spabettie in 2010 to share vegan recipes. Kristina turned her culinary training into sharing vibrant vegan food! Read more...
spabettie / Kristina Sloggett is a participant in the Amazon Services LLC Associates Program, an affiliate advertising program designed to provide a means for sites to earn advertising fees by advertising and linking to Amazon.com.