this brunch perfect vegan Pumpkin Bread French Toast will be your new favorite – during the holidays and beyond! also: How To Make Vegan French Toast
recipe originally published November 8, 2014
TABLE OF CONTENTS
Pumpkin Bread French Toast
This French Toast recipe is one of our favorite ways to enjoy Pumpkin Bread… especially on cozy weekends during the holiday season! This works as a casual family breakfast and is also totally brunch worthy. It brings a whole new meaning to Pumpkin French Toast.
Quick Bread French Toast is nothing new here – our longtime readers might remember the Zucchini Bread French Toast of 2012.
The next year, our Savory Broccoli Cheddar French Toast stretched the rules in the best of ways. Mmm.
How Is French Toast Vegan?
Short answer? YES.
Traditional French Toast is made with an egg based custard. When I decided to stop eating eggs, French Toast was honestly one of the first things I knew I needed to replicate.
Early versions of my vegan French Toast custard involved silken tofu, which is still a great ingredient for this. See our Baileys and Black Tea French Toast recipe for that method.
Other custards use the commercial vegan egg products. While I have done this with great results, the vegan egg replacers are not something I always have on hand, while a shelf stable silken tofu is often sitting in my pantry. Another pantry staple that I use for custards is cashews – which is what we make the Pumpkin Bread French Toast with.
Easy ingredients we always have available. Perfect for those mornings I wake up with a craving that only French Toast will satisfy.
How To Make Vegan French Toast
Make the Pumpkin Bread Recipe ahead of time.
Slice the number of pieces you want for French Toast, and set aside.
Place your cashews and apple juice in a blender and blend until completely smooth.
Add the rest of your ingredients except the butter and pumpkin bread and mix well.
Dip pumpkin bread slices in the custard and place on a heated, buttered griddle,
Cook per instructions and enjoy!
Serve with maple syrup, nut butter, pumpkin caramel, or powdered sugar.
Tips For The Best Pumpkin Bread French Toast
Use pumpkin bread that is completely cool: if the bread is too warm, it could be a little too soft and could turn into a bit of a mushy mess when dipping it into liquid.
Substitute another liquid for the apple juice: use your favorite plant milk if you prefer.
Hot Griddle: always be sure that the griddle is heated before you even dip the French Toast slices, so they begin to caramelize and cook right away. Adding French Toast to a griddle that is not preheated might result in soggy slices…
How Do You Keep French Toast From Getting Soggy?
In my opinion, there's nothing good about a sad, soggy slice of French toast. I have a few tips to insure this doesn't happen to you.
A thicker toast and not too much liquid is the key to a perfect slice of French Toast. This is why pumpkin bread works so well when making French Toast. On its own, it's already thicker or denser, making it almost impervious to sogginess.
If using normal, sliced bread for French Toast, make a thicker custard that won't soak into the bread as quickly. Then dip the bread at the last minute, just before placing on the hot griddle.
Meal Prep / Make Ahead Recipe
There are two components of this Pumpkin Bread French Toast recipe, and they can both be made ahead for a super quick and easy breakfast – even on our busy weekdays.
The Cashew Custard takes about one minute to make. It makes a tasty sauce for so many things though, so I like to make it ahead or save any leftovers there might be.
I have made this recipe enough times that I can safely say there is rarely any leftover custard, and if there is, I simply pour it over the already cooked French toast for another coat, and flip again to cook. I learned that several layer French toast method from my Grandpa Z. He always made the best French toast. He is absolutely the reason I love it so much.
The other component to this Pumpkin Bread French Toast is the Pumpkin Bread itself! I recommend French toasting it after it is a few days old, if it lasts that long! The soft fluffy brand new pumpkin bread is equally delicious, though. Let it cool completely before using for French Toast.
Make a loaf or two a day or two before, and enjoy this warming breakfast this weekend!
Can French Toast Be Frozen? Storage Tips
Yes, French Toast can be frozen. Cool completely and wrap each piece individually, using plastic wrap or parchment. Store these wrapped pieces in a freezer safe container. Enjoy within 2 months.
French Toast can also be stored – covered in a sealed container – in the refrigerator for 2-3 days.
Reheating French Toast
We like to meal prep French Toast, and have a few ways to reheat it.
Defrost if frozen.
Arrange in a single layer on a parchment lined baking sheet and warm up in a 325 °F oven. Bake until warmed through and crispy, about 10 minutes.
French Toast can also be reheated in a buttered skillet on the stovetop. Cook on both sides for a few minutes, until warmed through.
An Air Fryer is one of our favorite ways to reheat leftovers, and it works for French Toast! Set to 370 °F for about 5 minutes, flipping halfway through.
Best Vegan Breakfast Recipes
If you love this recipe (and just love breakfast in general, like we do), then you will love these vegan breakfast and brunch recipes too!
Best Vegan Brunch Recipes
For mornings when you have more time, or proper brunch with friends!
Gluten Free Vegan French Toast
As if French Toast wasn't amazing already, this Pumpkin Bread French Toast will have you running for the breakfast table.
The spicy flavors of pumpkin and cinnamon come together in a toasty, soft dish that will make breakfast a huge success. Liven up the traditional French Toast recipe we all know and love with this delectable breakfast dish.
Did You Make This Pumpkin Bread French Toast Recipe?
Follow spabettie on Instagram and tag us with #spabettie
We love seeing your recipe photos and remakes – thank you!
Yield: 6-8 pieces, 3-4 servings
Pumpkin Bread French Toast
this brunch perfect Pumpkin Bread French Toast will be your new favorite – during the holidays and beyond! your comfort food breakfast cravings, sorted.
Ingredients
pinch sea salt
1-2 tablespoons vegan butter (soy free if needed)
Instructions
In high speed blender, combine cashews and apple juice / milk. Blend on highest power until completely smooth.
Add vanilla, cinnamon, and salt, blend until combined.
On large griddle over medium heat, melt butter.
Dip bread into cashew custard, place on griddle. Cook about two to three minutes before flipping, when just golden brown. Cook another couple few minutes on other side, until cooked through and golden brown.
Serve warm.
Recommended Products
As an Amazon Associate and member of other affiliate programs, I earn from qualifying purchases.
Nutrition Information:
Yield:
4
Serving Size:
2 pieces
Amount Per Serving:
Calories:

350
Total Fat:

15g
Saturated Fat:

8g
Trans Fat:

1g
Unsaturated Fat:

9g
Cholesterol:

0mg
Sodium:

461mg
Carbohydrates:

34g
Fiber:

7g
Sugar:

23g
Protein:

13g
nutrition calculations results vary by calculator, are for informational purposes only, and are not intended to replace medical advice or treatment.
about Kristina: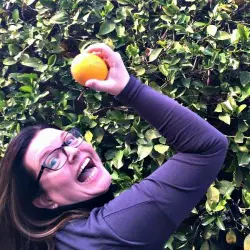 Kristina is spabettie! She found cooking at an early age, and created spabettie in 2010 to share vegan recipes. Kristina turned her culinary training into sharing vibrant vegan food! Read more…
spabettie / Kristina Sloggett is a participant in the Amazon Services LLC Associates Program, an affiliate advertising program designed to provide a means for sites to earn advertising fees by advertising and linking to Amazon.com.