Pardon the turkey and enjoy these gluten free vegan thanksgiving recipes. These time tested and crowd pleasing dishes are celebration ready!
article originally published November 25, 2010
TABLE OF CONTENTS - Jump to any section:
Gluten Free Vegan Thanksgiving
As much time as we spend planning menus, Thanksgiving isn't just about the food. I won't get into a Linus style soliloquy of what Thanksgiving really is, and the history which few focus on. Our modern gatherings on this day are far from that.
For some, Thanksgiving is about snacking on appetizers while watching football. It's about card games and the annual family viewing of National Lampoon's Christmas Vacation.
It's about getting up early to run the local Turkey Trot 5k in the freezing cold. Volunteering at the rescue mission like dad taught you at an early age. Then heading home to spend the day with loved ones.
Thanksgiving is a day of giving thanks and being grateful. It's about spending time with the ones you care for and being thankful for all of the blessings in your life. Whether you are hosting Thanksgiving, bringing a dish, or staying home with your family, we have plenty of recipes you will love.
What to Cook
There are plenty of vegan entree options, even if you want a show stopper centerpiece to replace that turkey. Even with an impressive entree, it is all about the side dishes for me!
For vegans and non vegans alike, it is important to me that everyone enjoys the food! It is very easy to make traditional Thanksgiving side dishes without eating animals. Vegan butter is delicious, I make a super impressive cream sauce, the softest rolls can indeed be vegan, and most everything else is... vegetables.
Make a plan
As much as I love hosting and having loved ones in my home, it is a lot of work. For me, part of the fun is in the planning. No matter the size of the guest list, it is guaranteed that the event - the food, the entertainment, everything - will match my enthusiasm. I love a party and all the details that come with throwing a great one.
How to make your Thanksgiving effortless and fun:
Write a menu
Divide the menu into make ahead vs. day of recipes
Write shopping lists (grocery, liquor store, etcetera)
Make a detailed schedule with extra time built in
Set the table a few days ahead - dishes, glasses, silverware, linens
Set out serving dishes and utensils (label them with sticky notes!)
Assign baking dishes, pots and pans for each recipe (label these too!)
This is my planning template for any party I host. By the time I hear the first doorbell ring, I have a glass of wine in my hand and am able to relax and enjoy the time with our guests.
Kid Kristina making pumpkin pie on Thanksgiving morning!
More gluten free vegan holiday ideas!
Thanksgiving is just the beginning of the holiday season. We have everything you need for all the celebrations, big or small.
Vegan Cranberry Recipes: find new ways to add the deliciously tart holiday berry to sweet and savory dishes. ideas here range from fresh berries to dried, and leftover cranberry sauce as well.
Festive Holiday Cocktails: shake up a new libation to toast your friends and family all season long. deliciously spirited drinks to match all kinds of party spreads.
Vegan Holiday Recipes: a comprehensive recipe collection that has everything you need from Thanksgiving to Christmas and all of the holiday events in between!
Best Vegan Treats for Holiday Gifting: all of the essential recipes for your gifting lists and cookie trays. give to delivery and mail carriers, hairdressers, friends, neighbors, and coworkers!
Party Snacks to Ring In the New Year: welcome the new year with all sorts of festive snacks and dips. end the year on a tasty note - cheers!
Did you make one of these gluten free vegan Thanksgiving recipes?
Follow spabettie on Instagram and tag us with #spabettie
We love seeing your recipe photos and remakes - thank you!
Gluten Free Vegan Thanksgiving Recipes
From entree ideas that let you pardon the turkey to ideas for scrumptious side dishes and desserts, a vegan thanksgiving is definitely a delicious one!
about Kristina: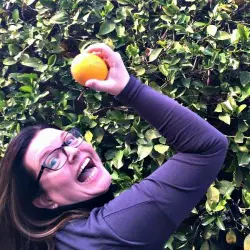 Kristina is spabettie! She found cooking at an early age, and created spabettie in 2010 to share vegan recipes. Kristina turned her culinary training into sharing vibrant vegan food! Read more...
spabettie / Kristina Sloggett is a participant in the Amazon Services LLC Associates Program, an affiliate advertising program designed to provide a means for sites to earn advertising fees by advertising and linking to Amazon.com.