Looking for new ways to serve cranberries or have holiday leftovers? These tasty vegan cranberry recipes have it sorted for you.
Vegan Cranberry Recipes
In this collection of vegan cranberry recipes, you find sweet as well as savory vegan recipes that celebrate the versatility of this small berry. Abundant and in supply in practically every grocery store during the fall and winter months, cranberries are an official Thanksgiving and Christmas fruit.
Cranberries are a nutrient-dense food, full of antioxidants. They're naturally low in sugar and high in acidity, providing that deliciously tart flavor!
Their gorgeous deep red color makes them a popular and tasty addition to holiday recipes.
From breakfast options to cheesecakes, cookies and bars, cranberries add their distinctive flavor to these sweet treats. They also add their characteristic tang to dressings, sauces, side dishes, salads and more. Find just the right recipe with these vegan cranberry recipes that are perfect for any holiday occasion and beyond.
Recipes Using Leftover Cranberry Sauce
Who doesn't love that tart and sweet holiday condiment? Deliciously homemade or a wonderfully wiggly can shape, I love it all!
For many years, I have made the same Ginger Cranberry Sauce with little variation. We all love it so much, I just can't make another.
The sweet tart cranberry itself - I love them too! Dried cranberries show up in my recipes all year long, as I wait only sort of patiently for the fresh ones to arrive at the holidays.
As I am known to do, cranberry sauce is often something I double the recipe for. ...and then still end up making more fairly soon after. The reason I make so much? I love to add cranberry sauce to other recipes!
While the concept of "leftover" cranberry sauce eludes me in general, I deliberately make more than enough with plans to add it to favorite recipes.
Do you love cranberry sauce as much as I do? Are there ever leftovers...?
In addition to the favorite creations from my kitchen, I scoured the web for the best ideas using that so called "leftover" sauce, or just recipes using cranberries in general.
Did you make any of our cranberry recipes?
Follow spabettie on Instagram and tag us with #spabettie
We love seeing your recipe photos and remakes - thank you!
Vegan Cranberry Recipes
have holiday leftovers or just love the tart sweet cranberry? these tasty vegan recipes using cranberries and cranberry sauce have it sorted for you. so good you may just make more cranberry sauce!
about Kristina: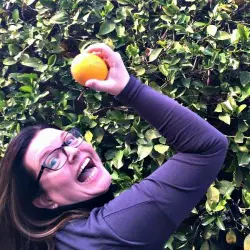 Kristina is spabettie! She found cooking at an early age, and created spabettie in 2010 to share vegan recipes. Kristina turned her culinary training into sharing vibrant vegan food! Read more...
spabettie / Kristina Sloggett is a participant in the Amazon Services LLC Associates Program, an affiliate advertising program designed to provide a means for sites to earn advertising fees by advertising and linking to Amazon.com.