These mini vegan sausage pies are a plant based update on an appetizer that works for holidays, game days, brunch, and a random Thursday.
recipe originally published November 28, 2018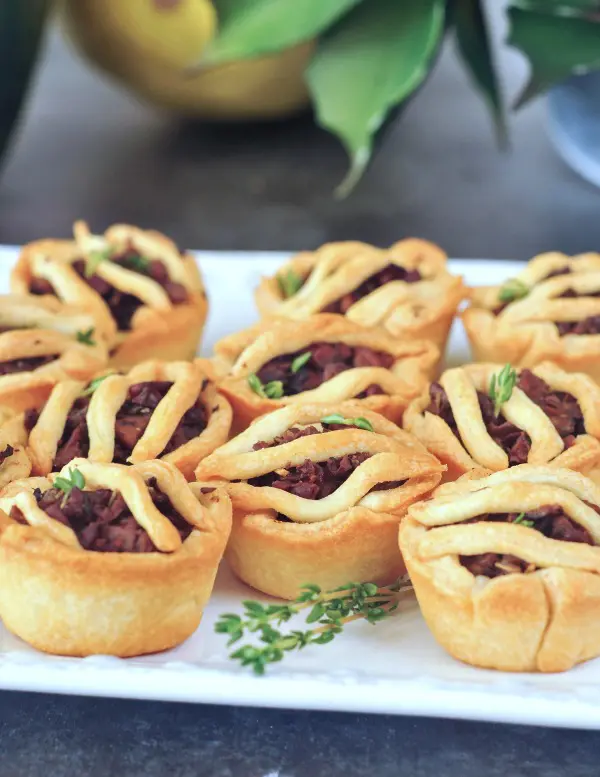 Mini Vegan Sausage Pies
Between all the British based books I read and all the people I know in the UK, I have a fascination with Sausage Rolls and Sausage Pies.
Obviously I have never had one, but for some reason the concept sounds amazing. Flaky pastry with a savory filling?
Comfort food at its most fine, right? I had to make my own.
Just in time for the holidays and all of our game day parties!
How To Make Vegan Sausage
I am thrilled with the flavors of this sausage, you guys!
This recipe developed from two others - my Versatile Vegan Meaty Crumbles and their way hotter cousin, Spicy Vegan Chorizo Sausage Crumbles.
The ingredients are varied a bit, and the flavors are completely new!
Spices and herbs and wine and walnuts all lend themselves to the incredible depth and layers of flavor. This sausage has been used many times since I first made it - we love it!
Two Bite Party Food
I hope you love these as much as we do!
Did You Make This Recipe?
Follow spabettie on Instagram and tag us with #spabettie
We love seeing your recipe photos and remakes - thank you!
printable Mini Vegan Sausage Pies recipe:
Yield: 24 pies / 8 servings
Mini Vegan Sausage Pies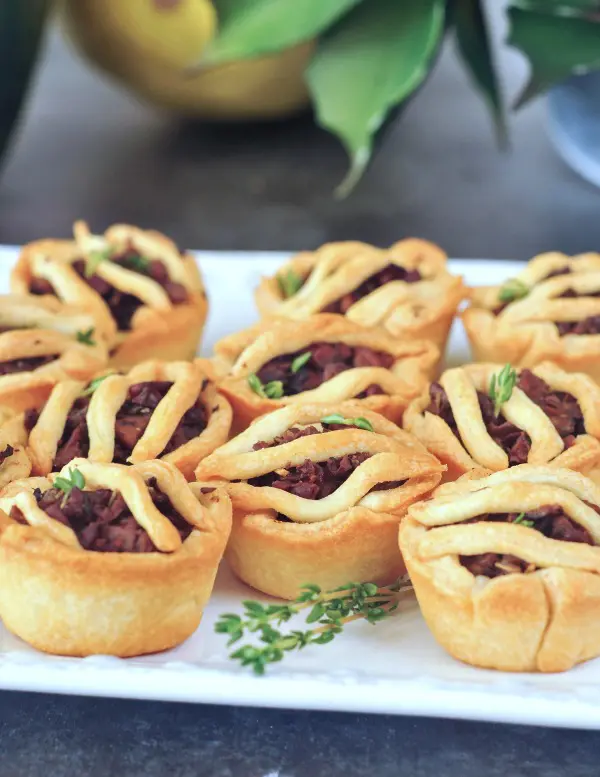 these Mini Vegan Sausage Pies are a plant based update on an appetizer that works for holidays, game days, brunch, and a random Thursday.
Ingredients
2 tablespoons dairy free butter or olive oil
1 large yellow onion, peeled and diced
2 stalks celery, scrubbed, trimmed and minced
3 garlic cloves, peeled and minced
¼ to ⅓ cup dry vermouth or dry white wine
1 cup walnut halves or pieces, minced
¼ to ⅓ cup dry vermouth or dry white wine
1 pound shiitake mushrooms, diced
1 ½ teaspoons fresh black pepper
1 teaspoon sea salt
2 tablespoons dried Italian seasoning
2 teaspoons ground fennel
1 Easy Gluten Free and Vegan Pie Crust recipe
Instructions
Make pie crust dough ahead of this recipe. Refrigerate until needed.
In large sauté pan over medium heat, melt butter.
Add onion, garlic, and celery to melted butter. Sauté until softened and translucent.
Add minced walnuts, and continue to sauté several minutes.
Add vermouth / deglaze bits from pan.
Add diced mushrooms.
Add fresh pepper, salt, Italian seasoning, and ground fennel. Stir to coat.
Add more vermouth by the tablespoon as needed. Continue to cook over medium heat for several minutes, until cooked through and in a partially sticky "sausage" consistency.
Remove from heat, allow to cool slightly.
If not making pies right away, cool completely. Store in an airtight container in refrigerator 4-5 days. Wrap well for freezing.
To make mini pies: Preheat oven to 400 °F. Spray or line mini pie tins.
Roll out pie crust dough. Cut circles large enough to fit in mini pie tins up to the top.
Press pie crust circles into prepared tins. Fill with 1-2 tablespoons (depending on tin size) to the top of pie. Use pie crust scraps to decorate pie tops.
Bake at 400 °F for 25-30 minutes or until pie crust is fully cooked and golden brown.
Garnish with fresh thyme. Serve warm or cooled.
Store leftovers covered in refrigerator. Enjoy within three days.
Nutrition Information:
Yield:
8
Serving Size:
3 pies
Amount Per Serving:
Calories:

226
about Kristina: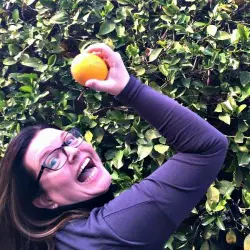 Kristina is spabettie! She found cooking at an early age, and created spabettie in 2010 to share vegan recipes. Kristina turned her culinary training into sharing vibrant vegan food! Read more...
spabettie / Kristina Sloggett is a participant in the Amazon Services LLC Associates Program, an affiliate advertising program designed to provide a means for sites to earn advertising fees by advertising and linking to Amazon.com.