this Garlic Herb Vegan Cheese Spread recipe is a plant based version of the popular classic French Gournay cheese – Boursin and Alouette style!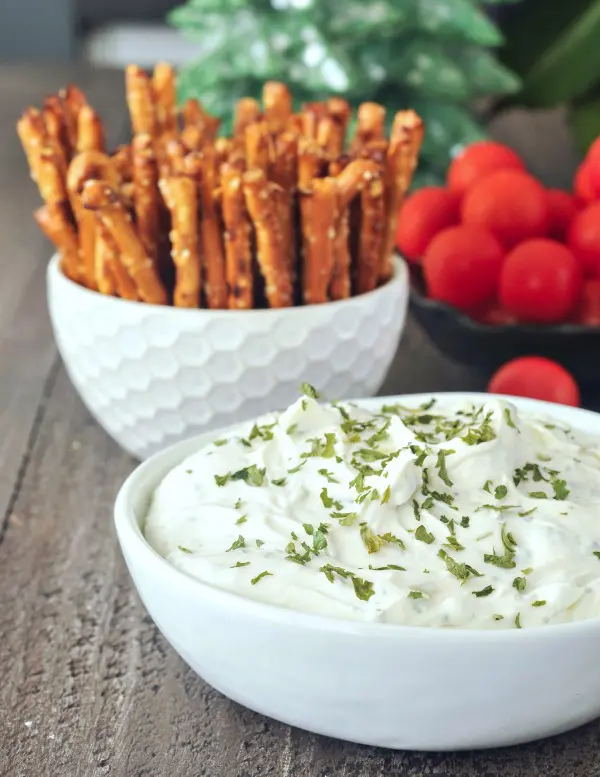 Garlic Herb Vegan Cheese Spread
Who grew up with foil wrapped discs of Boursin cheese and tubs of Alouette in their fridge?
Around the holidays, "the fancy cheeses" appeared. Eight year old me considered them fancy.
Every time my Uncle Dudley was in town, fancy cheese and bottles of Blue Nun!
Mom's regular bunco nights would often include the fancy cheeses – the Boursin style cheese. Those parties especially included a 'hands off' warning from mom. This was for the party!
I have fond memories of all of it – and the flavor of that cheese has not escaped me. For a recent happy hour with friends before we all went to a rock show, I threw some (quickly boiled) cashews in the Vitamix to make a quick cheese spread. I added a bunch of herbs from the spice rack, and hmm… it had the hints of that old fave Boursin cheese.
A few trials later, here we are! Some of those trials used fresh herbs and fresh garlic. For this recipe? I honestly prefer the dried. At least for the garlic – the dried minced kind, or even garlic powder. Use fresh herbs if you like – on that I can go either way.
Happy Hour At Home
Finding an occasion to celebrate has always been easy for me – from a birthday or anniversary to good news or a Tuesday!
In the cold and snowy winter, we often cozy up to a cracking fire and a bottle of wine. On a warm sunny afternoon in the summer, I love to sit outdoors with friends and enjoy a cold spicy Jalapeño Margarita.
…and any chance I can get to make my super fun Vodka Bottles On Ice, I will!
We often have what I call Happy Hour at Home – impromptu events of finger foods and tasty beverages. Sometimes friends are invited, other times it is Jason, Basil and me. Always fun.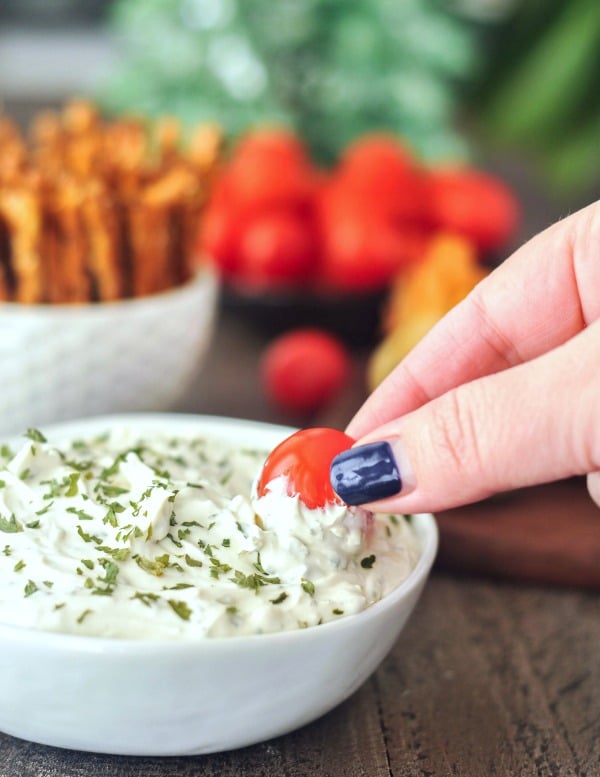 Some of my current reasons to celebrate include:
Springtime! I know it's coming. Right? The days are getting longer, the air is crisp and smells of spring, that is a great start and definitely enough to cheers to!
Health. Even with recent stresses, I am thankful every day for my general health, and never take it for granted. I'm thankful my Dad is smiling and happy this week!
Friends, old and new. One of my dearest friends is one of my longest known – we met in first grade! I am lucky to still have her in my life. Jason and I recently had a laughter filled night of great conversation out with new friends, a couple that I see much more fun with in the future!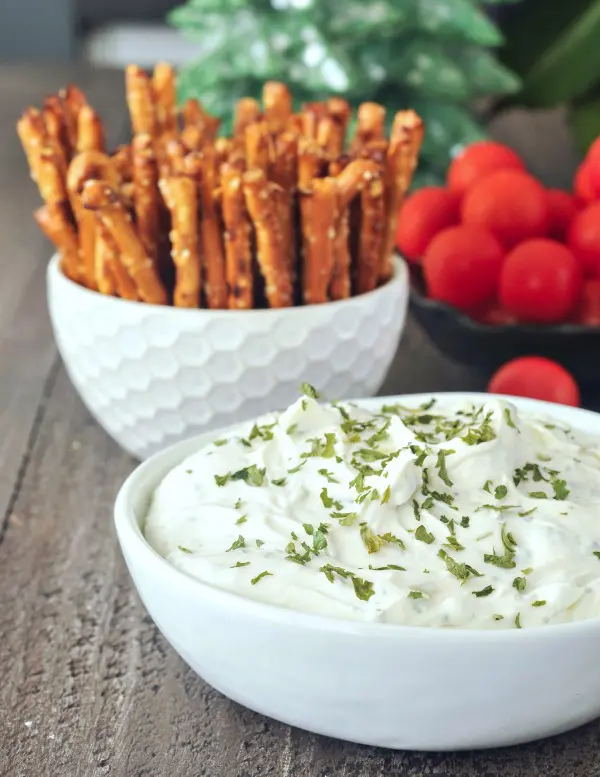 have a happy Happy Hour!
printable Garlic Herb Vegan Cheese Spread recipe:
Yield: 1+ cup / 8 servings
Garlic Herb Vegan Cheese Spread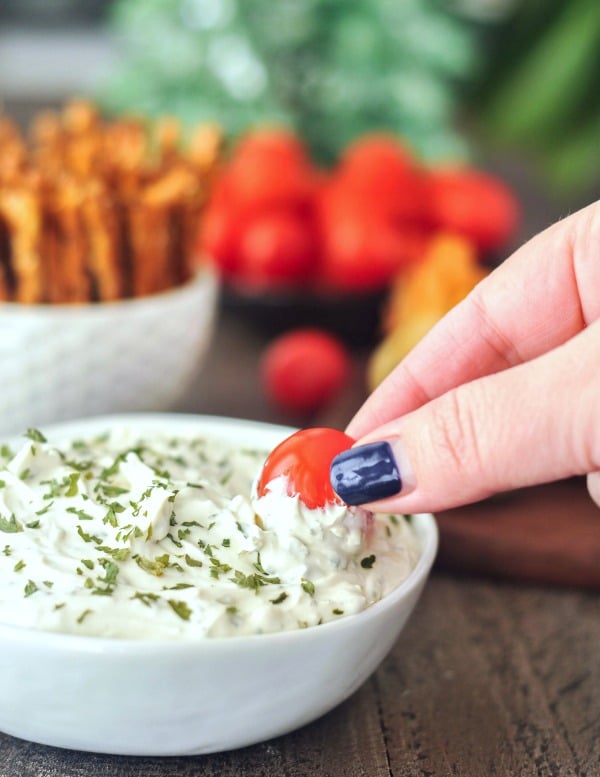 this Garlic Herb Vegan Cheese Spread recipe is a plant based version of the popular classic French Gournay cheese - Boursin and Alouette style!
Total Time
1 hour
10 minutes
Ingredients
1 1/2 cups raw cashew pieces, boiled or soaked several hours
1/4 - 1/3 cup sauerkraut brine
1/2 teaspoon sea salt
1/2 teaspoon fresh cracked black pepper
1/2 teaspoon dried minced garlic
1/2 teaspoon dried parsley
1/2 teaspoon dried onion flakes
1/4 teaspoon dried chives
1/4 teaspoon dried basil
Instructions
In a blender, combine cashews with sauerkraut brine. Blend at highest speed until completely smooth. (You may need to stir / use the blender tamper. You can add more brine, but adding more than a tablespoon or so will make a sauce.)
Add all herbs and spices, stir by hand to combine.
Transfer to a covered dish. Refrigerate for one to two hours before serving, if possible. Store in refrigerator, covered, for up to one week.
Notes
dairy, egg, soy, oil, and gluten free, vegan
Nutrition Information:
Yield:
8
Serving Size:
1 ounce
Amount Per Serving:
Calories:

106
Total Fat:

9g
Saturated Fat:

2g
Trans Fat:

0g
Unsaturated Fat:

5g
Cholesterol:

0mg
Sodium:

148mg
Carbohydrates:

8g
Fiber:

1g
Sugar:

1g
Protein:

5g
nutrition calculations results vary by calculator, are for informational purposes only, and are not intended to replace medical advice or treatment.
Try AmazonFresh Free Trial
for Unlimited Grocery Delivery – add these recipe ingredients to your list. use code FRESH25 for a $25 off discount on your first AmazonFresh order!
about Kristina: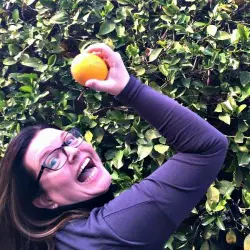 Kristina is spabettie! She founded spabettie in 2010 to share vegan recipes. As the sole recipe developer and photographer, Kristina turned her culinary training into the best way to spend her days – sharing just how flavorful and vibrant vegan food is! She loves dachshunds, Portland, Hawaii, drummers – well, one drummer – and travel.
spabettie / Kristina Sloggett is a participant in the Amazon Services LLC Associates Program, an affiliate advertising program designed to provide a means for sites to earn advertising fees by advertising and linking to Amazon.com.