This vegan spinach dip is a dairy and oil free update to the party favorite we all love. Learn how to make and what to serve with this classic dip.
recipe originally published July 10, 2010
TABLE OF CONTENTS
Vegan Spinach Dip
My favorite last minute party food addition is always this vegan spinach dip!
Classic flavors I know everyone will love, and if I am lucky, leftovers for us to enjoy later.
How to Make Spinach Dip
Frozen Spinach: Classic Spinach Dip uses frozen spinach. You know, the boxed kind? I often use the 10 ounce boxed frozen spinach, or the frozen "cut organic spinach" that is available in 8 ounce bags. You can defrost the frozen spinach in the fridge overnight, or unwrap the frozen block of greens and place in a fine mesh strainer over a bowl or over the sink.
Strain and Squeeze: The strainer over the sink is my preferred method, and to speed up the defrost process, I often run hot water over the frozen spinach for just a minute - it doesn't take long. Most Important: squeeze the spinach! You want to remove as much liquid as possible from the defrosted spinach, so your spinach dip is a creamy consistency, not watery.
Dip Base: Mayo and sour cream are the classic creamy beginnings to that Knorr spinach dip everyone loves. Your oil and dairy free ingredient: this recipe uses protein rich cashew cream in place of those, with a bit of sauerkraut brine for that tangy flavor sour cream brings.
Water Chestnuts: Spinach Dip with water chestnuts is a must! I often add more than the recipe calls for. With virtually no flavor, the water chestnuts have that pleasing crunch that adds great texture.
Fresh Green Onions and Dried Spices: these are the ingredients that bring the flavor of the dip we all know and love.
How To Serve Spinach Dip
My favorite way to serve spinach dip is in a hollowed out bell pepper! I clean out all the ribs and seeds, and when the dip is almost empty? Slice up the pepper and eat it, too! Mmm.
We've all seen dips served in bread bowls, and that is another great way to serve Spinach Dip. Of course, a bowl is also a perfectly acceptable serving vessel. Since this vegan spinach dip is so popular, I have made a double batch and served in a couple - few small bowls when I have a large party spread happening.
Gluten Free Spinach Dip
Not only is this spinach dip recipe vegan and dairy free, it is gluten free as well! No substitutions needed, just naturally gluten free. This recipe has higher protein than the mayo based counterpart as well.
We recently spent several days in wine country. Basil dachshund stayed at my parents house. Late Sunday afternoon, we picked up Basil and headed home - both tired and wanting to relax in front of a good movie. It was hot, I didn't want to cook, and I had an immense craving for spinach dip. Cool, quick and minimal effort. Bonus, I already had all the ingredients in my kitchen.
I bet you do too.
This was dinner:
What To Serve With Spinach Dip
In place of the bread bowl to serve this dip, I will have cubed bread as dippers. (Obviously when you use bread as a bowl, you scoop out the inside bread and that becomes the dipper!)
My favorite vehicle for spinach dip is broccoli trees and cauliflower - these crunchy crudités really let the flavor of the dip be the main event.
All sorts of vegetables and crackers are suitable for dipping as well. We love Salt and Vinegar Crackers for dipping, and these Vegan Cheese Crackers are great too - Cheez It style!
How Long Does Spinach Dip Last? Storage Tips
Spinach Dip keeps well in the refrigerator for several days - three is my guide for prime flavor and freshness. Store in a tightly sealed container, and if you have it, press a piece of plastic wrap over the surface of the dip.
I do not recommend freezing spinach dip.
Using Leftover Spinach Dip
One of the best ways to use spinach dip is as a sandwich spread, wrap filling, or toast topping! I love it! I also just love to snack on a small bowl with crackers or veggies as an afternoon snack.
As far as any leftover dip that is from a party situation? I like to use that up immediately, leave with the host, or send home with a spinach dip fan if I am the host. I love to make a large batch, leave some in the fridge to serve if it goes quickly. If not, bonus - we have leftover dip that has not been touched yet!
Vegan Dip Recipes
I thought it was a perfect easy dinner on a hot day.
Did you make this dip?
Follow spabettie on Instagram and tag us with #spabettie
We love seeing your recipe photos and remakes - thank you!
Yield: 6 servings
Classic Vegan Spinach Dip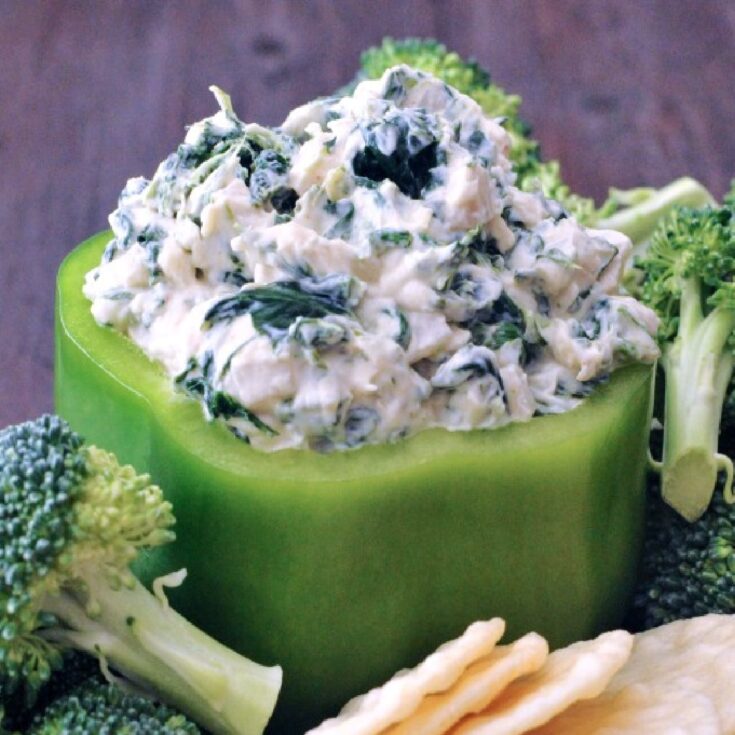 this Classic Vegan Spinach Dip is a vegan and oil free update to the party favorite we all love! serve with fresh veggies for game day or ANY day!
Ingredients
2 cups raw cashews, soaked several hours
1 + cups water, to reach a cream consistency
2 tablespoons sauerkraut liquid (or pickle juice)
juice of 1 lemon
1 garlic clove, minced
1 (10 ounce) box frozen spinach, thawed
1 (8 ounce) can water chestnuts, drained
3 green onions, diced
2-3 teaspoons onion powder
1 teaspoon celery salt
Instructions
Squeeze spinach to remove water.
Dice water chestnuts.
In high powered blender, combine soaked cashews and water. Blend at high speed until smooth. Add sauerkraut liquid and lemon juice as you continue to blend.
Transfer to a bowl and stir in garlic, spinach, water chestnuts, onions, celery salt, and onion powder.
Serve with (gluten free) pretzels and veggies.
Notes
dairy, egg, soy, oil, and gluten free, vegan
Recommended Products
As an Amazon Associate and member of other affiliate programs, I earn from qualifying purchases.
Nutrition Information:
Yield:
6
Serving Size:
1
Amount Per Serving:
Calories:

205
Total Fat:

7g
Saturated Fat:

5g
Trans Fat:

0g
Unsaturated Fat:

2g
Cholesterol:

0mg
Sodium:

207mg
Carbohydrates:

9g
Fiber:

3g
Sugar:

4g
Protein:

9g
nutrition calculations results vary by calculator, are for informational purposes only, and are not intended to replace medical advice or treatment.
about Kristina: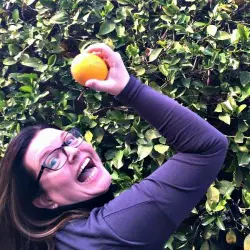 Kristina is spabettie! She found cooking at an early age, and created spabettie in 2010 to share vegan recipes. Kristina turned her culinary training into sharing vibrant vegan food! Read more...
spabettie / Kristina Sloggett is a participant in the Amazon Services LLC Associates Program, an affiliate advertising program designed to provide a means for sites to earn advertising fees by advertising and linking to Amazon.com.