creamy rich Vegan Cream Cheese recipe is also soy free! as a bagel topping or a cheese plate spread, this soft set, mildly flavored spreadable cheese is the perfect dairy free base recipe!
Soy Free Vegan Cream Cheese
I love a good cheese board assembly.
Mmm. We enjoyed a quick and mini version over the holidays:
…and the star of this cheese board was this Creamy Rich Macadamia Cream Cheese. Right out of the gate I want to impress on you that this is a soy free vegan cream cheese recipe. (If I was talking on Instagram, there'd be hand claps between each word for emphasis.)
I happily consume soy often, AND as a recipe developer I consider it the top two allergen, among my readers anyway. Soy and gluten are my most requested ingredients for substitution, so when a recipe doesn't have it, I want to make sure you all know!
Also known as my new favorite base recipe for dairy free cream cheese. Since the first cheese board over the holidays, this recipe has become a standard in our kitchen. I have made this as is several times, and I have mixed it up by mixing in herbs and other flavors…
Maybe stay tuned for some of those.
I recently started baking bagels again too.
Back in my Saks Fifth Avenue days, I baked bagels every week. My lucky office staff most often benefitted from my early morning baking – I'd show up in the morning with a basket of warm bagels.
I can safely say, this cream cheese is perrrrrrrfect for a toasty warm bagel fresh out of the oven.
…and the Everything but the Bagel Sesame Seasoning Blend (mixed with extra garlic because, yes) really is everything.
My typical breakfast or snack these days.
I am not hating it.
When you are having a Happy Hour at Home or a quick snack with friends before heading out for a fun night out, a quick snacky cheese board can be super easy to assemble.
These are items we always have in our kitchen:
I have had a fantastic book in my kitchen library for a while now – and am finally and excitedly sharing this cream cheese, one of my favorite recipes from the book.
The book is The Cultured Cook – Delicious Fermented Foods with Probiotics to Knock Out Inflammation, Boost Gut Health, Lose Weight & Extend Your Life.
This book is full of vegan and gluten free recipes for snacks and meals. The first recipe I tried? Cultured Vanilla Ice Cream. Uh huh. Seriously amazing and different and cool. Literally and figuratively.
My new favorite thing you might be hearing more about soon? Pineapple Vinegar. This stuff is amazing, and is an easy, approachable recipe. Have your pineapple (vinegar) and eat it too.
The Rejuvelac recipe in this book is great, as is the Cultured Coconut Cream.
There are several cheesecakes, ice creams, and an incredible icing! Two fruit chutneys and a Cultured Bloody Mary.
We have had a good deal of fun with this book already, and there are still so many dog eared pages and fun recipes to try!
about the book:

Fermentation has been used for thousands of years as a way to preserve foods, and modern research has now confirmed the health benefits of this process, which ranges from the improvement of various intestinal inflammatory conditions, to building a stronger immune system. According to Kirsten Tillisch, MD, chief of integrative medicine at the Ronald Reagan UCLA Medical Center, the microbes in the gut can determine whether or not we will develop other conditions that extend outside the gut, including "obesity, cancer, anxiety, and depression." In fact, research shows that some fermented foods like kimchi and sauerkraut may even help in the fight against superbugs — those virulent strains of bacteria, viruses, and fungi that have become stronger and are now resistant to most of our medicines — when our best antibiotics fail!
from the book:
If you just have to spread cream cheese on bagels or toast, you'll love this dairy free, fermented version that has all the flavor and loads of probiotics to give your health a boost. This delicious and creamy dairy free cream cheese has a delicate macadamia nut flavor. Unlike dairy based cream cheeses, this vegan cream cheese recipe is packed with health promoting beneficial bacteria. It's simple to make but does need about twelve hours to culture and a couple of hours to set.
That cream cheese bagel, though.
this creamy rich Macadamia Cream Cheese recipe is shared with permission from The Cultured Cook by Michelle Schoffro Cook. Dr. Cook is a certified herbalist and a board-certified doctor of natural medicine, holding advanced degrees in health, nutrition, orthomolecular nutrition, and acupuncture.
Yield: one 8 ounce block cream cheese
Vegan Cream Cheese
Soy Free Vegan Cream Cheese – as a bagel topping or a cheese plate spread, this soft set, mildly flavored spreadable cheese is the perfect base recipe!
Total Time
10 hours
5 minutes
Ingredients
1/2 cup + 3 tablespoons filtered water, divided
1/3 cup coconut oil * see notes
1/4 teaspoon sea salt
Instructions
In a glass or ceramic bowl, combine the macadamia nuts, cashews, 1/2 cup water, and the probiotic capsule (discarding the empty capsule shell) or probiotic powder; stir until mixed, and cover.
In a separate bowl, mix the dates with remaining 3 tablespoons of water, and cover. Allow both to sit overnight for twelve hours.
In a blender, combine both mixtures, and the salt, and blend until smooth. Add the coconut oil and continue blending. You may need to push the ingredients down with a spatula a few times to ensure a creamy, smooth consistency.
Pour into a cheesecloth lined dish or mold. Refrigerate for one to two hours, or until it is set. Store in refrigerator, covered, for up to one month.
Notes
*spabettie notes:
we often make this with 1 cup cashews if we don't have macadamia.
we have successfully made this recipe several times without using oil – sometimes a small amount of additional water is needed.
Recommended Products
As an Amazon Associate and member of other affiliate programs, I earn from qualifying purchases.
Nutrition Information:
Yield:
8
Serving Size:
1 ounce
Amount Per Serving:
Calories:

113
Total Fat:

13g
Saturated Fat:

8g
Trans Fat:

0g
Unsaturated Fat:

4g
Cholesterol:

0mg
Sodium:

69mg
Carbohydrates:

1g
Fiber:

2g
Sugar:

3g
Protein:

4g
nutrition calculations results vary by calculator, are for informational purposes only, and are not intended to replace medical advice or treatment.
Try AmazonFresh Free Trial
for Unlimited Grocery Delivery – add these recipe ingredients to your list. use code FRESH25 for a $25 off discount on your first AmazonFresh order!
about Kristina: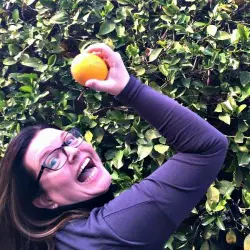 Kristina is spabettie! She discovered a love of cooking at an early age, and founded spabettie in 2010 to share vegan recipes. As the sole recipe developer and photographer, Kristina turned her culinary training into sharing flavorful and vibrant vegan food! She loves dachshunds, karaoke, drums, and travel.
spabettie / Kristina Sloggett is a participant in the Amazon Services LLC Associates Program, an affiliate advertising program designed to provide a means for sites to earn advertising fees by advertising and linking to Amazon.com.