Spicy vegan chorizo queso is the hit of any party snack table! Go ahead and make a double batch, it disappears quickly!
recipe originally published May 3, 2017
Perfect Party Recipe
Don't you love it when the food thing you bring to a party or potluck is super popular?
I mean, that's just fun and happy, right? and you don't have to worry about bringing home leftovers. If it is a housewarming or event other than just a casual weekend get together, I often buy a set of bowls to bring the foods in, and then leave the bowls as a gift.
Every time I bring this spicy vegan chorizo queso to a gathering, it goes quickly. People love it, they ask for the recipe, they are shocked to learn it is vegetable based!
I have been making this queso for a while now, usually using a soyrizo type vegan sausage for the chorizo. For some recent game day food, I was able to make this classic queso recipe using my new spicy vegan chorizo sausage crumbles!
Everyone loved it!
I was hoping for some leftovers for the next day - no dice.
Spicy Vegan Chorizo Queso
From adding boullion to the boiling water to the tangy sauerkraut and smoked paprika, each ingredient here adds a layer of flavor. The cashews bring the creamy 'fat' component and the nutritional yeast adds to the cheesy flavor.
This queso recipe is great as is, just as a cheesy queso. Adding the chorizo really brings the spicy flavor to the mix - and I definitely recommend it.
Want more cauliflower? See this entire cauliflower recipe collection for more menu ideas!
you may as well make a double batch.
Did you make this vegan chorizo queso?
Follow spabettie on Instagram and tag us with #spabettie
We love seeing your recipe photos and remakes - thank you!
Yield: 5 cups / 10 servings
Spicy Vegan Chorizo Queso
This smoky rich cheese dip is the hit of any party snack table! Go ahead and make a double batch, it disappears quickly!
Ingredients
1 head cauliflower, peeled, stemmed and chopped
1 cube vegetable boullion (soy & gluten free)
12 ounces sauerkraut brine (1 ½ cups)
¾ cup sauerkraut
⅓ cup raw cashews, soaked
2 garlic cloves, finely minced
⅓ cup nutritional yeast
2 teaspoons smoked paprika
pinch sea salt
1 cup Spicy Vegan Chorizo Sausage Crumbles
Instructions
Place chopped cauliflower in large stock pot with the vegetable bouillon. Add enough water to completely cover cauliflower and then some – an inch or two over. Bring to boil, reduce to simmer. Continue at a simmer for 6-8 minutes, or until cauliflower is tender. Drain immediately and set aside to cool.
In a blender, combine sauerkraut brine, sauerkraut, cashews, garlic, nutritional yeast, smoked paprika, and sea salt. Blend at highest speed until completely smooth.
(At this point, the consistency will be thin. It thickens when you add the cauliflower, and if you like a thinner queso, you may want to reserve the cauliflower water to add in, a tablespoon at a time, to reach desired consistency.)
Add cooled cauliflower and blend until smooth. Add additional water to thin.
Transfer queso to saucepan over medium heat. Add chorizo crumbles, reserving a tablespoon or two for garnish when serving. Stir to combine, and continue to stir as queso warms through, a few minutes.
Transfer to serving bowl. Garnish with a few chorizo crumbles, sliced fresh jalapeño. Serve warm with tortilla chips, fresh veggies.
Store in refrigerator in covered container, best used within 3-4 days.
Nutrition Information:
Yield:
10
Serving Size:
½ cup
Amount Per Serving:
Calories:

72
about Kristina: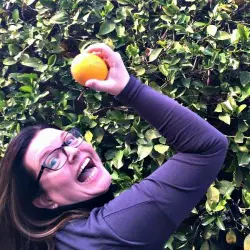 Kristina is spabettie! She found cooking at an early age, and created spabettie in 2010 to share vegan recipes. Kristina turned her culinary training into sharing vibrant vegan food! Read more...
spabettie / Kristina Sloggett is a participant in the Amazon Services LLC Associates Program, an affiliate advertising program designed to provide a means for sites to earn advertising fees by advertising and linking to Amazon.com.