This vegan melty cheese pizza dip is a game changer in party appetizers! a quick and easy recipe that EVERYONE loves, you'll want to make a double batch.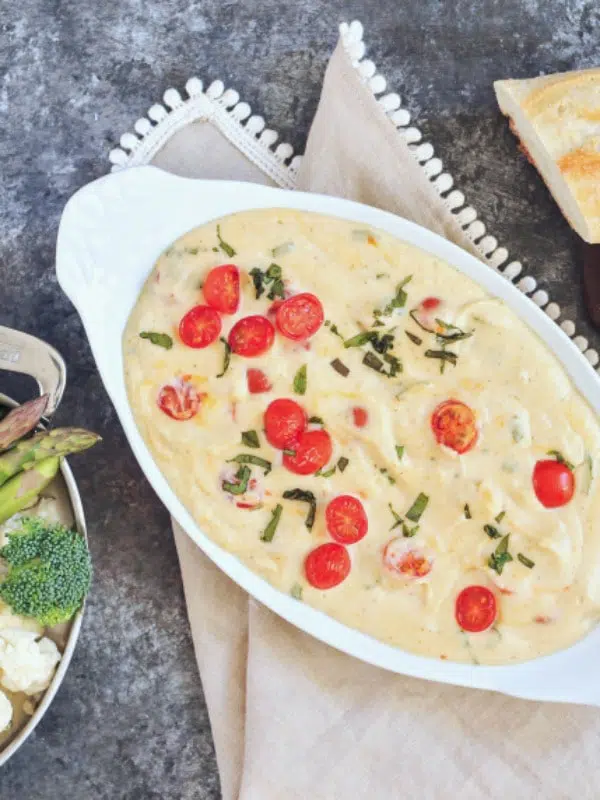 Melty Vegan Pizza Dip
This cheese dip recipe has quickly moved up our list of favorites - it is the sort of recipe that impresses the most critical carnivores. and it has - I have seen it with my own eyes.
You all know that when I am borderline obsessed with a recipe, I make it over and over again. Like, I still have a tiny bowl of this dip in the fridge right now, AND I have cashews soaking for a new batch I am making today. Honestly, it is a double batch.
At the risk of being my own dang cliché, this Melty Vegan Pizza Cheese Dip is having a major moment at our house right now. My husband and I are both completely preoccupied by it. Well, I am. Jason is just enjoying it quite a bit. Today will be my third time making it, and I am making it later this week at a friend's house.
One Hour Dairy Free Cheese
A few weekends ago while grocery shopping, Jason met a cheesemaker selling her dairy free / vegan / paleo cheese kits. He came home with two kits: one for Classic Fondue and one for Creamy Mac Sauce.
Later that week, I saw the founder of local Urban Cheesecraft on our local morning show, talking about her new book, One Hour Dairy Free Cheese. It took me just a second to realize this was the person Jason met at the grocery.
Because of my love of vegan cheeses, I contacted the book publisher and asked if I could please review this book? and so now here I am, bringing you the most amazing recipe.
We have been calling this Melty Vegan Pizza Cheese Dip. When you get the book, you will find it under the title Margherita Pizza Melt, a cheesy melty mozzarella style dip or sauce.
One Hour Dairy Free Cheese is filled to the brim with incredible recipes that only take one hour to make! Full color step by step photos accompany the straightforward instructions, and the recipes have ideas for variations as well as recipes to use the cheeses with.
Quick and Easy Cheese Recipes
Soon after you get your copy of this book, I do not doubt you'll soon have a list like I do. The next cheeses on my list include:
Smoked Cheddar looks and sounds fantastic.
I have been thinking about the Lemon Garlic Feta since I first saw it - totally appeals to my love of bright lemon.
The Black and White Truffled Brie? Cannot wait to make. Partly so I can then make the Brie Brûlée and Apples. WHAT.
Mozz Tots. Fried cheese bites to top a crisp cool salad? Yes, please.
There is a Holey Swiss Cheese recipe that looks a super fun to make, and would be a total show stopper on a fun party cheese board, like my Holiday Cheese Board or the Happy Hour Cheese Board.
...and then this Melty Vegan Pizza Dip.
Finish with a Broil
This recipe could not be easier to make. Once blended and heated, the instructions tell you to transfer to an oven safe serving dish, because the optional next step is to broil it.
As you can see in these photos, I did both. The lighter, whiter looking Melty Vegan Pizza Dip is straight from the stovetop, while the golden hued goodness is after a quick warm under the broiler. I like both versions, and in later servings of this dip, I have opted to serve after stovetop cooking, without the broil.
You can also serve this in a fondue situation, with skewers for your dippable foods.
This recipe also has substitutions for some ingredients. Cauliflower is listed as a sub for the nuts in this case. Many of my queso and cheese sauce recipes use cauliflower, and I used cauliflower here in place of the optional zucchini, not the nuts.
I did use cashews rather than macadamia, just because that is what I always have on hand. I was able to make this recipe without shopping beforehand!
Specialty Ingredients and Substitutions
This cheese dip includes a couple ingredients you may not have in your pantry. However, if you are wanting to make irresistible vegan cheeses, you will want to pick up some tapioca starch and lactic acid.
Tapioca has always been a go to for thickening - my mom had a container of it under the stove when I was a kid. I remember that stuff getting everywhere. As far as I know, tapioca was first used by Somer in vegan cheese for that stretchy melty factor. That moxarella of hers... Mmm. (I would sub arrowroot starch, cornstarch, or potato starch if you don't have tapioca.)
Lactic acid brings the cheesy tang that really isn't captured with anything else. I often use sauerkraut, sauerkraut brine, or rejuvelac, but that indescribable flavor lactic acid brings is unattainable otherwise. (I would sub sauerkraut brine if you don't have lactic acid. It is there for flavor.)
Fondue Etiquette
To accompany the Champagne Fondue recipe, this book includes a Fondue Etiquette feature.
This fun add on outlines fondue best practices like using a fondue fork or skewer to dip into the fondue and bring your bites to your personal plate, and then using a separate table fork to enjoy those bites from your plate. Don't use that table fork to dip into the fondue!
Also included - a definitive list of suggested dippers, both savory and sweet. Some of my favorites from these lists are bread, roasted potatoes, broccoli, apples, pears, and grapes.
A dipper I have not yet tried but cannot wait to? Shishito peppers! How good does that sound? Also ravioli, which is just a terrific idea. A DIY / deconstructed pasta dish of sorts.
more cheese, dip, and appetizer recipes
this Melty Vegan Pizza Dip recipe excerpted from One-Hour Dairy-Free Cheese: Make Mozzarella, Cheddar, Feta, and Brie-Style Cheeses—Using Nuts, Seeds, and Vegetables by Claudia Lucero (Workman Publishing). Copyright © 2019
Did You Make This Recipe?
Follow spabettie on Instagram and tag us with #spabettie
We love seeing your recipe photos and remakes - thank you!
Yield: 8 servings
Melty Vegan Pizza Dip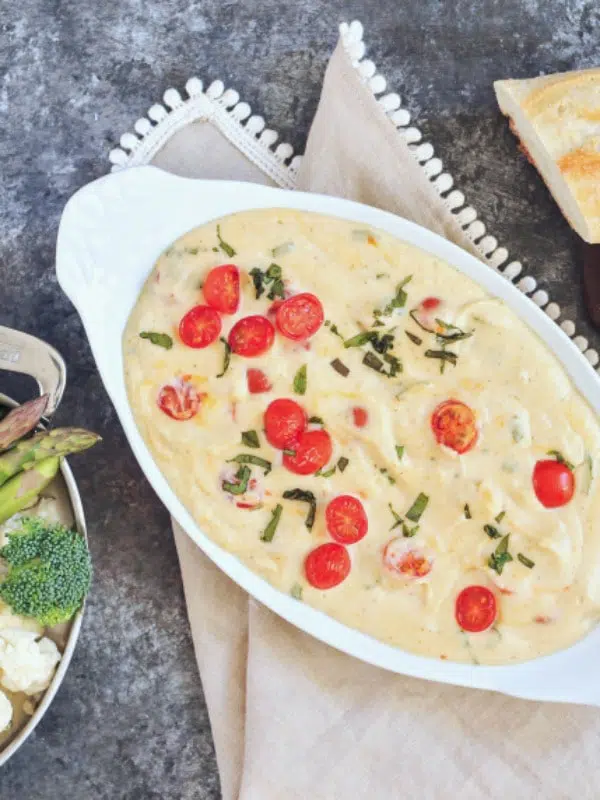 A game changer in party appetizers! a quick and easy recipe that EVERYONE loves, you'll want to make a double batch.
Ingredients
¾ cup raw or roasted macadamia nuts (soaked 8 to 12 hours or boiled for 20 minutes, drained)
1 cup water
3 tablespoons tapioca starch see notes for substitution
¼ cup olive oil or avocado oil
1 teaspoon fine sea salt, plus more to taste
1 clove garlic
¼ teaspoon dry oregano
¼ teaspoon lactic acid
½ cup halved fresh cherry tomatoes
¼ cup torn fresh basil leaves
Instructions
Preheat oven to 350 °F.
Combine the macadamia nuts, 1 cup water, tapioca starch, oil, salt, garlic, oregano, and lactic acid in a strong blender or food processor.
Blend the ingredients on low and gradually increase to top speed until the mixture is completely smooth. Depending on your machine, this could take 1 minute to 6 minutes. (Stop every minute or so to scrape down the side of the container if needed.)
Pour the mixture into a medium size pot or pan. Stir frequently over low to medium heat as the mixture simmers and starts to change from thin to lumpy.
Stir the mixture continuously in order to eliminate lumps and create a smooth texture. It will thicken dramatically as it heats.
Stir the mixture for about 5 minutes to fully cook the tapioca. Lower the heat if you feel any sticking in the pan or if the blend "spits" too much. Turn off the heat when the pizza melt is shiny and coats the spoon thickly — you may even see stretchy strings.
Add the tomatoes and basil to the pan and stir to combine.
Pour the hot pizza melt into a serving dish and enjoy it while it's hot or (optional) pour it into an oven safe crock or pan and proceed to step 9.
Serve the pizza melt as a fondue or a sauce. Dig into it with all manner of dippers from pizza crust strips to boiled baby potatoes to asparagus stalks, or pour it over steamed broccoli, baked potatoes, or noodles. You can even use it as a white pizza sauce.
Broil the pizza melt (optional) until it bubbles and browns on top, about 5 minutes (stay close and watch like a hawk).
Store your pizza melt in a dry, covered container in the refrigerator, and enjoy it within 1 week. To reheat, whisk 1 tablespoon water into the sauce as it warms in a saucepan.
Stir thoroughly to make it smooth again.


Notes
Ingredient Substitutions:
substitutions for the macadamia nuts (choose one):
½ cup blanched almond flour, no skins (not almond meal)
¾ cup blanched almond slivers (soaked for 8 to 12 hours or boiled for 20 minutes, drained)
¾ cup raw or roasted cashews (soaked for 8 to 12 hours or boiled for 20 minutes, drained)
¾ cup raw sunflower seeds (soaked for 8 to 12 hours or boiled for 20 minutes, drained)
Not as dense and rich, but still very tasty:
1 cup cooked, drained white beans (cannellini, navy, or Great Northern)
1 cup cooked veggie blend: ½ cup cooked, well drained cauliflower plus ½ cup peeled, cooked, mashed potatoes
substitutions for the Tapioca Starch:
3 tablespoons arrowroot powder
Recommended Products
As an Amazon Associate and member of other affiliate programs, I earn from qualifying purchases.
Nutrition Information:
Yield:
8
Serving Size:
1
Amount Per Serving:
Calories:

117
Total Fat:

9g
Saturated Fat:

2g
Trans Fat:

0g
Unsaturated Fat:

6g
Cholesterol:

0mg
Sodium:

227mg
Carbohydrates:

2g
Fiber:

1g
Sugar:

1g
Protein:

4g
nutrition calculations results vary by calculator, are for informational purposes only, and are not intended to replace medical advice or treatment.
about Kristina: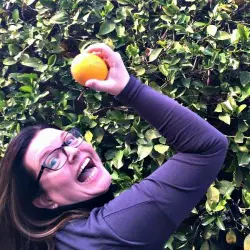 Kristina is spabettie! She found cooking at an early age, and created spabettie in 2010 to share vegan recipes. Kristina turned her culinary training into sharing vibrant vegan food! Read more...
spabettie / Kristina Sloggett is a participant in the Amazon Services LLC Associates Program, an affiliate advertising program designed to provide a means for sites to earn advertising fees by advertising and linking to Amazon.com.