She was an employee who became a friend.
She was a friend I looked up to – for she had confidence and strength and made every thing fun.
We had sleep overs. We watched Wizard of Oz with the Pink Floyd soundtrack. We helped hide doughnuts all over a bar one night, in plants and behind liquor bottles, laughing the whole time.
We lived within walking distance, and one snowy turned icy night, I had to wear her golf cleats on my walk home, so I wouldn't slide down our hill.
Megan had a smile that went for miles, welcoming to everyone. A sense of humor both whimsical and wacky. Wearing tattoos both beautiful and powerful, Megan was an inspirational warrior for many.
Last Friday, this beautiful friend of many lost her hard fought battle of many years with cancer. She leaves us with broken hearts and wonderful lasting memories.
That snowy night with the golf shoes, we had lasagna for dinner.
Megan, I made this lasagna for you.
kalamata garlic bechamel lasagna
dairy, egg, soy and gluten free, vegan
makes 9 x 11 pan of lasagna
2 tablespoons olive oil
1 small yellow onion, peeled and diced
1 clove garlic, minced
2 teaspoons dried oregano
1 1/2 pounds fresh roma tomatoes, chopped
1/4 cup tomato paste
1/2 cup kalamata olives, pitted
1 package lasagna noodles (I use these – gluten free)
garlic cashew bechamel sauce (recipe follows)
7 ounces jack cheese, sliced
Prepare cashew bechamel sauce (see recipe below).
In large saucepan over medium heat, saute onion, garlic and oregano in olive oil. As the onion softens, add tomatoes, tomato paste and kalamata olives to food processor and pulse a few times, to a chunky tomato sauce (puree completely for a smooth sauce consistency). 
Add tomato kalamata mixture to saucepan with onion – combine completely. Remove from heat and begin lasagna layering assembly: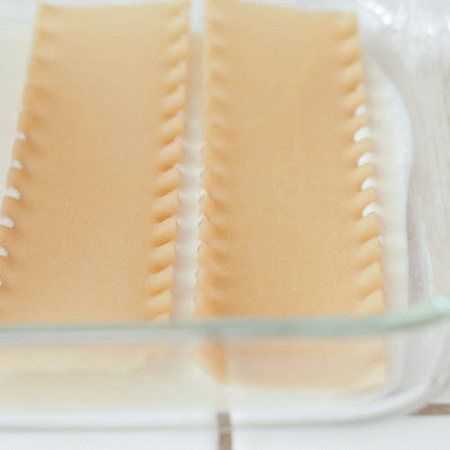 Spread a layer of bechamel in lasagna pan. Top with noodles, add more bechamel, then cheese, then marinara, then cheese. Repeat for a four layer lasagna.
Cover with foil (especially important if using no-boil pasta noodles) and bake at 350 for 35-40 minutes. Remove from oven and let stand for 10-15 minutes, to set – you get even slices of lasagna layers this way.
garlic cashew bechamel sauce
1/2 cup raw cashews
2 cloves garlic, minced
3 cups almond milk, divided
4 tablespoons butter (Earth Balance soy free)
4 tablespoons gluten free all purpose flour
2 teaspoons freshly grated nutmeg
1 teaspoon sea salt 
In high speed blender or food processor, process cashews and minced garlic until crumbly. Add 1 cup milk while processing, until a smooth cashew cream forms – this will be much thinner than traditional cashew cream.
In saucepan over medium heat, melt butter. Whisk in flour, stirring until smooth. Cook over medium heat until mixture begins to darken in color – a light tan. Continue to stir while adding cashew milk. Mixture will thicken. Whisk in remaining two cups milk, and the salt and nutmeg, remove from heat. 
Rest in peace, Megan girl – you are so very loved and celebrated.