An easy gluten free vegan small batch lasagna recipe is a perfect dinner - red sauce and ricotta bring classic flavors to small batch lasagna. How To Make Vegan Lasagna
recipe originally published July 25, 2010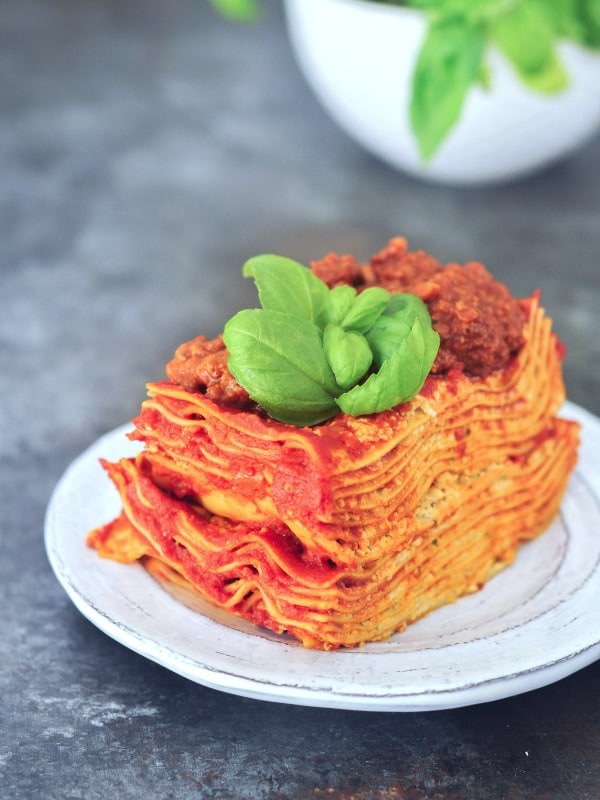 TABLE OF CONTENTS
Gluten Free Vegan Lasagna
I have been making what we call Sunday Sauce since college. Back then, the classic flavors of a meat sauce or red sauce was my go to for all things pasta.
Nowadays, my vegan meat sauce tastes just as good, and has all sorts of nutritional benefits as well. It is one of the essential components of this small batch lasagna recipe.
I am willing to bet this Vegan Lasagna recipe becomes a Sunday Supper favorite in your house, too. For my meat eater friends, I want to make this for you! The flavors of the ricotta and the sauce and the vegan meat crumbles all combine into a comfort food dish that rivals any meat and cheese version.
Small Batch Lasagna For Two
We enjoy lasagna far more often when I make it this way! If I happen to have a batch of my vegan ricotta on hand, it is very easy to make some sauce and grab some noodles. This small batch lasagna is actually enough for three pieces - one for me, one for Jason, and one for my lunch the next day.
Or breakfast. Because the craving is real and so is my lack of patience.
Keep reading for tips on the best lasagna, and how to make a small batch or a full pan!
How Many Layers Should Lasagna Have?
A standard lasagna is generally at least three layers of noodles and fillings, with sauce at the base and on top. There really are no rules, though. Do what you want.
As you can see from these photos, we definitely play by our own rules. I love a super high stack of lasagna, and I needed one and a half packages of
our favorite noodles
.
Will a gluten free lasagna with so many layers be good? Yes. One hundred percent.
How To Make Vegan Lasagna
As we suggest in the tips below, make all of the components ahead of time. When it is time to assemble your vegan lasagna, have everything ready - make an assembly station to work on.
For this small batch lasagna, our favorite noodle fits perfectly into a glass loaf pan! Whether you are making the small batch or a larger size, the assembly is the same:
Pour sauce into the glass pan, just enough to cover the surface
Definitely try to find these noodles - they are just as good as gluten noodles and make a great gluten free lasagna
Use the back of a spoon or a spatula to spread the ricotta onto each noodle
Cover each noodle with ricotta, then get to stacking:
Ricotta Covered Noodle, Sauce, Another Noodle, Sauce... until the last noodle. Cover with sauce and bake
Meat sauce is served over the top, with fresh basil
Tips For The Best Vegan Lasagna
Whether making a lasagna for two or enough for tasty leftovers all week long, here are some tips for the best vegan lasagna:
Make the components ahead: I make my red sauce and the ricotta the day before, so all I need to do the day of is assemble, bake, and enjoy
Completely cover the noodles with sauce: this is for both boiled and no boil noodles - covering completely with sauce ensures the noodles don't dry out and get hard or crunchy.
Let It Rest! out of the oven, lasagna needs time - about 15 minutes or so - to rest, otherwise it might lose structure and fall apart if sliced and served too soon.
Glass baking dish, please: we prefer glass over metal because it distributes heat more evenly and will keep the heat once out of the oven and resting. Also, metal may react to acidic tomato sauce.
Why Is My Lasagna Runny?
Overly soupy lasagna is often the result of a sauce that is too thin or vegetables that are high in water, like zucchini, tomatoes, or uncooked mushrooms. My tips for runny lasagna include:
make sure your sauce is not too thin
use no boil / no cook noodles that will absorb some of the sauce liquid
cook mushrooms if using
drain your vegan ricotta / cheeses / sauces of any excess moisture
salt, rest, then pat dry (remove salt) veggies like zucchini, eggplant
once lasagna is fully cooked, let it rest for 15 minutes before slicing and serving
Do Lasagna Noodles Have Egg In Them?
Most dry noodles I have seen are very few ingredients, usually just flour. No egg.
Our favorite no boil lasagna noodle is gluten free and vegan. Very allergy friendly, these are free from many allergens:
eggs
dairy
soy
wheat
peanuts
tree nuts
fish
What Can I Substitute For Cheese In Lasagna?
There are plenty of dairy free cheeses that are deliciously melty and work well in lasagnas. In place of a store bought vegan cheese, you can also use a homemade vegan cheese.
This small batch lasagna recipe uses our Vegan Ricotta Cheese, while other lasagnas omit cheese altogether, or use a Bechamel Sauce as the rich replacement for cheese.
Other Ingredients For Lasagna
There are all sorts of ingredients outside the traditional meat, cheese, sauce variety of lasagna. You can add all sorts of ingredients to a traditional red sauce lasagna, or make a totally new flavor of lasagna. Whether a small batch lasagna or full pan, anything goes.
Some of our favorite ingredients include:
Roasted Mushrooms
Eggplant
Should Lasagna Be Covered While Baking?
Yes and no.
There are two schools of thought on covering lasagna while baking. In the decades of my lasagna adventures, I bake the lasagna covered for most of the cooking time - a tightly wrapped in foil. This keeps the steam inside to cook the noodle completely and warm everything through.
With about 10 or 15 minutes left of cooking time, I remove the lasagna from the oven and carefully remove the foil. Use tongs or gloved hands to do this - you can imagine it is extremely hot. This last bit of uncovered baking will give the top a golden brown finish, and broil the cheesy goodness into a bubbly dish.
Perfection.
Make Ahead Tips: Meal Prep Lasagna
Along with the tip of making all of the components a day ahead, you can also assemble the entire lasagna ahead of time! Cover tightly with foil and refrigerate, then remove from the fridge about a half hour before baking. Remove from refrigeration, set on the counter or cooktop, remove the foil, preheat the oven and wait.
How Long Does Vegan Lasagna Last?
This Vegan Lasagna Recipe is best within 3 days, carefully wrapped and stored in the refrigerator. It reheats perfectly in an oven safe dish, and is also good by the cold forkful while standing in front of the fridge at midnight.
This is what I have heard, anyway.
Can You Freeze Lasagna?
If you want to save your already baked lasagna leftovers for more than 3 days, thoroughly wrap individual servings in freezer safe wrapping / containers.
If you are making the whole lasagna ahead of time, assemble the whole thing in a freezer safe container and freeze before baking. When you want to enjoy it, remove from freezer and defrost entirely before baking.
Vegan Casserole Recipes
Buffalo Jackfruit Enchiladas: quick and easy comfort food with classic flavors everyone loves! perfect for a weeknight dinner, casual get together, or food delivery for a friend.
Black Forest Skillet Crisp: a casserole isn't just for dinner anymore - crisps and cobblers welcome! this recipe has a quick stovetop method for a sweet treat in no time!
Roasted Veggie Quinoa Casserole: a hearty dish to suit just about any diet - this is a colorful and fiber rich recipe! great for weekly meal prep and menu planning.
Easy Bean and Rice Enchiladas: the perfect school night dinner! super quick, easy, and satisfying. you may have all of the ingredients in your pantry right now...
Deep Dish Pizza Pot Pie: deep dish pizza just might be the ultimate casserole, no? we are counting it as one, because it is a favorite and a craving.
Shiitake Shallot Quiche: a vegan scramble alternative, this veggie packed slice gives you all you are looking for in a satisfying and tasty breakfast.
Cheesy Hatch Chile Enchiladas: loved by many vegans and omnivores, this recipe is my go to for food delivery, back to school nights, and comfort food potlucks.
Did You Make This Lasagna Recipe?
Follow spabettie on Instagram and tag us with #spabettie
We love seeing your recipe photos and remakes - thank you!
Yield: 3 servings / 1 loaf pan
Vegan Lasagna
a small batch recipe for two is the perfect dinner. meal prep tips and how to make gluten free
Additional Time
15 minutes
Total Time
1 hour
55 minutes
Instructions
Prepare all ingredients ahead / the day before.
Preheat oven to 350 °F.
Spread the vegan ricotta in an even layer over the lasagna noodles, covering edge to edge. Repeat with as many noodles as you want layers.
Pour a small amount of marinara sauce into the bottom of the glass loaf pan, spreading to cover entire bottom surface.
Lay the first noodle over this sauce.
Spoon another layer of sauce over the noodle. (Also add some of the meat crumbles if you wish.)
Repeat with each ricotta covered noodle, alternating noodle to sauce until all the noodles are stacked.
Cover lasagna with more sauce, making sure all noodle surface has sauce so they don't dry out.
Cover with foil and transfer to preheated 350 °F oven. Bake for 35-40 minutes, until noodles are cooked through.
Remove foil and return to oven to bake another 10 minutes.
Remove from oven and allow lasagna to rest for 15-20 minutes before serving.
Notes
dairy, egg, and gluten free, vegan
Recommended Products
As an Amazon Associate and member of other affiliate programs, I earn from qualifying purchases.
Nutrition Information:
Yield:
3
Serving Size:
1
Amount Per Serving:
Calories:

212
Total Fat:

11g
Saturated Fat:

5g
Trans Fat:

0g
Unsaturated Fat:

5g
Cholesterol:

0mg
Sodium:

329mg
Carbohydrates:

15g
Net Carbohydrates:

13g
Fiber:

2g
Sugar:

4g
Protein:

16g
nutrition calculations results vary by calculator, are for informational purposes only, and are not intended to replace medical advice or treatment.
about Kristina: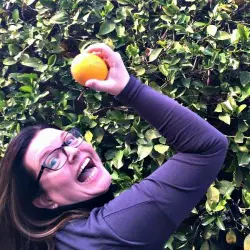 Kristina is spabettie! She found cooking at an early age, and created spabettie in 2010 to share vegan recipes. Kristina turned her culinary training into sharing vibrant vegan food! Read more...
spabettie / Kristina Sloggett is a participant in the Amazon Services LLC Associates Program, an affiliate advertising program designed to provide a means for sites to earn advertising fees by advertising and linking to Amazon.com.