This roasted veggie quinoa casserole is a plant based comfort food dish. Fresh and flavorful, and a hearty vegan entree that suits just about any diet.
recipe originally published February 1, 2017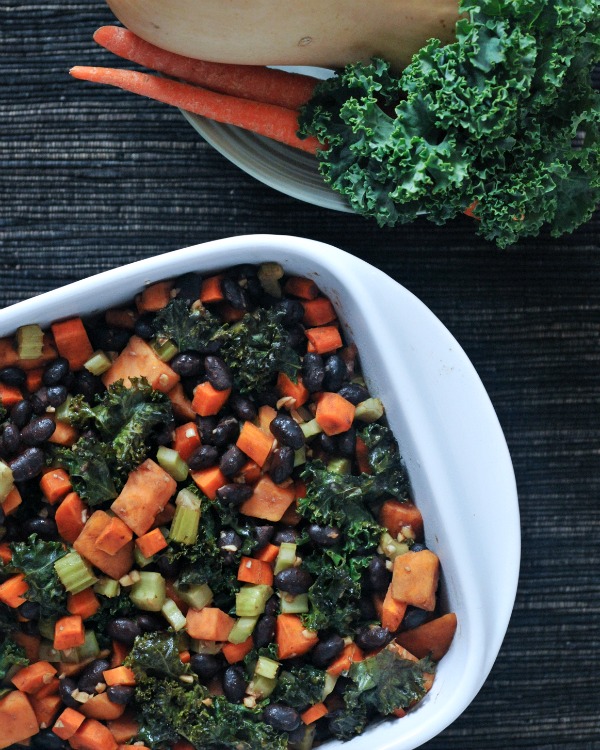 Whole Foods Casserole
When someone asks about my casserole recipes, I usually have to point them to my enchiladas or lasagnas - I don't have too many real, actual casserole dishes.
This colorful Roasted Veggie Quinoa Casserole has been dinner for us twice in two weeks - it is easy, pretty quick, and flavorful. With freshness, protein, and layers of texture - this dish is versatile too - change the spices and veggies and you've got another casserole!
The leftovers are great too - I warm them up in a wrap or over crisp cool greens. This freshness will be in regular rotation around here...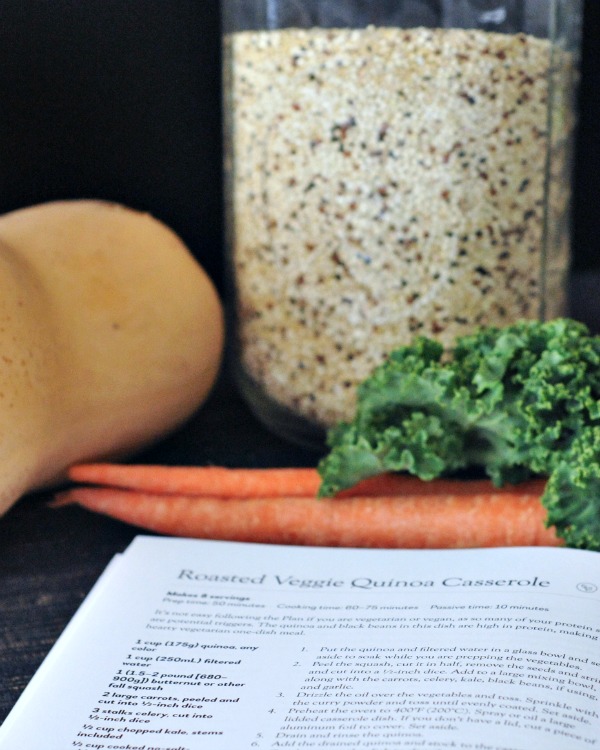 Migraine Diet Plan
This Roasted Veggie Quinoa Casserole recipe comes from an essential lifestyle guide for anyone suffering migraine, vertigo, Meniere's disease - The Migraine Relief Plan.
Very few people know this, but in early 2016 I was diagnosed with chronic migraine, which is associated with severe pain more days per month than not. My treatment team now includes a neurologist and, along with my naturopath and primary care, we are stopping at nothing to reverse this. One of the first areas I focused on was diet - and this book has been a great help.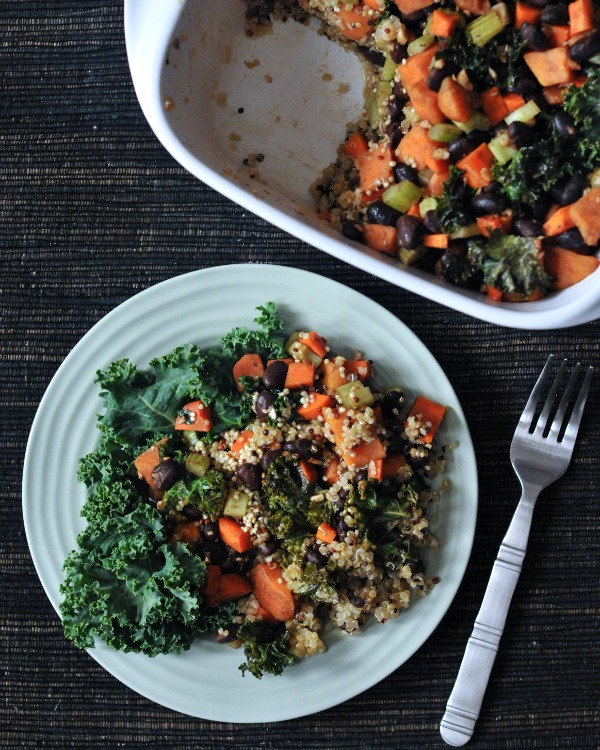 Stephanie shares vital information gathered from her own experiences with migraine, vertigo and Meniere's - this book is a benefit of her vast knowledge. While the recipes within this book are not primarily vegan, there are a few and they are delicious. Also, many of the recipes have vegan substitutes.
I recommend this book to anyone with migraines, people who know migraine sufferers and want to understand and help, and anyone wanting to transition to low sodium, 'cleaner' eating and optimal health. This is more than a cookbook, it is an information packed lifestyle resource.
Whatever You Focus On Gets Bigger - in this case, vibrant, fresh food!
Did you make this recipe?
Follow spabettie on Instagram and tag us with #spabettie
We love seeing your recipe photos and remakes - thank you!
Yield: 8 servings
Roasted Veggie Quinoa Casserole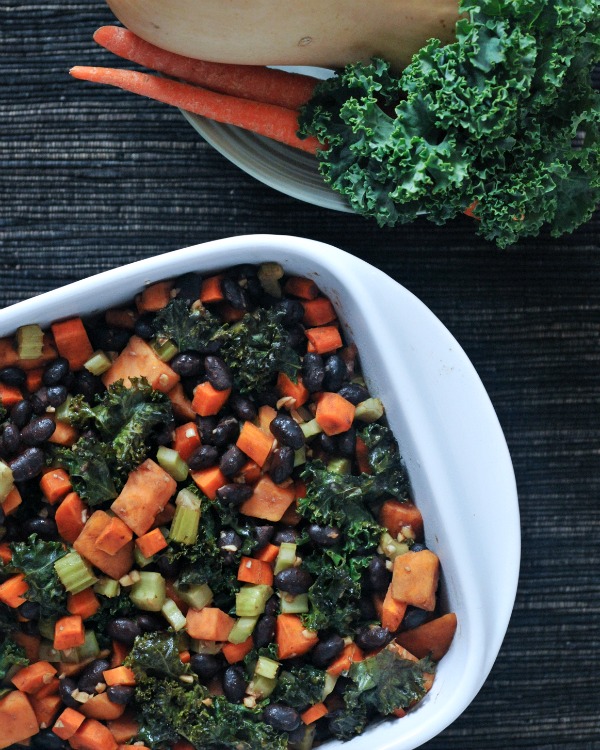 This plant based comfort food dish is fresh and flavorful. A hearty vegan entree that suits just about any diet.
Ingredients
1 cup (175g) quinoa, any color
1 cup (250mL) filtered water
1 (1.5–2 pound [680–900g]) butternut or other fall squash
2 large carrots, peeled and cut into ½-inch dice
3 stalks celery, cut into ½-inch dice
½ cup chopped kale, stems included
½ cup cooked no-salt-added or low-sodium black beans, drained (optional)
6 cloves garlic, minced
¼ cup (60mL) organic extra virgin olive oil
2 tablespoons no-salt-added medium–hot curry powder
1 ½ cups (375mL) low-sodium vegetable stock
Instructions
Put the quinoa and filtered water in a glass bowl and set aside to soak while you are prepping the vegetables.
Peel the squash, cut it in half, remove the seeds and strings, and cut into a ½-inch dice. Add to a large mixing bowl, along with the carrots, celery, kale, black beans, if using, and garlic.
Drizzle the oil over the vegetables and toss. Sprinkle with the curry powder and toss until evenly coated. Set aside.
Preheat the oven to 400°F (200°C). Spray or oil a large lidded casserole dish. If you don't have a lid, cut a piece of aluminum foil to cover. Set aside.
Drain and rinse the quinoa.
Add the drained quinoa and stock to the casserole dish. Gently agitate the dish to distribute the quinoa evenly, while keeping it submerged in the liquid.
Carefully add the vegetables evenly on top, spreading with a spatula and keeping as much of the quinoa in contact with the liquid as possible.
Bake, covered or wrapped tightly in foil, for 35 to 45 minutes, or just until the vegetables are fork-tender.
Remove from the oven, uncover, and let rest for a few minutes before serving.
Cooks' Note: You must use a casserole dish with a lid, or cover your dish tightly with foil, or the quinoa will dry out and not cook properly. Choose pre-prepped or frozen butternut squash to shorten prep time. You can prep all the vegetables a day ahead. It's important to cut them uniformly; the small dice allows them to cook through.
Notes
dairy, egg, soy and gluten free, vegan recipe
Nutrition Information:
Yield:
8
Serving Size:
1
Amount Per Serving:
Calories:

138
Total Fat:

8g
Saturated Fat:

1g
Trans Fat:

0g
Unsaturated Fat:

0g
Cholesterol:

0mg
Sodium:

202mg
Carbohydrates:

36g
Fiber:

6g
Sugar:

2g
Protein:

6g
nutrition calculations results vary by calculator, are for informational purposes only, and are not intended to replace medical advice or treatment.
Roasted Veggie Quinoa Casserole recipe shared with permission from The Migraine Relief Plan copyright 2016 Stephanie Weaver - published by Surrey Books, an imprint of Agate Publishing, Inc.
about Kristina: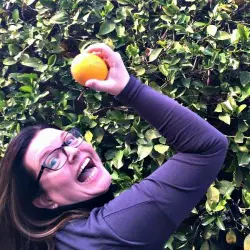 Kristina is spabettie! She found cooking at an early age, and created spabettie in 2010 to share vegan recipes. Kristina turned her culinary training into sharing vibrant vegan food! Read more...
spabettie / Kristina Sloggett is a participant in the Amazon Services LLC Associates Program, an affiliate advertising program designed to provide a means for sites to earn advertising fees by advertising and linking to Amazon.com.