vegan Lemon Poblano Mac and Cheese - a bright and tangy flavor twist on a classic mac and cheese, served up in a perfectly spicy poblano pepper, side of lemon.
recipe originally published April 19, 2013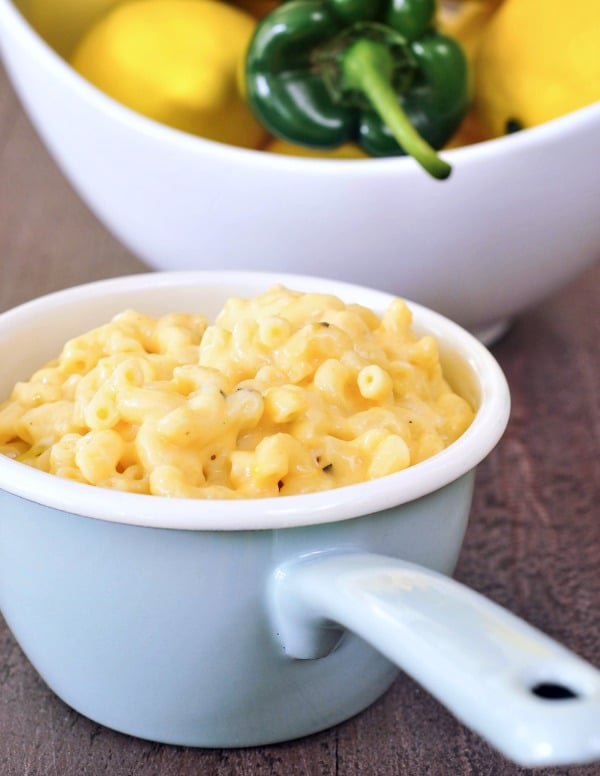 Lemon Poblano Mac and Cheese
Crazy roller coaster week, right? From Boston and Texas and MIT to a couple more ambulance rides to the Emergency Room for Dad*, life has me wanting comfort - a relaxing afternoon with two dachshunds, a night out with Jason, a day off from everything, and comfort food.
*Dad is okay.
I say roller coaster because this week has not been all bad - there have been ups with the downs.
From the devastating tragedy we have been shown incredible strength and that unbreakable spirit of community - people helping and giving without question, simply as a reaction because it is their nature.
Inspiring.
I have had many smiles - very lucky to have the friends and family that I do, and I have been given constant and unwavering support. Lucky girl.
I have had some great conversations! Invigorating conversations with difference of opinion, all respected even when countered. I love good conversation.
Invigorating!
Classic Comfort Food
Back to the comfort food.
I love lemon. Lemon in dessert, lemon in savory entrees - it's all good. I already had the plan to make this poblano mac and cheese, and at the last literal minute I decided to include lemon.
This is a new thing I will be doing more often.
That tart lemon flavor I love blends surprisingly well with mildly spicy grilled poblano and creamy cheesy sauce. Adds some light brightness to a dish that is traditionally rich.
This Lemon Poblano Mac and Cheese is a vegan version of the most traditional mac and cheese - making a roux with butter and flour, then adding cheese and noodles. I learned how to make mac and cheese this way at an early age, and again this method was emphasized in culinary school.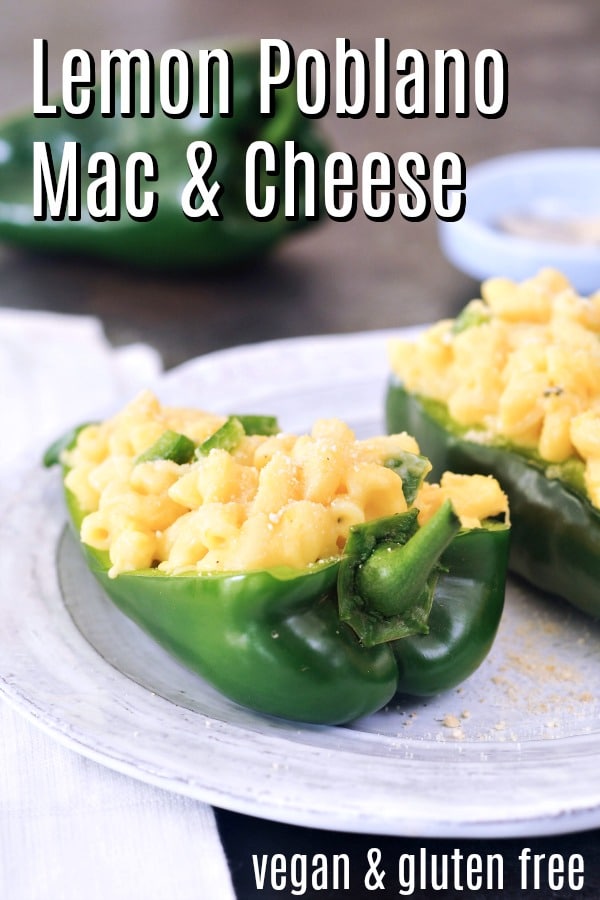 more Vegan Lemon Recipes:
Salted Papaya Ribbons with Lemon and Mint
Gluten Free Lemon Poppyseed Waffles
Lemony Brussels and Kale Chiffonade Salad
Raspberry Lemon Cheesecake Cookies
Vegan Comfort Food Recipes:
Vegan Buffalo Jackfruit Enchiladas
Bourbon Roasted Delicata Comfort Bowls
Hearty Portobello Kale Lasagna
Favorite comfort food?
Spell-check wanted to change poblano to Point Blank. Keanu on a surfboard, anyone? Gary Busey, maybe?
Yield: two servings
Lemon Poblano Mac and Cheese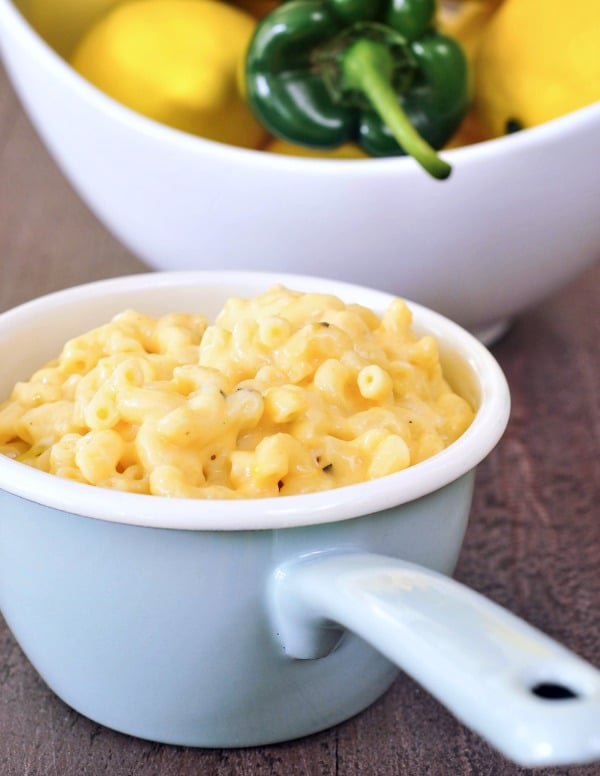 a bright and tangy flavor twist on a classic mac and cheese, served up in a perfectly spicy poblano pepper, side of lemon.
Ingredients
4 ounces gluten free elbow pasta
1-2 poblano peppers, seeded
1 tablespoon vegan butter
1 tablespoon gluten free all purpose flour
½ cup cashew milk
5 ounces cheddar (dairy, soy free), cubed
juice and zest of 1 lemon
Instructions
Grill or roast poblano peppers. When cooled, chop into small bite size pieces.
Cook pasta according to directions.
Meanwhile, in saucepan over medium heat, melt butter. Whisk in flour to a smooth roux, reduce heat to low. Add milk, whisking constantly to a white sauce. Add cubes of cheese, stir as cheese melts into a sauce.
Add lemon juice and zest, roasted pepper and cooked pasta, combine completely.
Serve with lemon wedges.
Try AmazonFresh Free Trial
for Unlimited Grocery Delivery - add these recipe ingredients to your list. use code FRESH25 for a $25 off discount on your first AmazonFresh order!
about Kristina: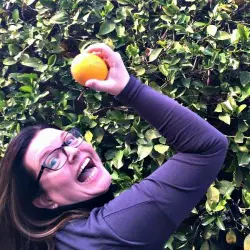 Kristina is spabettie! She discovered a love of cooking at an early age, and founded spabettie in 2010 to share vegan recipes. As the sole recipe developer and photographer, Kristina turned her culinary training into sharing flavorful and vibrant vegan food! She loves dachshunds, karaoke, drums, and travel.
spabettie / Kristina Sloggett is a participant in the Amazon Services LLC Associates Program, an affiliate advertising program designed to provide a means for sites to earn advertising fees by advertising and linking to Amazon.com.