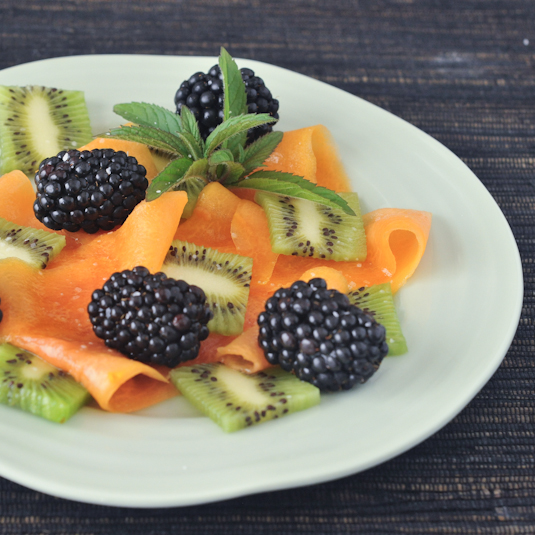 Salted Papaya Ribbons with Lemon and Mint - a refreshing and flavorful salad that is great as a start to a meal, an afternoon snack or a sweet dessert - cheers!
____________________________________
Did this weekend fly by for everyone else, or just me?
While it was a perfect mix of fun things and relaxing down time - yes I enjoyed a short nap - it just went too quickly.
A sign of a good weekend, I suppose?
It definitely was. My weekend started on Friday, when I spent the whole day in the kitchen. It was glorious - I created and photographed two project recipes, with French Open tennis in the background. My perfect day, really.
I spent part of Saturday on wedding planning - it is just under three months away and I am getting kind of excited. Okay, quite a bit excited. Our band said yes this past week, and I have been giddy ever since. Definitely one of the biggest details for me, the music. Saturday night we joined friends for dinner and a Tony Starlight show, which is always a great time. Yesterday we went to a potluck to send off our friends moving to Boston - great food and friends out in a perfect Portland summer evening.
The Grand Floral parade was this weekend, as was the World Naked Bike Ride. Normally we have a fantastically warm May, and as soon as the Rose Festival events begin, so does the rain. More often than not, my parade experiences have included rain. Not complaining - I have lived here long enough that it's just all part of the fun. This year, no rain! Our summer has not even officially started, and we are having gloriously bright sunny hot days.
I don't know about you, but hot days for me = cool food. Light food. Raw food?
For this refreshing salad, I channeled my summers in Hawaii at my grandfather's house - every morning was breakfast of a half papaya. A glass of guava juice. Fresh. Perfect.
This salad is exactly that - fresh, sweet, salty (the salt really brings out the flavors here), cool. I will be enjoying this all summer long.
Salted Papaya Ribbons with Lemon Mint Dressing
inspired by Melon Salad with Lemon-Sherry Dressing
YIELD: four servings as starter salad, two as a large salad
dairy, egg, soy and gluten free, vegan
INGREDIENTS:
juice and zest of 1 lemon
1 teaspoon rice vinegar or apple cider vinegar
1 teaspoon brown rice syrup or agave
2-3 grinds black pepper
1 large papaya, peeled
2 kiwi, peeled
½ pint blackberries
2-3 sprigs fresh mint
pinch sea salt
INSTRUCTIONS:
In medium size mixing bowl, combine lemon juice and zest, vinegar, sweetener and pepper. Whisk together, set aside.
Slice papaya in half, remove seeds. Slice each half into three pieces. Using a mandoline (or sharp paring knife and steady hand), cut papaya slices into long ribbons. 
Slice kiwi into thin slices. 
Add papaya ribbons, kiwi, and blackberries to mixing bowl with lemon dressing. Toss to coat, transfer to serving plates. Top with fresh mint and sprinkle with sea salt.
Enjoy.
How is your summer starting? Any fun plans or vacations?