This vegan and gluten free lemon elderflower layer cake is royally delicious! Bright lemon cake surrounded by smooth and sweet elderflower frosting.
recipe originally published May 6, 2018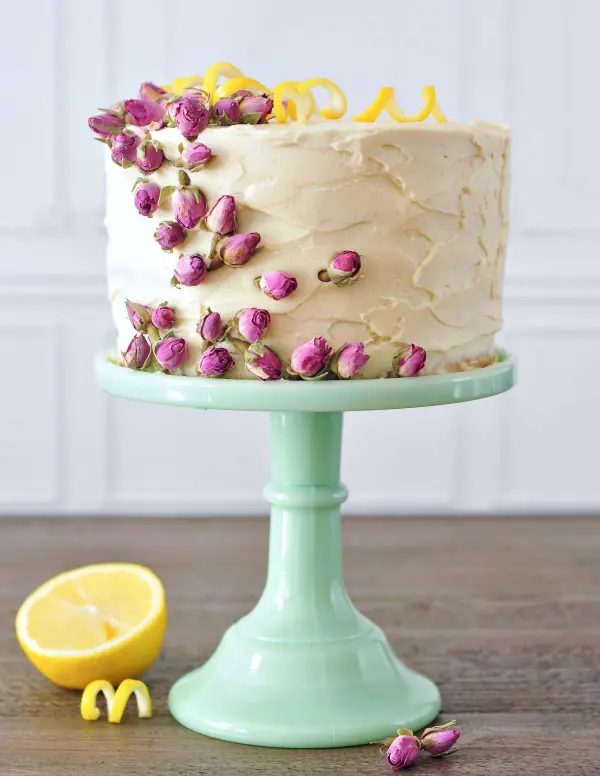 Table of Contents
Lemon Elderflower Cake
A Lemon Elderflower Layer Cake was the Royal wedding cake of Duke and Duchess Sussex.
Veering from tradition, spring inspired flavors were the focus of the cake served at their Windsor Castle reception. As soon as I first heard that Prince Harry and Meghan chose to forgo the traditional fruit cake for this bright floral flavor?
I grabbed my favorite elderflower cordial and made one myself.
Lemon Elderflower Layer Cake
This vegan Lemon Elderflower Cake is brunch perfect. It works for Mother's Day, girls night in, summer birthday celebrations, and every warm weather brunch I host from now until infinity.
You might recall that William and Kate's 2011 Royal Wedding celebrations included a groom's cake. It was the Queen's favorite Chocolate Biscuit Cake, served alongside their multi layered wedding cake.
How To Make Lemon Elderflower Cake
For this recipe, we used Elderflower Cordial for the flavoring.
While the elderflower flavor was mainly used in the mousse frosting, we did infuse the flavor into the cake by brushing each cooled lemon cake layer with the cordial.
For this vegan gluten free lemon elderflower cake recipe, I intended the texture to be more dense, something substantial enough to stand as a solid layer cake. The cake has a good crumb, and is closer to a pound cake than a light sponge. Not quite a pound cake, but close.
If you prefer a light sponge, see our other Lemon Cake recipe.
Continue reading for tips on making a layer cake, and using different size cake pans.
What is Elderflower?
Floral and fruity without being perfume-y, Elderflower has been the sweetheart flavor of cocktails for a while. From a small white flower of the elderberry bush, Elderflower is generally found in the form of a cordial or syrup.
Elderflower cordial is easy to find! Many stores carry it, and is available to order online.
How To Make A Layer Cake
This vegan gluten free Lemon Elderflower Layer Cake has been made several times, in different sizes:
Tips For the Best layer Cake:
Measure the same amount of cake batter into each cake pan, ensuring uniform layers
Cool layers completely before trimming or frosting
Carefully trim each layer for a flat top, using a serrated knife
Use an offset spatula to fill each layer, evenly spreading frosting
Allow frosting to go past the edge of each layer - this will incorporate into the final outer frosting
Storing Unfrosted Layer Cake
The layers of cake can be made ahead of time:
Wrap each unfrosted layer of cake in plastic wrap - carefully, completely, and separately.
Stack the tightly wrapped layers and wrap them all together in another piece of plastic wrap.
Store at room temperature or in refrigerator for 2-3 days.
Storing longer than 2-3 days? Place the above wrapped cakes in a freezer safe ziplock / container and freeze.
Storing Frosted Layer Cake
A frosted layer cake will keep 3-4 days. Store in refrigerator, loosely covered in plastic wrap. Tip: poke toothpicks around outer edge of cake, to keep plastic wrap from touching frosting.
If there is fresh fruit or curd, enjoy the cake within 2 days, tops.
Vegan Cake Recipes
Vegan Lemon Recipes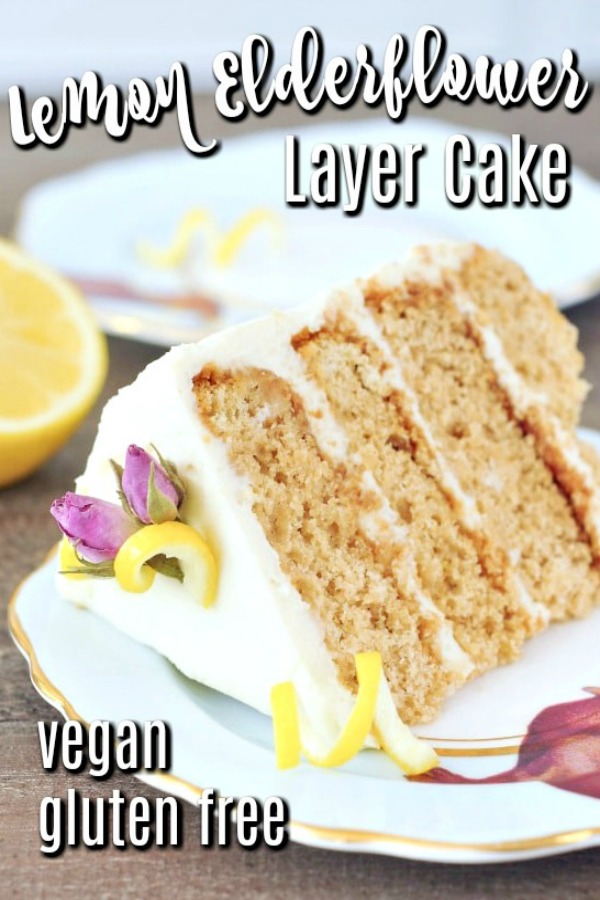 Did You Make This Recipe?
Follow spabettie on Instagram and tag us with #spabettie
We love seeing your recipe photos and remakes - thank you!
Yield: 1 layer cake
Lemon Elderflower Cake
Royally Delicious! this vegan and gluten free cake has bright and light flavors surrounded by smooth and sweet elderflower frosting.

Prep Time 20 minutes

Cook Time 30 minutes

Additional Time 1 hour

Total Time 1 hour 50 minutes
Ingredients
(make ahead) 1 batch Elderflower Mousse:
1 (14 ounce) block extra-firm tofu, drained
3 tablespoons vegan powdered sugar
¼ cup elderflower cordial
½ cup (full fat) canned coconut cream (solid from top of can)
6 ounces (1 cup) vegan white chocolate, chips or chopped
Cake:
Instructions
MOUSSE:
Add tofu, powdered sugar, and elderflower cordial to blender. Pulse a few times to roughly combine.
Heat milk to a simmer in small saucepan over low heat. Add chopped white chocolate or chips, stirring until melted into warm milk. Remove from heat.
Immediately and carefully transfer melted chocolate milk to blender. Cover and blend just until contents are completely smooth.
Transfer mixture to container with a cover. Refrigerate several hours to set into a mousse consistency.

CAKE:
Preheat oven to 350 °F. Grease cake tins and line with parchment (two 8 inch, five 5 inch, etcetera).
Combine milk, coconut oil, applesauce, lemon juice and zest, lemon oil, and sugar. Beat with hand mixer, or (vigorously beat by hand) until completely combined and smooth.
In a small bowl, sift together flours, cornstarch, baking powder and soda. Fold these dry ingredients into the wet ingredients. Do not use mixer for this part, do not over mix - stir until just combined and smooth.
Transfer batter evenly among cake tins, smoothing into even layer.
Bake cakes at 350 °F.
Bake for approximately these times, or until an inserted toothpick comes out clean: 20 minutes for 5 inch cake tins, 25 minutes for 8 inch cake tins, 30+ minutes for 9 inch or larger.
Remove cakes from oven, set on wire rack to cool slightly before removing from cake tins.
Cool cakes on wire rack completely before frosting.
Carefully cover and move cakes to refrigerator to 'set' frosting, at least one hour. Remove at least one half hour before serving to soften cooled cake.
Store covered in refrigerator.
Notes
cake is dairy, egg, and gluten free, vegan

*Alternatively: if not gluten free, you can use an (accidentally vegan - check the ingredients) boxed cake mix + 12 ounces of lemon lime soda - that is it! no other ingredients! (optional add of lemon oil if you use vanilla / white cake) this gives you Super Fluffy Cake!)
Nutrition Information:
Yield:
10
Serving Size:
1
Amount Per Serving: Calories: 281Total Fat: 15gSaturated Fat: 7gTrans Fat: 0gUnsaturated Fat: 10gCholesterol: 34mgSodium: 83mgCarbohydrates: 21gNet Carbohydrates: 17gFiber: 4gSugar: 22gProtein: 6g

nutrition calculations results vary by calculator, are for informational purposes only, and are not intended to replace medical advice or treatment.



about Kristina: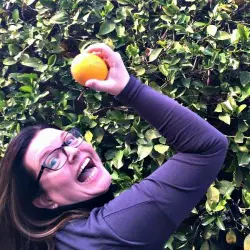 Kristina is spabettie! She found cooking at an early age, and created spabettie in 2010 to share vegan recipes. Kristina turned her culinary training into sharing vibrant vegan food! Read more...
spabettie / Kristina Sloggett is a participant in the Amazon Services LLC Associates Program, an affiliate advertising program designed to provide a means for sites to earn advertising fees by advertising and linking to Amazon.com.