blueberry breakfast cake? cake for breakfast? yes! this healthy vegan coffee cake recipe is bursting with fresh berries in a lightly sweet, hearty crumb. Yum!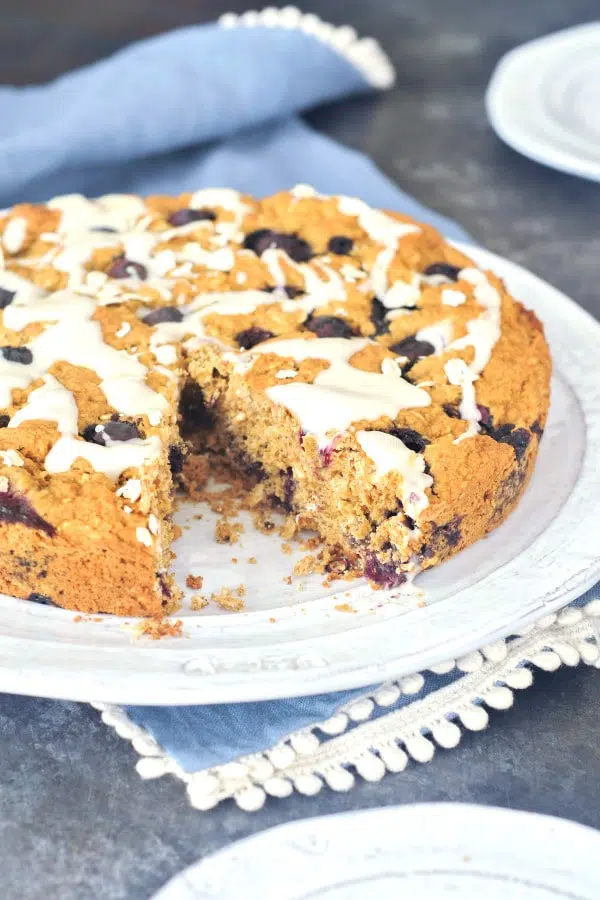 Blueberry Breakfast Cake
We have been all about this vegan coffee cake recently. I have made it three times in that many weeks. In that time, we have discovered this cake is not just for breakfast, but makes a great snack or after dinner sweet as well.
We love the fresh blueberries in this! You can also use frozen blueberries - we have used frozen also. This can easily turn into a Mixed Berry Breakfast Cake, or substitute your favorite berry. Blackberry Cake is sounding pretty good right now.
Other fruit? I imagine a juicy fruit like a fresh peach would likely work well with this batter. I'd slice the peaches into small bite size chunks.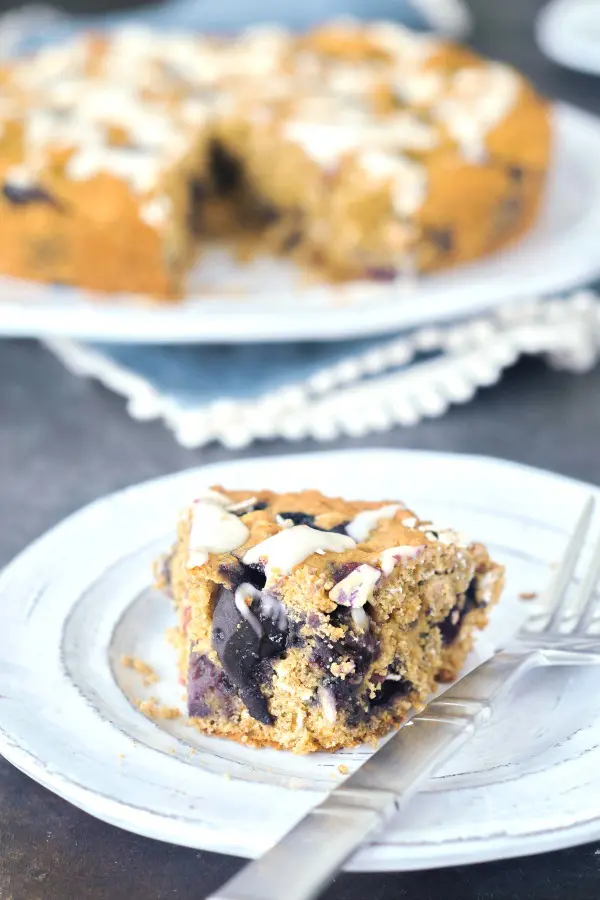 Vegan Comfort Food
This Blueberry Breakfast Cake recipe is just one of 75 craveable creations in my friend Mel's new book, Vegan Comfort Cooking. (In the book you will find it as Berry Good Breakfast Cake). I have had a preview copy for a bit, and have been happily cooking my way through Mel's easy and approachable recipes.
My readers know I love cookbooks. Mel's Vegan Comfort Cooking is a book I have been anticipating for some time. A tangible extension of Mel's online recipes, the recipes in the book are equally delicious and approachable. Vegan Comfort Cooking is 75 Plant Based Recipes to Satisfy Cravings and Warm Your Soul.
Says Mel: "Eating vegan food does not mean you have to give up all your favorite things and it does not mean you have to sacrifice flavor or results. You just need to find yourself some damn good recipes."
Mel, I wholeheartedly agree, and your book is a great resource for exactly that - damn good recipes!
Can You Freeze Coffee Cake? Reheating Tips
This Healthy Coffee Cake also freezes well - carefully wrapped individual slices warmed up very well after a short stint in the freezer while we were out of town. We were happy to have this sweet breakfast treat with our coffee after returning home! After thawing a bit from the freezer, we popped the cake slices in the toaster oven and the blueberries were bursting with flavor once again!
What Is Coffee Cake?
The coffee cake I grew up with was often called Bishops Bread. A cinnamon crumb cake with a streusel topping. After my first cooking class, the first thing I did was bake a Bishops Bread with fruit. I thought I was being so innovative back then.
According to my college bestie, the British version of coffee cake is a sponge cake with coffee in it, or a layer of coffee flavored icing between two layers of sponge. In the states, it is simply cake that is served with coffee. Often with cinnamon.
Therefore to me? Breakfast Cake = Vegan Coffee Cake.
Serving Coffee Cake
What do you eat with breakfast cake?
If you are like me, I need substantial lasting power in my first meal of the day. A thin slice of Vegan Coffee Cake is very welcome with my savory breakfast. I have enjoyed this Blueberry Breakfast Cake with my coffee, then after walking the dachshund up the hill, have something savory.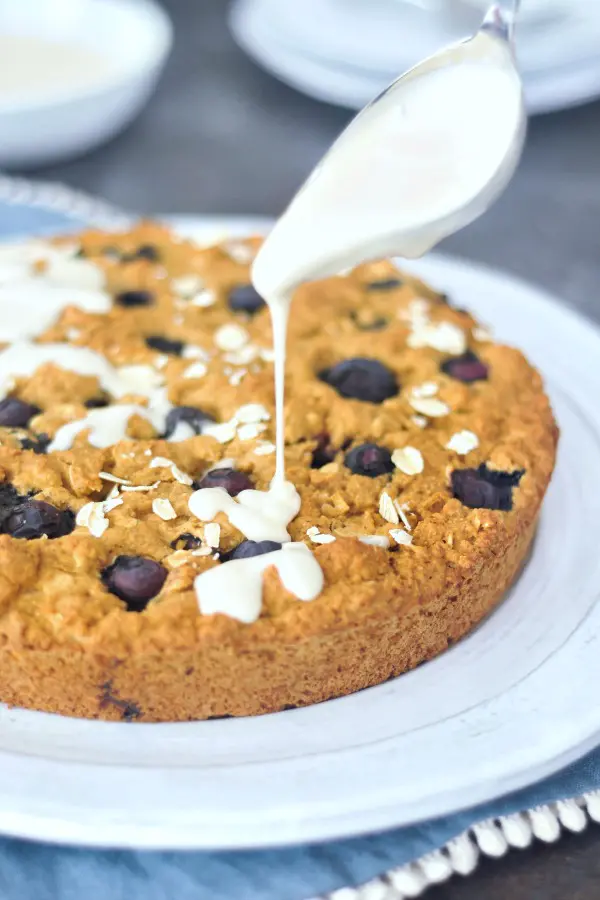 Gluten Free Vegan Coffee Cake
The original version of this Blueberry Breakfast Cake cake calls for spelt flour, which is how I made it the first time. I wanted to see Mel's intended result before I tried a gluten free flour.
Spelt is an ancient grain, also known as one of the hulled wheats. Spelt flour has the bran and germ removed, and results in a lighter texture to baking. If you are not sensitive to gluten, spelt is a really nice flour to bake with, and is a good substitute for an all purpose flour.
Since we are a mostly gluten free household, I used gluten free flour the second and third times I made this recipe. The result was a close match to the original recipe - three lucky breakfast guests could not tell the difference.
The recipe is printed with the spelt flour as originally intended, and I have included my notes for gluten free flour substitutions.
Comfort Food Recipes
Cold winter weekend or a stressed out summer day? Comfort food needs strike any time, and these choices have you covered.
Vegan Cake Recipes
Some of our favorite cake recipes, for breakfast or any time!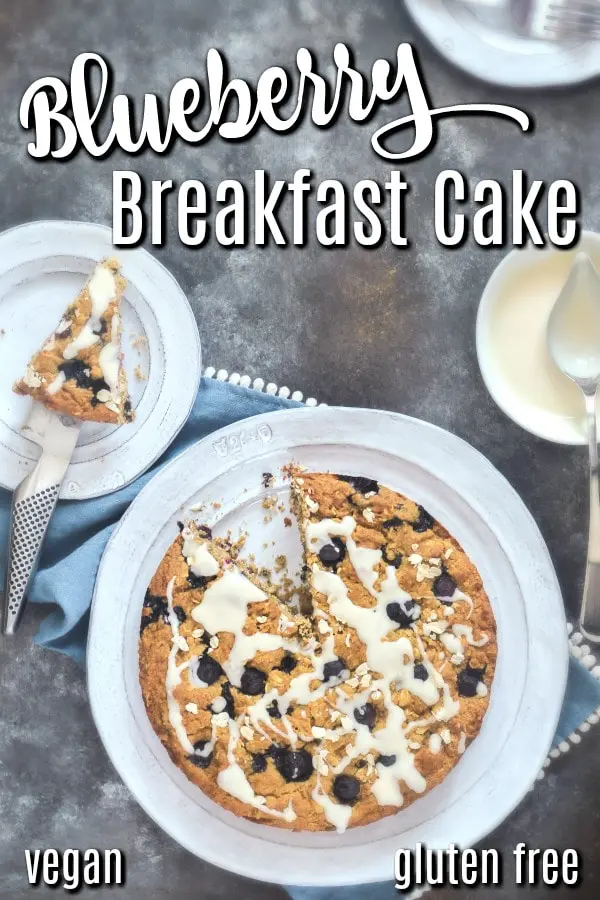 Healthy Vegan Breakfast Cake
Cake for breakfast is always a good thing! This one is stuffed full of healthy ingredients but still tastes like a treat, especially with the generous drizzle of sweet, tangy, yogurt frosting. Enjoy it fresh on the weekend—then eat the leftovers throughout the week.
Did You Make This Breakfast Cake?
Follow spabettie on Instagram and tag us with #spabettie
We love seeing your recipe photos and remakes - thank you!
Yield: 12 slices
Healthy Coffee Cake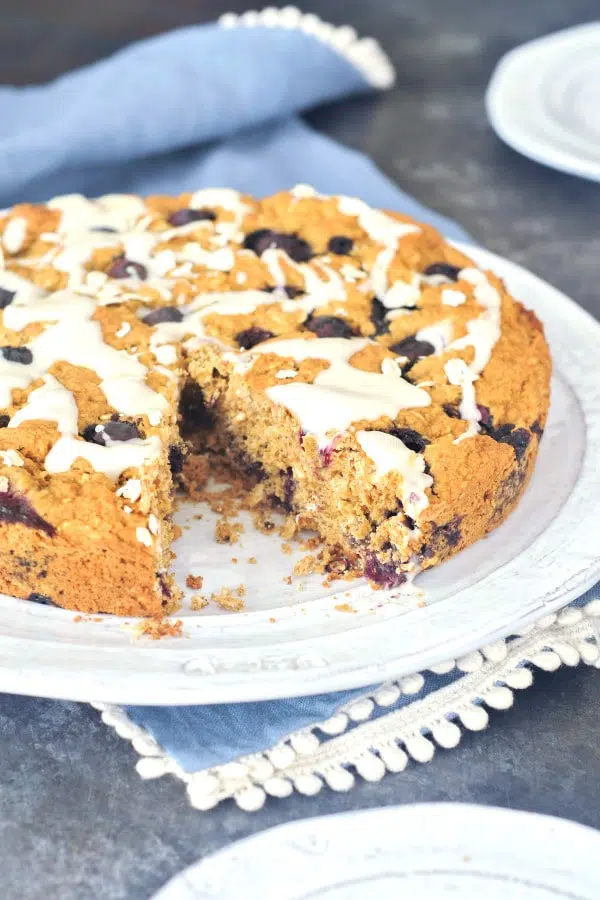 this Blueberry Breakfast Cake is your new favorite morning coffee companion!
Total Time
1 hour
50 minutes
Ingredients
oil or vegan butter, for pan
1½ cups (173 g) spelt flour
2 tbsp (14 g) ground flaxseeds
1 cup (80 g) rolled oats, plus a few more for sprinkling on the top
¾ cup (150 g) coconut sugar
1½ tsp (6 g) baking soda
1 tbsp (12 g) baking powder
½ tsp ground cinnamon
½ tsp salt
1½ tbsp (23 ml) apple cider vinegar (see note)
½ cup (123 g) unsweetened applesauce
⅓ cup (80 g) plain, coconut or vanilla flavor vegan yogurt
1 tsp vanilla extract
1 cup (148 g) fresh blueberries, or 1 cup (155 g) frozen, plus a few to decorate the top
frosting:
½ cup (130 g) powdered sugar
2 to 3 tbsp (30 to 45 g) plain, coconut or vanilla flavor vegan yogurt
Instructions
Preheat the oven to 350°F (176°C).
Grease the sides of an 8-or 9-inch (20.5-or 23-cm) round cake pan with a little oil or vegan butter and line the bottom with a circle of parchment paper.
In a large mixing bowl, combine the flour, ground flaxseeds, rolled oats, sugar, baking soda, baking powder, cinnamon and salt; then stir well.
In a separate bowl, combine the vinegar, applesauce, yogurt and vanilla and stir together.
Pour the wet ingredients into the dry and stir gently to combine. Don't over mix. The batter will be very thick.
Fold the blueberries into the batter. Spoon into the prepared cake pan and sprinkle with a few more oats and blueberries.
Bake for about 40 minutes, or until a toothpick inserted into the middle of the cake comes out clean.
Remove from the oven and leave in the pan for 10 minutes. Then remove the cake, peel off the baking parchment circle and allow to cool completely on a cooling rack.
Once the cake is cool, prepare the frosting:
Put the powdered sugar in a small bowl. Add the yogurt gradually, a tablespoon (15 g) at a time, stirring really well between each addition to smooth it out. Stop when you have a thick but drizzlable consistency
Drizzle all over the top of the cake, allowing some to spill over the sides.
Store, covered, in the fridge. It will keep for 4 to 5 days.
Notes
note from the author: You will find apple cider vinegar in most of my cake and sponge recipes. It is a must-have ingredient for any vegan baker. It might not seem like an obvious ingredient to add to a cake batter, but when combined with baking soda, a chemical reaction happens, making bubbles, creating air pockets and providing leavening. This, along with a little extra baking powder, replaces the leavening action that would otherwise be provided by eggs, so you get a light and fluffy sponge. Don't be tempted to skip it or you will end up with a flat cake.

tips for a gluten free cake: sub 1 cup gluten free all purpose flour and ½ cup rice flour* for the spelt flour. (*or use 1 ½ cups gluten free all purpose flour.)
Recommended Products
As an Amazon Associate and member of other affiliate programs, I earn from qualifying purchases.
Nutrition Information:
Yield:
12
Serving Size:
1
Amount Per Serving:
Calories:

242
Total Fat:

9g
Saturated Fat:

6g
Trans Fat:

0g
Unsaturated Fat:

2g
Cholesterol:

0mg
Sodium:

174mg
Carbohydrates:

31g
Fiber:

5g
Sugar:

17g
Protein:

4g
nutrition calculations results vary by calculator, are for informational purposes only, and are not intended to replace medical advice or treatment.

this Healthy Coffee Cake recipe (Berry Good Breakfast Cake in the book) is reprinted with permission from Vegan Comfort Cooking by Melanie McDonald, Page Street Publishing Co. 2019.
about Kristina: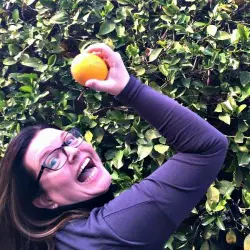 Kristina is spabettie! She found cooking at an early age, and created spabettie in 2010 to share vegan recipes. Kristina turned her culinary training into sharing vibrant vegan food! Read more...
spabettie / Kristina Sloggett is a participant in the Amazon Services LLC Associates Program, an affiliate advertising program designed to provide a means for sites to earn advertising fees by advertising and linking to Amazon.com.