Spinach Pancakes – plant based and wildly vibrant green – sweeten with maple syrup, or enjoy as a savory stack or sandwich bread with some minced garlic and sea salt.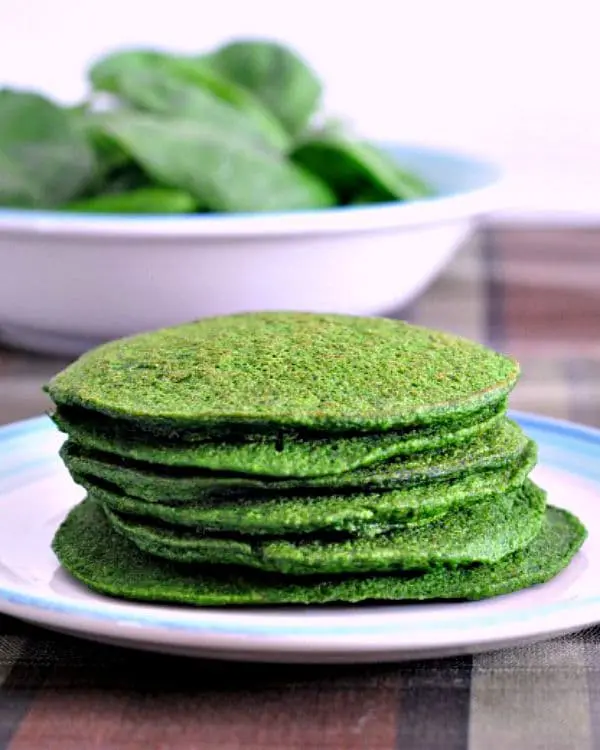 Spinach Pancakes
These protein pancakes have long held the title as most popular pancake on spabettie, loved by kids big and small, young and old.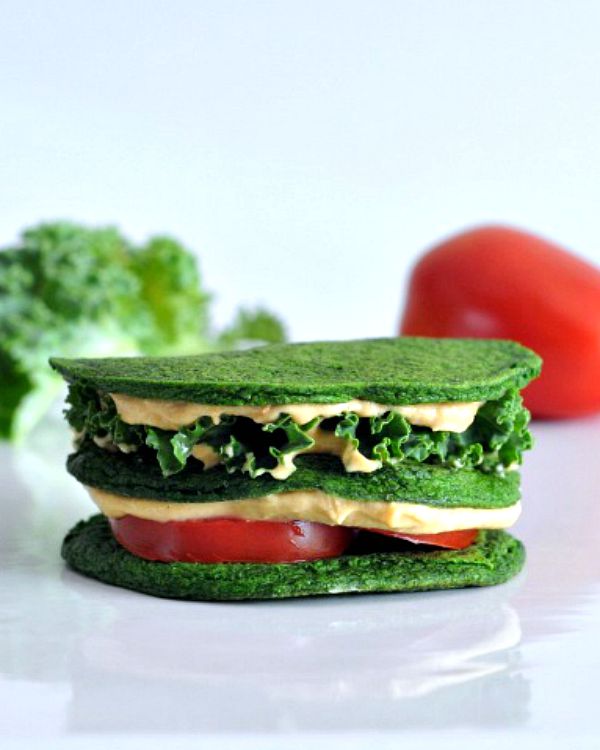 I was craving this sandwich for a week.
I haven't made these vegan spinach pancakes in a while, and don't eat many sandwiches lately, either. I had a mad craving for these pancakes, and they make the best sandwiches. We use these protein pancakes to make a more traditional 'deli style' sandwich, but this time it was simple but delicious.
This triple decker started with a generous spread of garlic chive hummus, and stacked with kale and sliced roma tomato, this is a perfect sandwich full of fresh flavor.
Make a big batch of green pancakes! Keep them in the fridge all week for quick breakfasts or sandwiches. If I know I am making them for sandwiches, I will season them with savory flavors.
If I know I want some as a sweet stack, I'll make those first and then add savory flavor. These are so quick to make though – throw handfuls of spinach in the blender while you heat the griddle…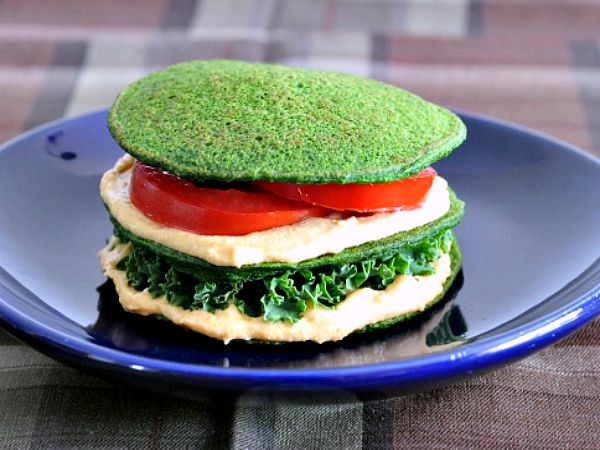 I know they look odd (they are vibrant!), does a spinach pancake sound good to you?
printable Spinach Pancakes recipe:
Yield: 10-12 three inch pancakes
Spinach Pancakes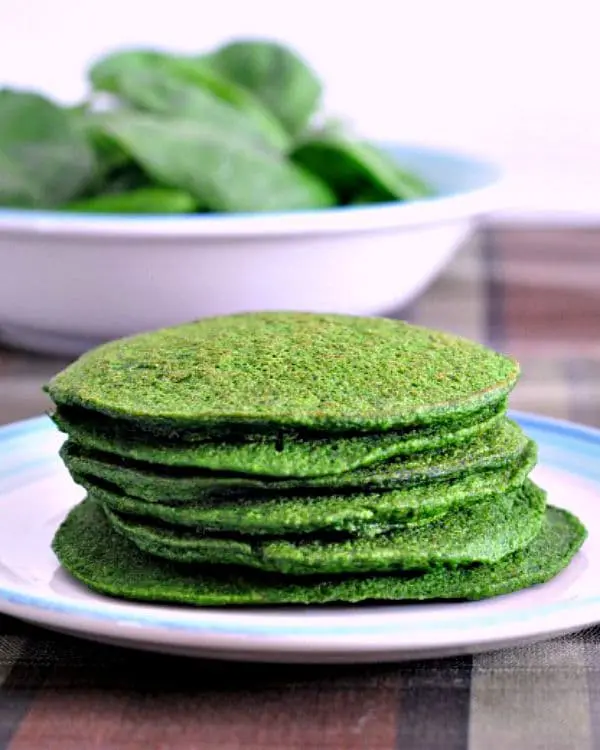 plant based and wildly vibrant green, you cannot even taste the spinach! sweeten with maple syrup, or enjoy them as a savory stack or sandwich bread with some minced garlic and sea salt.
Ingredients
3 cups (handfuls) fresh spinach
3 tablespoons flax seed, fresh ground
1/2 cup + 1 tablespoon warm water
2/3 cup rice flour
1 tablespoon baking powder
optional: finely minced garlic or sea salt for savory, maple syrup or sugar to sweeten
Instructions
Combine flax with water, set aside to gel.
Pulse spinach and flax gel in blender until blended. Add flour and baking powder, blend until completely combined.
Pour in 1/4 cup increments onto heated nonstick griddle over low heat*, flipping once when cooked through.
*Low heat keeps the bright green color, a higher heat may brown.
Nutrition Information:
Yield:
4
Serving Size:
3
Amount Per Serving:
Calories:

125
Try AmazonFresh Free Trial
for Unlimited Grocery Delivery – add these recipe ingredients to your list. use code FRESH25 for a $25 off discount on your first AmazonFresh order!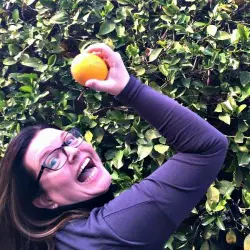 ABOUT KRISTINA: Kristina is spabettie! She founded spabettie in 2010 to share vegan recipes. As the sole recipe developer and photographer, Kristina turned her culinary training into the best way to spend her days – sharing just how flavorful and vibrant vegan food is! She loves dachshunds, Portland, Hawaii, drummers – well, one drummer – and travel.
spabettie / Kristina Sloggett is a participant in the Amazon Services LLC Associates Program, an affiliate advertising program designed to provide a means for sites to earn advertising fees by advertising and linking to Amazon.com.