These really are the best vegan mushroom burgers! Super flavorful patties that work with all kinds of burger toppings. Also gluten free.
recipe originally published October 17, 2013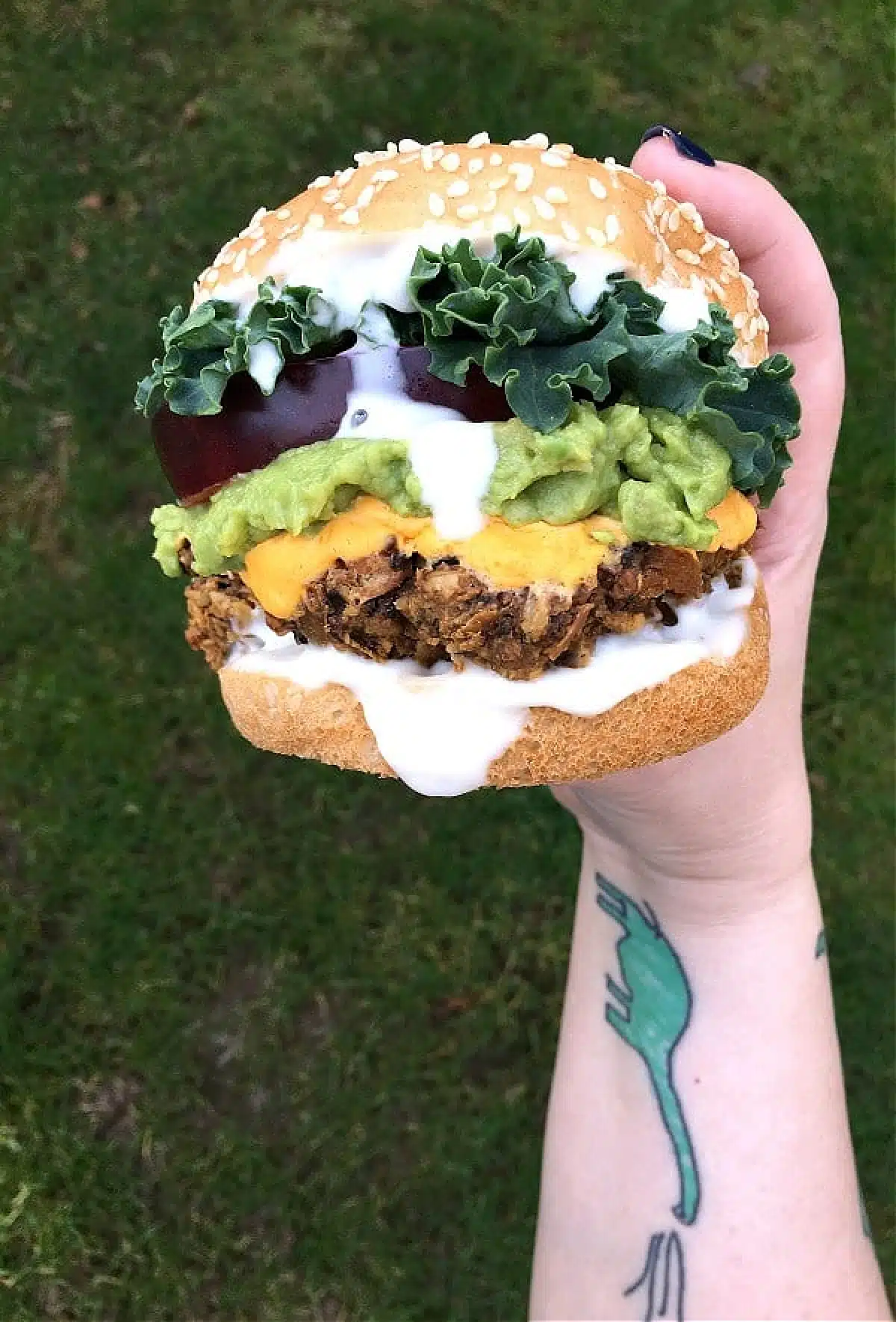 Best Vegan Mushroom Burgers
The sun is shining bright.
We change the clocks this weekend - there will be more light! (Also, did you Oregonians see the bill to keep daylight savings year 'round?! I am so in.
Is it too soon to think about summer BBQ?
Okay, probably. I am very much looking forward to brighter days and spring temperatures. ...not just because I have so many ideas for farmers market produce and light, summery meal plans.
Grillable Veggie Burger
Also because I want to see if the Best Vegan Mushroom Burgers will hold up on the grill. After several times making this recipe and having it tested elsewhere, these burgers hold up.
Truly, they hold up. Look at that slice through:
Best Vegan Burger
They don't squish, even under that thick slice of tomato.
I am hopeful they might do well on a grill. If not, they are still perfect in a skillet - my favorite way to cook them.
The flavor is that indescribable savory umami goodness that equally supports melty cheese, a half avocado worth of guacamole, or stacks of classic burger accompaniments.
The Best Vegan Mushroom Burgers call for both dried and fresh mushrooms. The dried bring a ton of flavor and texture. Mushrooms are high in fiber, low calorie, and packed with nutrients (vitamin B, D, and potassium are some I recall from my work with The Mushroom Council...)
I am super happy with everything about these burgers. Jason approved too.
More mushroom recipes:
Did you make these mushroom burgers?
Follow spabettie on Instagram and tag us with #spabettie
We love seeing your recipe photos and remakes - thank you!
Yield: 8 burgers
Best Vegan Mushroom Burgers
these really are the Best Vegan Mushroom Burgers - super flavorful patties that work with all kinds of burger toppings. gluten free!
Ingredients
⅓ cup water
1 pint fresh shiitake mushrooms
1 small yellow onion, peeled and diced
3 fresh garlic cloves, peeled and minced
1 ½ teaspoons onion powder
½ teaspoon sea salt
burger buns or sturdy lettuce leaves
crispy lettuce, avocado, tomato
Instructions
Preheat oven to 350 °F. Line a baking sheet with parchment.
Place ground flax in a bowl, add water and stir. Set aside to thicken.
Add dried mushrooms to food processor fitted with sharp s blade. Pulse several times to chop dried mushrooms into small pieces. Remove mushroom pieces from food processor and set aside.
Wipe fresh mushrooms clean and trim stems if needed.
Add fresh mushrooms to full size food processor fitted with a sharp S blade. Pulse several times until mushrooms are small crumbly pieces.
Remove chopped fresh mushrooms from food processor, set aside. Return container to food processor and replace sharp s blade.
In a skillet over medium heat, warm 2 tablespoons olive oil. Sauté the onion and garlic for several minutes, stirring often.
While onion and garlic are cooking, drain beans. Do not rinse.
Add beans to food processor and pulse a few times. Add to beans: finely chopped dried mushrooms, oats, onion powder, smoked paprika, and salt. Process to a uniform sticky mixture – somewhat crumbly, not completely smooth. Transfer to large mixing bowl.
Once onion and garlic are translucent and soft, add to mixture in mixing bowl. Add the flax mixture now also.
Return skillet to medium heat, add remaining 2 tablespoons of olive oil. To the hot skillet, add the chopped fresh mushroom crumble. Stir once to coat, then leave alone to cook down. Sauté until crispy brown and much of the moisture is removed, about 5 minutes.
Remove cooked mushrooms from heat. Add the cashew butter and tamari, stir to coat and combine. Add to burger mixture in mixing bowl. Stir to combine completely.
Using a measuring cup, scoop the mixture and use your hands to press into patties about ¾ inch thick, making evenly sized patties. Arrange in a single layer on the prepared baking sheet.
To bake: Bake at 350 °F for 20 minutes, remove from oven. Carefully turn each burger over, return to oven to bake another 12-15 minutes, until crispy on outside.
I often bake all patties, then reheat in a skillet or air fryer. These methods can also be used straight from making the patty, instead of baking first.
To fry in skillet: warm olive oil or dairy free butter in skillet over medium heat. Add patties and cook on each side for 3-4 minutes. For melty cheese: add cheese to top of burger patty. Add a teaspoon or two of water to skillet, and cover to steam, 1-2 minutes.
To air fry: Arrange burger patties on parchment lined baking sheet. Transfer to refrigerator for at least one half hour before air frying. Line air fryer basket with perforated parchment round. Place burgers in parchment lined basket, air fry at 370 °F for 8 minutes. Remove basket, carefully flip burger patties over. Return basket to air fryer, continue to cook at 370 °F for another 3-4 minutes.
Serve immediately with your choice of toppings.
Store leftovers covered in an airtight container in the refrigerator for several days, or carefully wrapped in the freezer for 3 months.
Notes
dairy, egg, and gluten free, vegan
Recommended Products
As an Amazon Associate and member of other affiliate programs, I earn from qualifying purchases.
Nutrition Information:
Yield:
8
Serving Size:
1
Amount Per Serving:
Calories:

237
Total Fat:

9g
Saturated Fat:

2g
Trans Fat:

0g
Unsaturated Fat:

7g
Cholesterol:

0mg
Sodium:

253mg
Carbohydrates:

16g
Fiber:

8g
Sugar:

2g
Protein:

7g
nutrition calculations results vary by calculator, are for informational purposes only, and are not intended to replace medical advice or treatment.
about Kristina: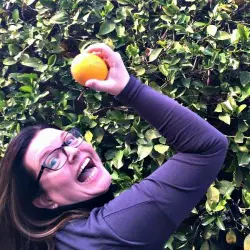 Kristina is spabettie! She found cooking at an early age, and created spabettie in 2010 to share vegan recipes. Kristina turned her culinary training into sharing vibrant vegan food! Read more...
spabettie / Kristina Sloggett is a participant in the Amazon Services LLC Associates Program, an affiliate advertising program designed to provide a means for sites to earn advertising fees by advertising and linking to Amazon.com.