this Vegan Crunchwrap Supreme recipe is a tasty plant based update on the classic drive through favorite. super easy and quick to make, pop several in the oven for lunch, or a late night snack!
(want more menu choices? try our Crispy Cheesy Vegan Quesarito or the Ranchero Breakfast Crunchwrap!)
recipe originally published September 17, 2013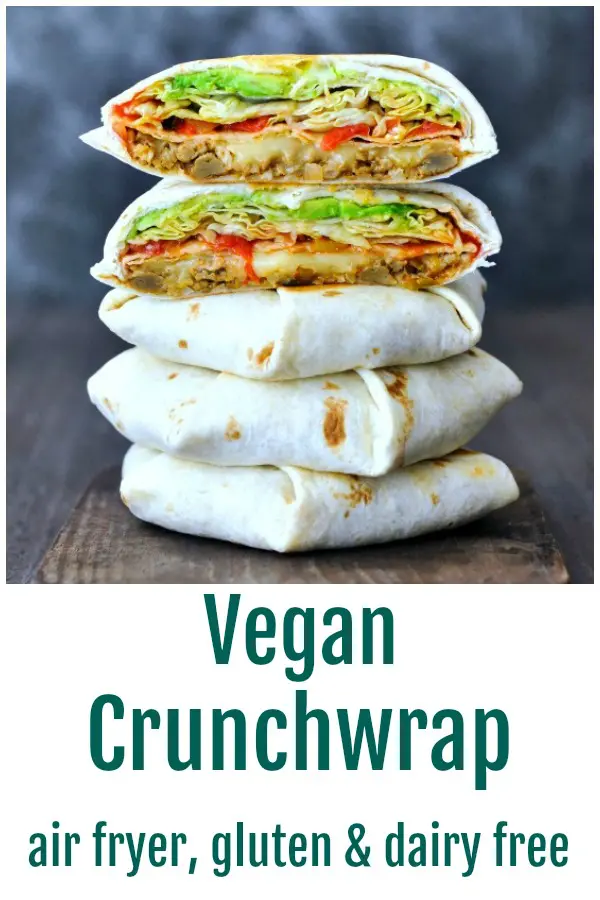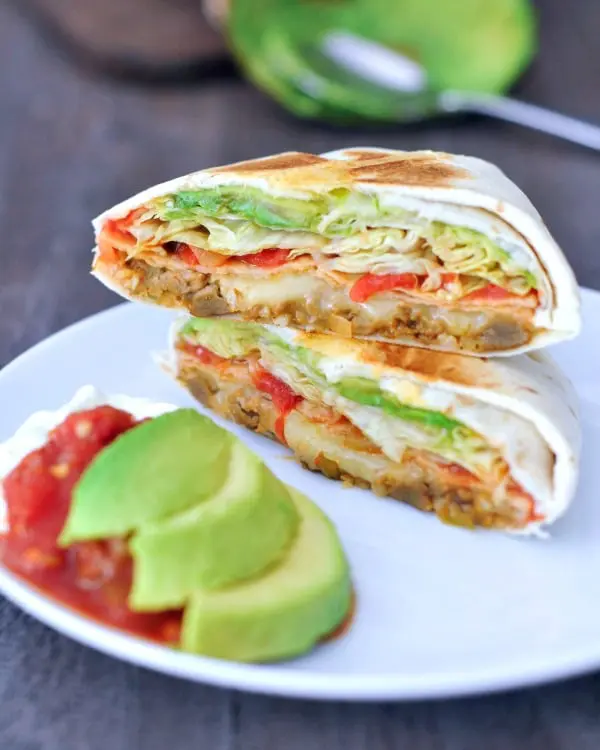 Vegan Crunchwrap
Fourth meal, anyone?
For me? In college it was always a bean burrito with green sauce.
and one of these things. The Crunchwrap Supreme.
If you are a fan, you can now have a vegan crunchwrap!
For my crunchwrap recipe, the substitutions are as plentiful as the drive through might be. I usually add my Spicy Vegan Chorizo Sausage Crumbles. I also make these with pinto beans. I'll mash them into a "refried" consistency.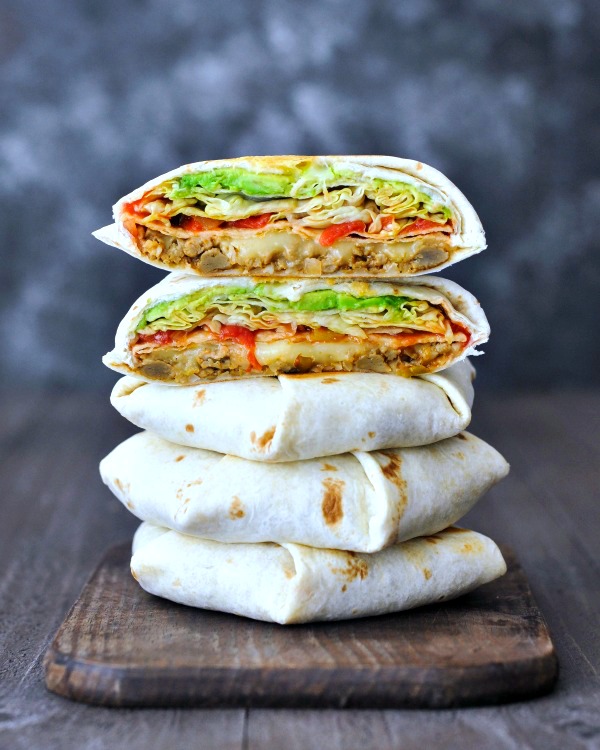 Crunchwrap Supreme Ingredients
When I want a quick lunch, I make one of these. I fill it with beans and pop it in the air fryer. If I have a bit more time, or some leftover Spicy Vegan Meat Crumbles, I use that as the meaty filling.
There really is no wrong way to assemble these, and they really could not be easier – but since I have been making this Vegan Crunchwrap Supreme recipe since 2013, I do have a few tips.
I like to add the meat / beans first, then the cheese sauce or grated vegan cheese. Let it melt into the first layer. Then comes the corn tortilla layer – I have been known to use crunchy tortilla chips instead, if I do not have corn tortillas or just want more crunch!
Salsa or tomatoes come next.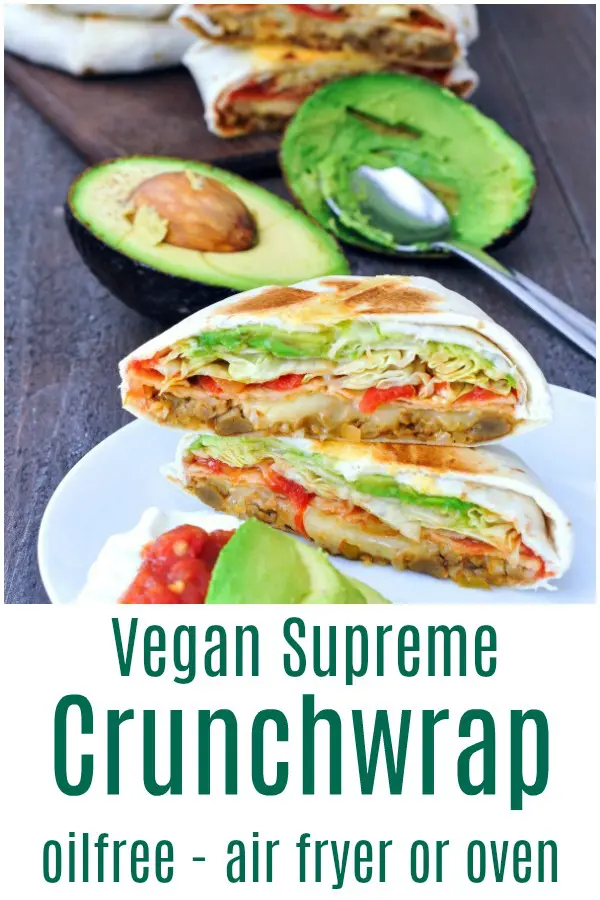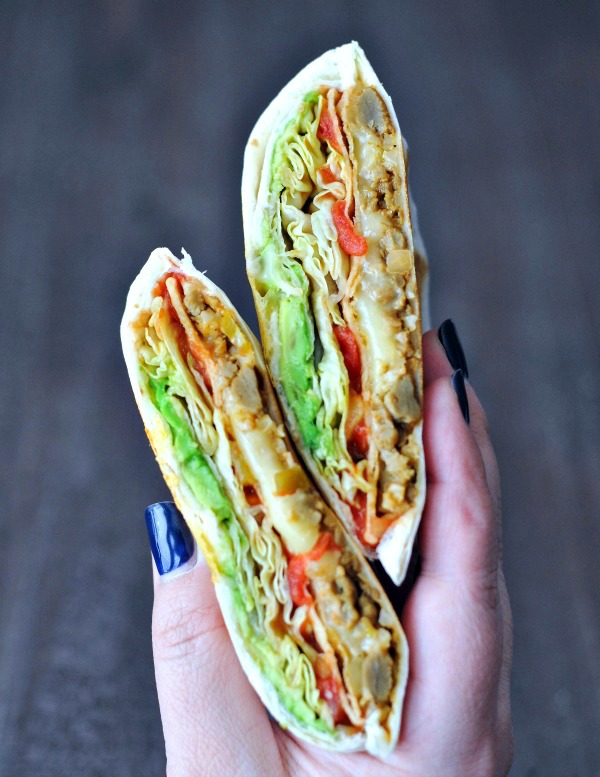 How To Make A Crunchwrap
This is my important tip! In early days of making the vegan Crunchwrap, I would shred the iceberg lettuce. I learned early on that larger pieces of lettuce leaves piled on each other works as a barrier to keep layers separate.
This may not be important to anyone but those who photograph what they eat… ha!
Anyway, I rip iceberg lettuce leaves into the size and shape of the rest of the ingredients – about three inches round or so.
The avocado rests nicely atop several layers of iceberg lettuce leaves (more crunch! I love crunch!), and then it is folded and you are literally minutes away from enjoying your own crunchwrap, no drive thru needed.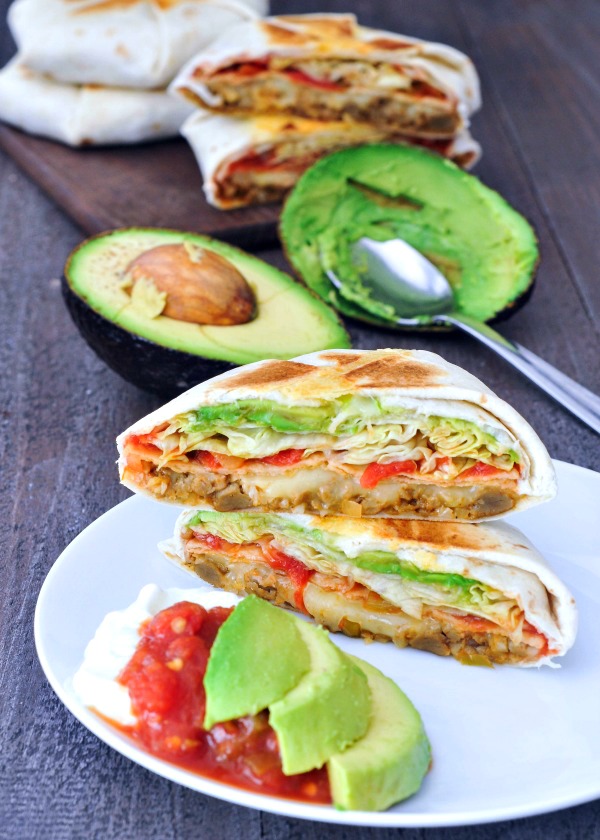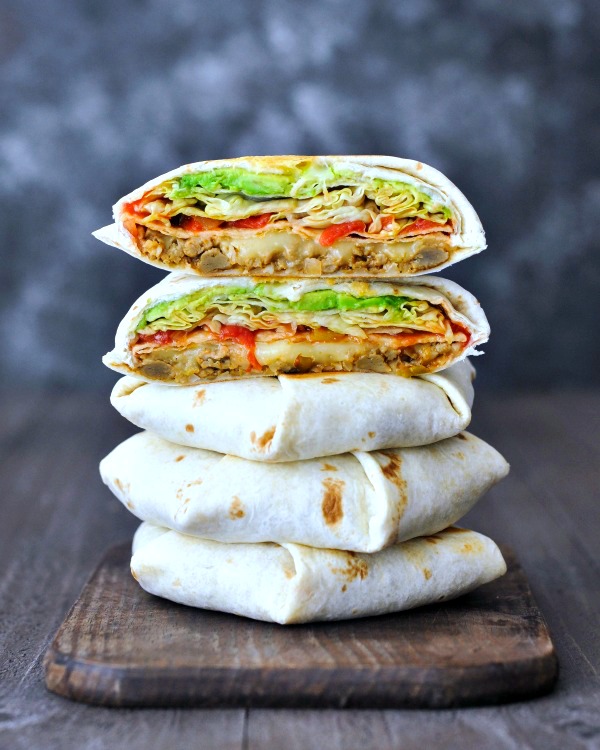 Run to the border.
Yield: one crunchwrap
Vegan Crunchwrap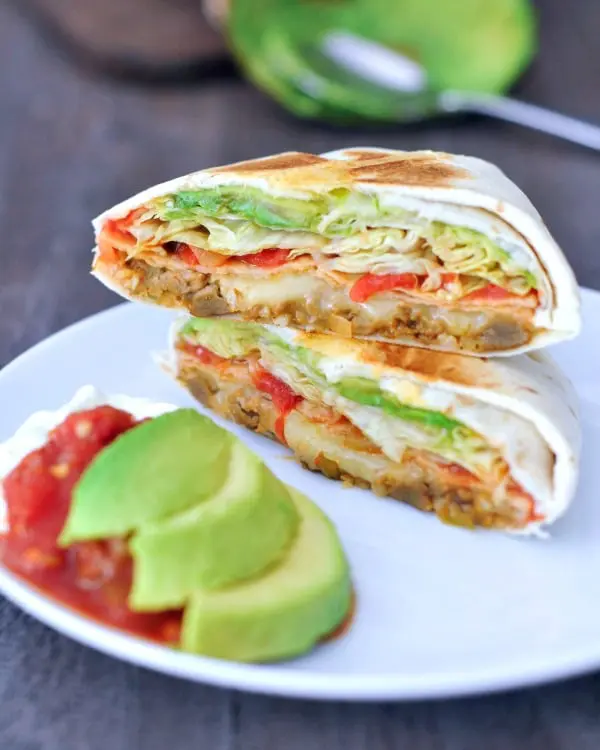 the Taco Crunchwrap is a tasty plant based update on the classic drive through favorite. super easy and quick to make, pop several in the oven for lunch, or a late night snack!
Ingredients
1 regular size gluten free tortilla
2 tablespoons refried pinto beans
(or Spicy Vegan Meat Crumbles)
2 tablespoons grated vegan cheese or queso sauce
1 small corn tortilla
2-3 iceberg lettuce leaves
2 tablespoons guacamole or sliced avocado
2-3 tablespoons salsa
Instructions
Preheat oven to 325 °F or prepare your air fryer.
Assemble each crunch wrap by stacking in this order:
large regular tortilla
beans or meat
grated cheese or cheese sauce
small corn tortilla
salsa
whole iceberg lettuce leaves
guacamole or avocado slices
fold, turn, fold, turn, fold, turn...
more cheese to 'seal' closed
In the air fryer: Cook the Taco Crunch Wrap for 6 minutes at 350°F.
Bake at 325 °F for 5-8 minutes, until warmed through and slightly crispy. Serve with dairy free sour cream and guacamole for dipping.
*Guacamole = mashed avocado, lemon juice, sea salt
Notes
dairy, egg, soy and gluten free, vegan
Recommended Products
As an Amazon Associate and member of other affiliate programs, I earn from qualifying purchases.
Nutrition Information:
Yield:
1
Serving Size:
1 crunchwrap
Amount Per Serving:
Calories:

308
nutrition calculations results vary by calculator, are for informational purposes only, and are not intended to replace medical advice or treatment.
Try AmazonFresh Free Trial
for Unlimited Grocery Delivery – add these recipe ingredients to your list. use code FRESH25 for a $25 off discount on your first AmazonFresh order!
about Kristina: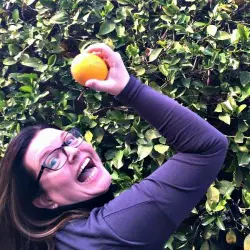 Kristina is spabettie! She discovered a love of cooking at an early age, and founded spabettie in 2010 to share vegan recipes. As the sole recipe developer and photographer, Kristina turned her culinary training into sharing flavorful and vibrant vegan food! She loves dachshunds, karaoke, drums, and travel.
spabettie / Kristina Sloggett is a participant in the Amazon Services LLC Associates Program, an affiliate advertising program designed to provide a means for sites to earn advertising fees by advertising and linking to Amazon.com.