Stuffed Pepper Jacks Recipe Collection – all kinds of vegan and gluten free ideas for breakfast, lunch and dinner on Halloween!
not a pepper fan? Peep our Deep Dish Pizza Pot Pies with a familiar Halloween face…
The first year I made these Pepper Jacks, they quickly went viral with the help of Paul Reubens.
Yep – PeeWee Herman shared my jacks on his Facebook page, and we broke the internet. They also snagged third place in a contest back in 2011.
I have fun with these every year, sometimes choosing a scary type face, other years opting for more… friendly? Most of these recipes (linked below each photo) are lunch and dinner friendly, and we have one breakfast (or breakfast for dinner?) jack.
I'd enjoy ANY of these for breakfast…
Pepper Jacks with Black Pepper Cheesy Mac and Broccoli
Asparagus Mushroom Scramble Pepper Jacks
Carrot Ginger Quinoa Pepper Jacks
HAPPY HALLOWEEN!
Try AmazonFresh Free Trial
for Unlimited Grocery Delivery – add these recipe ingredients to your list. use code FRESH25 for a $25 off discount on your first AmazonFresh order!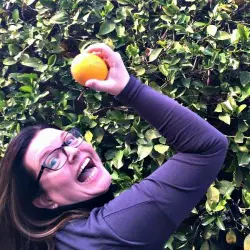 ABOUT KRISTINA SLOGGETT: Kristina is spabettie! She founded spabettie in 2010 to share her vegetarian recipes. Vegetarian quickly became vegan.
As the sole recipe developer and photographer at spabettie, Kristina turned her love of cooking and creativity into an extremely fun and challenging way to spend her days – sharing just how flavorful and vibrant vegan food is!
She loves dachshunds, Portland, Hawaii, drummers – well, one drummer – and travel.
spabettie / Kristina Sloggett is a participant in the Amazon Services LLC Associates Program, an affiliate advertising program designed to provide a means for sites to earn advertising fees by advertising and linking to Amazon.com.