Mini carrot hot dog mummies are a fun treat that the kids can help you make! perfect for all Halloween parties and Halloween night snacking.
recipe originally published October 25, 2018

Mini Carrot Mummies
Looking for more Halloween ideas? See the entire Pepper Jack Collection and our Skeleton Deep Dish Pizza Pot Pies!
I have a clients / families I work with for recipe requests, grocery lists and weekly meal plans. Every once in a blue moon, one will request a recipe makeover and those are some of my favorite assignments ever.
Turns out, someone was a fan of little smokies sausages. Now this sweet kid is more of a friend to animals than a meat eater...
but he still wanted his little Halloween mummies!
Kid Friendly Recipe
Mini carrots are the perfect size substitution - they are definitely a kid friendly Halloween recipe! I made up a marinade, let those mini carrots swim around in it for the night, and got ready for some fun.
I made these by simply draping the pie crust over the carrot, so the mummy wrap only goes about ¾ the way around the carrot.
My little helper wanted to wind that mummy wrap all the way around, so he did! We cooked a batch of each - both methods work well.
This recipe is totally kid friendly - both in the fact that they have fun helping make them AND they love to eat them! Make sure they have their favorite dipping sauces ready for those Mini Carrot Mummies...
Vegan Halloween Recipes
Happy Halloween!
Did you make these mini hot dog mummies?
Follow spabettie on Instagram and tag us with #spabettie
We love seeing your recipe photos and remakes - thank you!
Yield: about 40 pieces
Mini Carrot Mummies
these Mini Carrot Mummies are a fun treat that the kids can help you make! perfect for all Halloween parties and Halloween night snacking.
Total Time
1 hour
35 minutes
Ingredients
1 (one pound) package peeled baby carrots
½ cup water
1 cube / teaspoon vegan boullion
1 tablespoon mustard
1 teaspoon apple cider vinegar
1 teaspoon smoked paprika
1 teaspoon garlic powder
½ recipe Easy Gluten Free and Vegan Pie Crust*
dried red pepper flakes, for eyes
Instructions
Add carrots to steam basket in saucepan. Add just enough water for steaming. Steam carrots for 5 minutes. Remove from heat, cool slightly.
While carrots are steaming, combine marinade in large lidded container or large plastic bag.
Place steamed / cooled carrots in marinade. Transfer to refrigerator and marinate one hour to overnight.
When carrots are marinated and you are ready to make:
Preheat oven to 350 °F. Line a baking sheet with parchment. Set aside.
Roll out pie crust. *Or make a whole pie crust recipe and use the rest to make pie.
Cut pie crust into small pieces, roll into thin lines, cut in one inch slices to drape over carrots.
Place carrots in rows on prepared (parchment) baking sheet, and inch or so apart. Drape thin rolled pie crust pieces over carrots, overlapping to look like mummy wrapping. (Or wrap a single long thin piece around and around, from bottom of carrot to the top.)
Add dried red pepper flakes for eyes.
Bake at 350 °F for 20 - 25 or until mummy wrap is golden brown.
Serve with dipping sauces like grain mustard, sriracha mayo, ketchup.
about Kristina: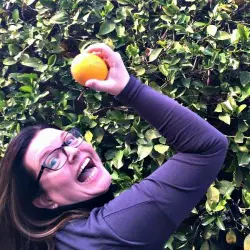 Kristina is spabettie! She found cooking at an early age, and created spabettie in 2010 to share vegan recipes. Kristina turned her culinary training into sharing vibrant vegan food! Read more...
spabettie / Kristina Sloggett is a participant in the Amazon Services LLC Associates Program, an affiliate advertising program designed to provide a means for sites to earn advertising fees by advertising and linking to Amazon.com.