these Bell Pepper Jack O Lanterns are fun for all ages! Carved Bell Peppers make a great Halloween night dinner and a fun party activity!
the original Halloween Bell Pepper recipe published October 31, 2010
TABLE OF CONTENTS - Jump to any section:
Halloween Bell Peppers
This Halloween, we bring you the best Bell Pepper Jack O Lantern recipes. Over the years, we have made all kinds of vegan and gluten free ideas for breakfast, lunch and dinner on Halloween!
not a stuffed pepper fan? You'll love our Deep Dish Pizza Pot Pies with a familiar Halloween face…
See our Vegan Candy List for Halloween ideas - candy and candy alternatives!
Bell Pepper Jack O Lanterns
The first year I carved peppers for Halloween, they quickly went viral with the help of Paul Reubens.
Yep – PeeWee Herman shared my jacks on his Facebook page, and we broke the internet - so many of you had carved bell peppers for Halloween dinner!. They also snagged first place in a contest back in 2011, and third place in an online contest.
I have fun with these Carved Bell Peppers every year, sometimes choosing a scary type face, other years opting for more… friendly? Most of these recipes are perfect for lunch and dinner, and we have one breakfast (or breakfast for dinner?) Halloween Stuffed Pepper.
I'd enjoy ANY of these for breakfast…
Male Vs Female Bell Peppers
Female bell peppers are usually the ones I choose for my Bell Pepper Jack O Lanterns, because they stand up better! This is because female bell peppers have four sections or lobes on the base. The Male bell pepper has three lobes on the base.
The male bell pepper also has fewer seeds.
To make these Bell Pepper Jack O Lanterns, I usually choose the orange, yellow or red peppers. These are sweeter and I prefer them, plus the orange pepper makes a great pumpkin for bell pepper carving. The green peppers are less sweet and in my opinion, taste better grilled or cooked.
When I am making a Frankenstein Monster style Bell Pepper, I will choose the green color.
Tips To Make Bell Pepper Jack O Lanterns
My first tip is about choosing the right pepper. I usually choose the female bell pepper if I can, because it has four lobes in the base. This makes a more stable stuffed pepper that stands up better.
I carve the bell pepper before I start cooking the filling. See my tips on carving Bell Peppers below.
Once the bell pepper is carved, I place the empty pepper into the dish I will cook it in. A loaf pan size baking dish fits 2 bell peppers, and an 8 or 9 inch square baking dish fits 4 or 5 peppers, depending on size.
Once the bell peppers are carved, prepare whatever filling you are making. Most of the recipes below involve some cooking of the filling, from polenta to quinoa and beans.
The filling options are endless for these Carved Bell Peppers!
How To Carve Bell Peppers
Slowly and carefully, that's how.
I usually use a small paring knife or a knife with a serrated edge. One year we hosted a bell pepper carving party, and we had pumpkin carving tools for everyone to use. These tools vary from a Basic Carving Set to a more Deluxe Carving Set.
Just like pumpkin carving, it is fun to come up with a template beforehand.
You can even draw the face onto the pepper for a guide, or just freehand the carving.
Spooky or sweet, your Bell Pepper Jack O Lanterns will be a dinnertime hit.
More Vegan Halloween
Did You Make A Halloween Bell Pepper?
Follow spabettie on Instagram and tag us with #spabettie
We love seeing your recipe photos and remakes - thank you!
Bell Pepper Jack O Lanterns
These Halloween stuffed peppers are a fun party craft idea AND a hearty dinner before trick or treating! With endless flavor options, kids of all ages love these. Carve silly or spooky faces - your choice!
about Kristina: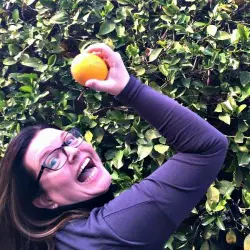 Kristina is spabettie! She found cooking at an early age, and created spabettie in 2010 to share vegan recipes. Kristina turned her culinary training into sharing vibrant vegan food! Read more...
spabettie / Kristina Sloggett is a participant in the Amazon Services LLC Associates Program, an affiliate advertising program designed to provide a means for sites to earn advertising fees by advertising and linking to Amazon.com.