Our favorite kale recipes! From salads to stews and from pestos to burgers, this cruciferous veggie performs beautifully in a wide range of dishes. Browse these vegan kale recipes that highlight the hardy green.
article originally published September 14, 2012
TABLE OF CONTENTS - Jump to any section:
Kale recipes that go beyond salad
Kale isn't just a salad bar decoration anymore. Kale is the salad!
The vegan kale recipes we are sharing do include a few delicious salads, and you'll be pleased to see plenty of other ways to incorporate kale into your meals.
If you love kale, you are not alone:
I love kale so much I cowrote a cookbook called We Love Kale.
my wedding bouquet included kale, basil, rosemary and flowers
This leafy vegetable, which is a member of the cabbage family, is in abundance during the fall and winter months, but can easily be found year round due to its popularity.
Kale's nutrient profile reads like a who's who of healthy: it has so much that we need daily. Kale is full of iron, fiber, calcium, antioxidants, and most of the alphabet of vitamins. This is a versatile green that works well in a variety of cooking settings.
Kale is tough! How to soften it
One of the biggest complaints about kale recipes is that kale is tough. The good news is there are a few ways to tenderize kale so more people find it palatable.
The most popular way to soften kale is to massage it. How do you massage kale? After removing the stems, I make a dressing (see more on dressings below) and, using my hands, coat as much of the kale as possible. I squeeze the kale for several minutes.
My favorite way to prepare kale is going a step beyond the usual massage. I like to chiffonade the leaves of kale to break them down further, making kale much easier to enjoy. Not so tough.
The other great thing about kale being so hardy and tough is that even after you've massaged the kale to wilt down a bit, kale salads last much longer than other green salads. Kale is the only salad I will make a large batch of, knowing it will still taste fresh for a couple days, if stored in the refrigerator.
How to chiffonade
The chiffonade method is easy:
Thoroughly clean and rinse kale.
Remove kale leaves from the stem.
(Discard the stems, or save them for the juicer.)
Arrange the leaves in an orderly pile.
Tightly roll from one end to the other.
Carefully slice into ribbons - quarter to half inch, your preference.
From here, you can add to a bowl with dressing and massage further, or at least make sure most of the kale is coated.
Best dressing for kale salad recipes
Because kale can be tough, I usually add some acidity to the dressing to help in breaking down. My top three acids to include in dressing one of these:
lemon juice
apple cider vinegar
white vinegar
Even if you chiffonade the kale, adding an acidic dressing and massaging a bit can only help break down the structure even further, resulting in a soft, delicious kale. I often prep kale this way for all sorts of kale recipes, salads or not.
Did you make one of these vegan kale recipes?
Follow spabettie on Instagram and tag us with #spabettie
We love seeing your recipe photos and remakes - thank you!
Kale Recipes
From salads to stews and pestos to burgers, this cruciferous veggie performs beautifully in a wide range of vegan kale recipes that highlight the hardy green.
about Kristina: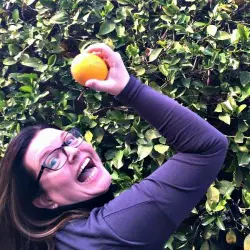 Kristina is spabettie! She found cooking at an early age, and created spabettie in 2010 to share vegan recipes. Kristina turned her culinary training into sharing vibrant vegan food! Read more...
spabettie / Kristina Sloggett is a participant in the Amazon Services LLC Associates Program, an affiliate advertising program designed to provide a means for sites to earn advertising fees by advertising and linking to Amazon.com.