Garlic Kale Stuffed Portobello Burgers - hearty mushrooms filled with protein packed quinoa and kale, topped with all of your favorite burger toppings - creamy avocado and juicy tomato!
recipe originally published September 1, 2014
I am getting married in a week.
I am surprisingly calm.
I hear other brides talk about stress and frustration, and all I am thinking is, I must be missing several huge aspects. That thought is enough to cause stress. Ha! But really, this has been all fun and little stress.
The only thing I am completely totally nervous about is being able to speak. Will I even be able to speak? Jason and I are writing our own vows, and the years we have shared and the trials we have faced do nothing to minimize my emotions of this day - I am still giddy excited to be marrying my best friend. Plus, I cry at everything. Guh.
I am lucky that one of my best friend bridesmaids (we have known each other since first grade) has done some wedding planning. She is on it, and keeping me on it. In addition to her lists, I have built spreadsheets for everything from RSVP and food choices to menus for both wedding and rehearsal dinners. As a former accountant, the spreadsheets have been fun. This whole process has been fun.
I will be sharing wedding photos and details at some point. If you want to follow along before that happens, I'd love to see you on Instagram - that is the best place to see all that happens over the weekend.
So, these portobello burgers.
I have made them several times, and wish I was enjoying them again today. Stuffed portobellos are my new favorite thing. When I first thought of this, I figured I'd have to top the quinoa mixture with cheese, or add beans to the mixture (still might), to keep them from falling apart.
Perhaps I simply don't want to loosen my grip on these tasty gems, but this stuffed portobello stayed together pretty well. Top them with some seriously juicy summertime tomatoes and a perfect avocado, and you are set. Make a double batch of the quinoa and go ahead and grab a few more portobellos. You'll want them again tomorrow.
printable Garlic Kale Stuffed Portobello Burgers recipe:
Yield: 2 servings
Garlic Kale Stuffed Portobello Burgers
Garlic Kale Stuffed Portobello Burgers - hearty mushrooms filled with protein packed quinoa and kale, topped with all of your favorite burger toppings - creamy avocado and juicy tomato!
Ingredients
2 large portobello mushroom caps
1 small sweet onion, peeled and chopped
3 garlic cloves, peeled and minced
2 kale leaves, stems and ribs removed
2 full size burger buns
Instructions
Preheat oven to 300 °F. Line baking sheet with parchment.
Clean portobello caps with paper towel. Remove stem. Using a sharp spoon, scrape the 'gills' out of each mushroom, discard. Place portobello caps on baking sheet with parchment, stem side down. Bake in oven for 10 minutes to remove excess liquid. Remove from oven and set aside to cool.
Bring ½ cup vegetable broth to boil, add ¼ cup quinoa, stir. Reduce to lower heat, cover and cook for 10-13 minutes, or until broth is absorbed and quinoa is fluffy. Set aside.
Chop kale into small pieces.
While quinoa is cooking, sauté onion, garlic and kale: In medium saucepan over medium heat, heat olive oil. Add chopped onion, garlic and kale, sauté until soft, about 10 minutes.
Add sautéed mixture to cooked quinoa, combine. Fill each portobello cap with quinoa-kale mixture, place on baking sheet with parchment. Bake at 300 °F for 15 minutes.
Serve on a toasted bun with kale leaves, tomato and avocado slices.
Notes
dairy, egg, soy and gluten free, vegan
recipe originally published September 1, 2014
Recommended Products
As an Amazon Associate and member of other affiliate programs, I earn from qualifying purchases.
Nutrition Information:
Yield:
2
Serving Size:
1
Amount Per Serving:
Calories:

403
Total Fat:

11g
Saturated Fat:

3g
Trans Fat:

0g
Unsaturated Fat:

5g
Cholesterol:

0mg
Sodium:

260mg
Carbohydrates:

21g
Fiber:

8g
Sugar:

6g
Protein:

17g
nutrition calculations results vary by calculator, are for informational purposes only, and are not intended to replace medical advice or treatment.
Try AmazonFresh Free Trial
for Unlimited Grocery Delivery - add these recipe ingredients to your list. use code FRESH25 for a $25 off discount on your first AmazonFresh order!
about Kristina: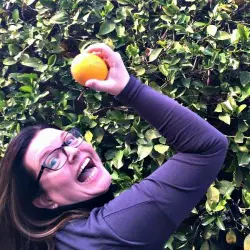 Kristina is spabettie! She discovered a love of cooking at an early age, and founded spabettie in 2010 to share vegan recipes. As the sole recipe developer and photographer, Kristina turned her culinary training into the best way to spend her days - sharing how flavorful and vibrant vegan food is! She loves dachshunds, karaoke, drums, and travel.
spabettie / Kristina Sloggett is a participant in the Amazon Services LLC Associates Program, an affiliate advertising program designed to provide a means for sites to earn advertising fees by advertising and linking to Amazon.com.