this Green Chile Corn Tamales recipe is our go to for New Years celebrations and dinners all year long! vegan and gluten free with simple tasty ingredients. Stovetop or Pressure Cooker!
Green Chile Corn Tamales
My New Years Tamales tradition began in college with my friend Katie. We would spend a whole day – sometimes two – prepping and making tamales in her tiny Manhattan kitchen.
We always had so much fun.
We made them one year at my house, and at least once with her brother at his house.
These days, it is Jason and I spending a whole day, sometimes two. I introduced the New Years Tamale to Jason early on when we were dating, and we still do this every year for new years eve.
…or sometime between Christmas and New Years Day.
These Green Chile Corn Tamales are some of my favorite ever – bright tangy chiles and sweet corn covered in cheesy goodness.
I love knowing we have tamales for days, and more stocked in the freezer!
Stovetop or Pressure Cooker
These Green Chile Corn Tamales can be steamed on the stove top, or quickly steamed in the pressure cooker!
We have done both, and while the pressure cooker takes about one third of the cook time, our pressure cooker is smaller than the large pot we use to steam tamales on the stove top.
For pressure cooker tamales, we cook in batches – which is fine because we usually have our separate work stations with the ingredients and bowl of masa between us. We set up the pressure cooker and cook them in batches as we are continuing to make tamales.
Steaming on the stove, we are able to set up the pot and add tamales as we go – one or two large pots depending on the volume of tamales. Fill them up, and they all get steamed at once.
How To Make Basic Masa Dough
A basic masa dough for tamales could not be easier to make. While I have in the past made an oil free tamale dough, over the years I have learned my lessons:
Vegetable shortening is really the way to go.
For a vegetarian / vegan tamale that most closely resembles the traditional lard based tamale dough, an all vegetable shortening is your friend here. Light and fluffy, it really does add that much needed texture.
Perfect.
You can use coconut oil – I suggest refined unless you want the flavor of coconut. A vegan butter could be used also – I would add about another 1/4 cup due to the water content of the butter. You are looking for the fat component of this ingredient.
On to the recipe!
Happy New Year!
Did You Make This Recipe?
Follow spabettie on Instagram and tag us with #spabettie
We love seeing your recipe photos and remakes – thank you!
Yield: 30 tamales / 15 servings
Green Chile Corn Tamales
this Green Chile Corn Tamales recipe is our go to for New Years celebrations and dinners all year long! vegan and gluten free, simple tasty ingredients.
Total Time
9 hours
30 minutes
Ingredients
2 teaspoons ground cumin
2 teaspoons sea salt
10 fresh Anaheim or Poblano chiles, or 12 ounces (1 1/2 cups) canned chiles
1 1/2 cups corn kernels
Instructions
*Soak corn husks overnight to 24 hours prior to making tamales. Some corn husk packages suggest three days.
In a large mixing bowl, beat the vegetable shortening by hand until fluffy and smooth. Add cumin, salt, and baking powder, combine completely.
Add the corn masa flour and 2 1/2 cups broth to the vegetable shortening. Combine everything completely until a tamale dough is formed. (Add extra water / broth as needed.)
This tamale dough can be carefully wrapped and frozen for two months.
Prepare and arrange all tamale fillings. 
Remove corn husks from soaking, pat dry with a towel. Spread a thin layer of masa in the middle of a husk, leaving the pointed end and edges free for folding. 
Spoon fillings down middle of masa.
Fold sides of husk so masa meets and forms in the middle. Fold thinner pointed end over. Place in steamer, standing up on folded end.
Steam tamales on stove top: Using a large pot with a steamer insert, add water just under steam basket so water is not touching tamales. Bring water to boil, then reduce heat to medium. Check water level often, adding hot water as needed to keep from running dry. Steam for 60 minutes – check a tamale – masa should be firm. Continue to steam, checking every 10 minutes, if not firm, up to 90 minutes total.
Steam tamales in pressure cooker: Place inner pot / liner in pressure cooker. Place steamer rack inside. Add water up to rack (at least 2-3 cups). Place steamer basket on top of rack. Fill with tamales. Steam for 20 minutes at high pressure, with a 10 minute natural release.
Refrigerate leftovers in covered container for 3-5 days. Wrap carefully and freeze for two months.
Notes
dairy, egg, soy and gluten free, vegan
Nutrition Information:
Yield:
15
Serving Size:
2 tamales
Amount Per Serving:
Calories:

227
Total Fat:

11g
Saturated Fat:

5g
Trans Fat:

0g
Unsaturated Fat:

3g
Cholesterol:

0mg
Sodium:

305mg
Carbohydrates:

14g
Fiber:

3g
Sugar:

2g
Protein:

3g
nutrition calculations results vary by calculator, are for informational purposes only, and are not intended to replace medical advice or treatment.
about Kristina: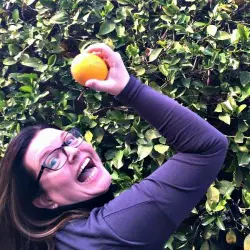 Kristina is spabettie! She found cooking at an early age, and created spabettie in 2010 to share vegan recipes. Kristina turned her culinary training into sharing vibrant vegan food! Read more…
spabettie / Kristina Sloggett is a participant in the Amazon Services LLC Associates Program, an affiliate advertising program designed to provide a means for sites to earn advertising fees by advertising and linking to Amazon.com.