add this vegan Southwest Black Bean Burgers recipe to your meal prep list! easy to reheat, this tasty Southwest veggie burger is a quick dinner idea. also: How To Make A Veggie Burger That Doesn't Fall Apart

Southwest Veggie Burger
The salsa is inside!
May I introduce you to our current favorite summertime dinner. I am not at all exaggerating when I say we make these every week right now, and will likely continue to make them all summer long.
Grab your favorite jar of salsa - or make your own - and spoon it into a fine mesh strainer over a glass bowl. Set that aside while you read through the recipe and gather the other ingredients.
This Southwest Veggie Burger recipe is:
full of flavor
quick and easy
budget friendly
made with simple ingredients
plant based
a burger that does not fall apart!
How To Make a Veggie Burger That Doesn't Fall Apart
Most likely the biggest complaint about a veggie burger, yes?
You know the burger:
cannot hold a shape
not hearty enough
crumbly or dry
squishes out the side of the bun
I have had some practice in Making a Veggie Burger That Doesn't Fall Apart. I am confident in saying these Southwest Black Bean Burgers are hearty and stay together!
How To Make a Perfect Veggie Burger
This Southwest Veggie Burger recipe uses one of my favorite binding ingredients - oats. Starchy ingredients literally bind with the wet ingredients. Oats or breadcrumbs are some traditional dry binders.
Another trick that I use often is to mash the beans a bit, just to break them open and make them sticky, not completely mashed to paste. Instead of mashing, you can also pulse the beans a few times in a food processor or blender. Again, do this just to break up the beans a bit and make them sticky, not completely purée to a paste.
I also like to add mushrooms to my burgers. The trick to adding mushrooms to your veggie burger is to cook them first! Don't add a raw mushroom straight to the recipe - it will release water as the burger patty cooks.
A cooked mushroom plays well with the other ingredients in a burger. I suggest dicing them fairly small - slice an average size cremini in half, then each half into 3 or 4 pieces. Mushrooms decrease in size as they cook, and a small bite of mushroom will not interfere with the burger holding together like a larger piece of mushroom might.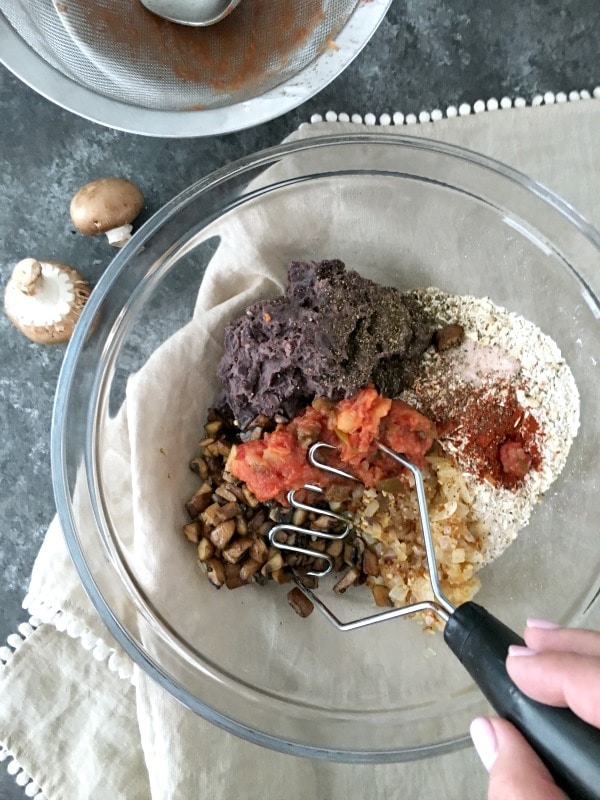 Meal Prep Recipe
Southwest Black Bean Burgers are part of our weekly meal prep. This recipe makes 5 or 6 burgers, depending on size, and will last the week in a sealed container in the refrigerator.
Make a double batch and freeze! I have wrapped these individually in plastic wrap, followed by a wrap of aluminum foil. Defrost in the refrigerator before reheating.
To reheat: These veggie burgers can be warmed in a toaster oven, microwave, or re baked in the oven. My preferred heating method is a stovetop pan fry. A bit of oil, a couple-few minutes cooking time on each side, covered with a lid, will deliver a piping hot burger with crunchy seared edges.
Serving Suggestions
Burger! Our favorite way to serve these is also the classic, most straightforward way: on a bun with your favorite burger toppings and condiments. As you'll see in some of these photos, I added more salsa as a topping to some of our burgers...
Salad! Another way I love to eat a warm protein is on top of a crisp, cool salad. A Southwest Veggie Burger is a delicious salad addition. Celery Ranch Dressing is my top choice here!
Sides! Don't forget the sides! Picnic staples like Potato Salad and Mac Salad round out the menu!
Tips for Vegan Meal Planning
This salsa flavored Black Bean Burger recipe comes from Melissa Copeland's new book, 30-Minute Frugal Vegan Recipes. A truly gorgeous book that is brimming with Fast, Flavorful Plant Based Meals on a Budget.
Melissa has created a resource that shows how delicious and easy vegan food can be. Are you a busy home cook who wants nourishing, tasty food within a reasonable budget? 30-Minute Frugal Vegan Recipes is the guide you will turn to again and again.
Getting right to the point, the intro section of this book is full of tips for eating vegan on a budget. From meal prep and batch cooking to eating seasonally and growing your own. The bright and inviting photos and recipes are up after that...
Plant Based On A Budget
Here is just a peek at what you'll find:
Cheap as Chips Main Meals: No Bake Stuffed Zucchini, Battered Sweet Potato Tacos, and Easy Orange and Ginger Stir Fry are happening this week. (Meal planning for the win!)
Plant Powered Salads: The Summery Peach and Tomato Panzanella is amazing, the Classic Three Bean Salad looks perfect, and the Spinach, Orange and Date Couscous is also on my list...
Savory Small Bites: most likely my favorite section! with recipes like Single Serving Pita Pizzas, Mediterranean Stuffed Mushrooms, and Tomato Pesto Tarts, it's easy to see why.
Quick and Easy Morning Munchies: Spring Vegetable Crepes look GOOD, meal prep with Mini Quiche Cups and Cranberry Oat Breakfast Cookies.
Snappy Sweet Treats: Fresh Peach Turnovers and Peanut Butter Pretzel Truffles have my attention...
Are Black Bean Burgers Healthy?
High in fiber and low fat, black beans bring many nutritional benefits. They are protein rich and high in antioxidants, vitamins, calcium and iron. The fiber and protein are satiating and can help improve digestion.
Adding black beans to a veggie burger recipe can absolutely make it healthier! These Southwest Veggie Burgers are lower in cholesterol, calories and fat than a traditional burger.
Black Bean Recipes
Savory Sweet Potato Breakfast Boats
Black Bean Totchos with Garlic Lemon Sauce
One Skillet Veggie Bean Burrito Bowls
Cashew Cream Quinoa Black Bean Enchiladas
Smoky Tangy Chipotle Lime Burritos
Fire Roasted Poblano Chilaquiles with Spicy Cumin Cream
(Faux) Huevos a la Mexicana Enchilada
Roasted Veggie Quinoa Casserole
Santa Fe Taco Salad with Cool Salsa Ranch
Salsa goes right in the burger patties rather than on top, to bring loads of flavor and texture to these plant-based burgers. Choose your favorite salsa; just be sure that it's really chunky. Straining the salsa to get just the flavorsome chunks prevents the burgers from being too wet and falling apart.
Did You Make This Southwest Veggie Burger?
Follow spabettie on Instagram and tag us with #spabettie
We love seeing your recipe photos and remakes - thank you!
Yield: 5 servings
Southwest Black Bean Burgers
a perfect meal prep recipe! Southwest Black Bean Burgers are easy to reheat for a quick dinner idea.
Ingredients
2 tbsp (30 ml) oil, for pan, plus more for cooking burgers
1 small onion, diced
2 cloves garlic, finely chopped
1cup (70 g) chopped button mushrooms
1 cup (80 g) rolled oats
1 (15.5-oz) can black beans, drained and rinsed, or 1½ cups (258 g) cooked
1 cup (260 g) chunky salsa
1 tsp smoked paprika
1 tsp salt
freshly ground black pepper
4 or 5 vegan hamburger buns
your favorite hamburger fixings
Instructions
Preheat oven to 350 °F.
If you're baking the burgers, preheat the oven to 375°F (190°C).
In a skillet, heat 1 tablespoon (15 ml) of the oil over medium-high heat. Add the onion and fry, stirring from time to time, for 5 to 7 minutes, or until soft and translucent. Then add the garlic and fry for another 30 seconds, or until fragrant.
Transfer to a large bowl. Heat the remaining tablespoon (15 ml) of oil in the same skillet. Add the mushrooms and leave them for a minute to brown on one side before stirring and continuing to fry. Once browned all over, transfer to the bowl with the onion.
In a food processor, pulse the oats until you have mostly oat flour with some whole oats remaining, for texture. Transfer to the bowl.
Put the black beans in the food processor and blend until mostly pureed with some whole beans remaining, also for texture. Transfer to the bowl.
Put the salsa in a strainer and stir to remove the excess liquid, until you have mostly chunks remaining. Measure ½ cup (130 g) of this super chunky salsa and add it to the bowl along with paprika, salt and pepper. Mix well to incorporate everything.
Form the mixture into 4 or 5 patties, depending on the size of your buns. The mix is a bit wet but should not be unmanageable. I take a ball in my hands, flatten it out into a patty on a plate, then use a spatula to transfer it to a baking pan or skillet when ready to cook. They may need a bit of reshaping once in the pan. If you're having trouble, you can add a bit more oat flour so that they hold together better.
To bake: lightly oil a baking pan, transfer the patties to the pan and bake for 20 minutes, flipping at 10minutes.
To fry: heat a large skillet over medium heat and add a tablespoon (15 ml) of oil. Fry the patties for 3 to 4 minutes per side, or until browned.
Once cooked, transfer the patties to a wire rack and let cool for a few minutes. They will firm up a bit as they cool. Serve on the buns with your favorite hamburger fixings.
Notes
dairy, egg, soy and gluten free, vegan
spabettie notes: I strain the salsa first thing. If I am making these burgers for dinner, I'll place the strainer of salsa in the fridge earlier in the day and let it strain for a while.
Recommended Products
As an Amazon Associate and member of other affiliate programs, I earn from qualifying purchases.
Nutrition Information:
Yield:
5
Serving Size:
1
Amount Per Serving:
Calories:

355
Total Fat:

9g
Saturated Fat:

4g
Trans Fat:

0g
Unsaturated Fat:

5g
Cholesterol:

0mg
Sodium:

302mg
Carbohydrates:

33g
Fiber:

7g
Sugar:

5g
Protein:

24g
nutrition calculations results vary by calculator, are for informational purposes only, and are not intended to replace medical advice or treatment.
Black Bean Salsa Burgers recipe reprinted with permission from 30-Minute Frugal Vegan Recipes by Melissa Copeland, Page Street Publishing Co. 2019
about Kristina: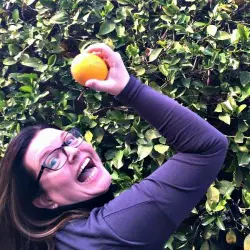 Kristina is spabettie! She found cooking at an early age, and created spabettie in 2010 to share vegan recipes. Kristina turned her culinary training into sharing vibrant vegan food! Read more...
spabettie / Kristina Sloggett is a participant in the Amazon Services LLC Associates Program, an affiliate advertising program designed to provide a means for sites to earn advertising fees by advertising and linking to Amazon.com.