Roasted Garlic and Raspberry Big Salad with Fresh Raspberry Vinaigrette - fresh, crispy, crunchy, creamy, sweet - all these beautiful flavors and textures make a great salad!
_______________________________________________________
My mom and I have been known to roast two or three heads of garlic and eat them for lunch. All of it, all the cloves. With crackers or bread.
So good.
Roasted garlic is my favorite.
I know it is straight up summertime when I am craving a big salad. I ate two salads yesterday. This is my new favorite salad. We first made it last month with Jason's mom was visiting, and I have not been able to stop eating it since.
So simple, yet so flavorful.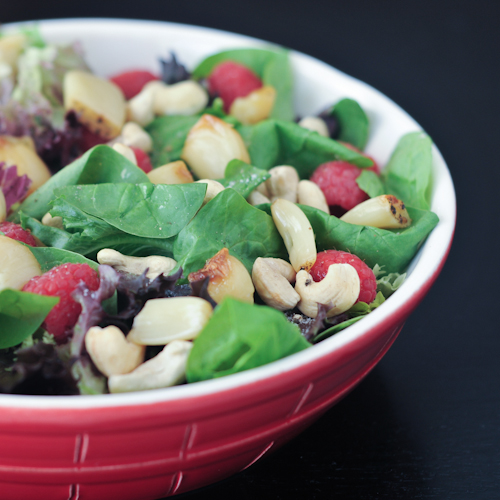 roasted garlic and raspberry Big Salad
makes two Big Salads
1 bulb garlic, roasted (method below)
large bowl mixed greens (red romaine, baby spinach, butter lettuce, arugula)
½ pint fresh raspberries
½ cup raw cashews
sea salt and pepper
fresh raspberry vinaigrette (recipe follows)
roasting the garlic:
Peel the layers away from the garlic bulb, and slice the top off to expose the cloves inside. Set the bulb on the middle of a piece of aluminum foil (large enough to cover garlic bulb), drizzle with olive oil. Salt and pepper, and wrap the foil up around the garlic, covering completely. 
Place on a baking sheet and cook in a 400 degree oven for 30 minutes or until garlic cloves are softened. Set aside to cool.
salad assembly:
To the large bowl of greens, add warm roasted garlic, raspberries, cashews, salt and pepper and vinaigrette. 
fresh raspberry vinaigrette
½ pint fresh raspberries
juice and zest of 1 lemon
2 tablespoons olive oil
1 tablespoon apple cider vinegar
pinch sea salt
Combine all ingredients in blender, blend on high until smooth.