A green goddess grilled cheese is a fresh, bright and herby comfort food sandwich stacked high with crisp veggies and melty cheese.
recipe originally published June 2, 2017
TABLE OF CONTENTS - Jump to any section:
Bright and herby flavor
A green goddess grilled cheese pairs bright, herby dressing with veggies and melty cheese. This delectable sandwich is a natural, inevitable progression in my kitchen, given my enthusiasm for all things green goddess.
Green goddess dressing has surpassed my long time allegiance to ranch dressing. Two totally different flavors and I still love them both, but green goddess has been my go to craving for a bit. I generally follow this green goddess dressing recipe, and because I usually have most if not all of the ingredients on hand, it's easy to throw it all in a blender for a super quick dressing.
If you are a green goddess superfan like me, I bet you'll LOVE this crunchy-crisp green goddess salad.
How to make the best grilled cheese
As a long time, self-professed grilled cheese connoisseur, I have a tested, effective, and extensive list of tips for the best grilled cheese.
Grated cheese: For maximum cheese melt, grate the cheese instead of using slices. Also, grate it yourself, rather than buying grated to avoid the anti-caking additives.
Open faced cooking: Another method to help the melt is to grill each side of the bread separately and assemble into a sandwich once each side is melty. Mmm.
Mayonnaise: We love (dairy free) butter to crisp up the bread. For a different richness in flavor, try mayonnaise instead of butter.
For the perfect sandwich, see our complete list: tips for the best grilled cheese.
Did you make this green veggie grilled cheese?
Follow spabettie on Instagram and tag us with #spabettie
We love seeing your recipe photos and remakes - thank you!
Yield: 1 sandwich
Green Goddess Grilled Cheese
A fresh, bright and herby comfort food sandwich stacked high with crisp veggies and melty cheese.
Instructions
Wash and dry the broccolini. Chop into bite size pieces.
Place a skillet on a burner over medium heat. Add 1 tablespoon olive oil / butter to skillet.
Add broccolini to skillet to sauté.
Meanwhile, spread green goddess dressing on the inside of both slices of bread.
Add avocado slices to one side of bread.
Add grated cheese in an even layer to both slices of bread.
Either remove the cooked broccolini to use the skillet for the sandwich, or heat another skillet.
Add remaining tablespoon of olive oil / butter to skillet.
Add each piece of bread to the skillet, open faced to melt the cheese.
Cover the skillet with a lid to allow the cheese to melt a bit. To create steam for melting the cheese, add a small amount of water to the edge of the skillet before covering with the lid.
Once cheese is melted and bread is golden brown, remove from heat.
Add the cooked broccolini to the slice of bread with the avocado, topping the melted cheese.
Using a spatula, carefully place the slice of bread with just cheese onto the slice of bread with cheese, broccolini, and avocado.
With the spatula, remove the jalapeno popper sandwich from the skillet.
Let rest a few minutes before slicing and enjoying!
Notes
TIPS FOR THE BEST GRILLED CHEESE
Choose a good bread - I love a hearty rustic bread or sourdough. Any bread will work, choose your favorite that will make a great grilled cheese.
Use grated cheese - even better if you grate it yourself. Grated cheese melts more evenly, and with this jalapeno popper sandwich, melts down in between the peppers... 
Use (dairy free) butter - this is not the time to be oil free! Melt it in the pan or spread on outsides of each slice of bread.
If you don't have butter, use (vegan) mayo! this is my favorite fun trick for a crispy golden grilled sandwich with rich flavor.
Pan fry each slice of bread open faced until the bread gets golden brown and crispy and cheese is melted. Carefully flip the cheese side over on top of the cheese and jalapeno side.
If cheese needs help melting? cover with lid to keep heat in pan.
Another cheese melting tip: add just a few drops of water to the pan to make a steam, and cover with the lid for another minute or two. (this is at the end of cooking, after the bread is golden brown and toasted, if you need the cheese to melt.)
For a flavorful grilled cheese, use this easy homemade vegan butter! 
Recommended Products
As an Amazon Associate and member of other affiliate programs, I earn from qualifying purchases.
Nutrition Information:
Yield:
1
Serving Size:
1
Amount Per Serving:
Calories:

680
Total Fat:

37g
Saturated Fat:

7g
Unsaturated Fat:

12g
Sodium:

213mg
Carbohydrates:

27g
Fiber:

13g
Sugar:

2g
Protein:

26g
nutrition calculations results vary by calculator, are for informational purposes only, and are not intended to replace medical advice or treatment.
about Kristina: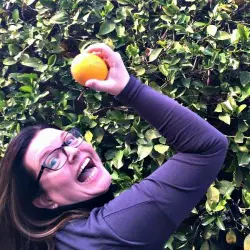 Kristina is spabettie! She found cooking at an early age, and created spabettie in 2010 to share vegan recipes. Kristina turned her culinary training into sharing vibrant vegan food! Read more...
spabettie / Kristina Sloggett is a participant in the Amazon Services LLC Associates Program, an affiliate advertising program designed to provide a means for sites to earn advertising fees by advertising and linking to Amazon.com.