this easy Vegan Butter Recipe is a plant based pantry staple! rich flavor and a great value - we share the cost breakdown of this dairy free butter recipe.
recipe originally published June 17, 2015, with permission from Ten Speed Press and Random House; shared as a component of the French Buttercream Recipe
TABLE OF CONTENTS
Dairy Free Butter
Rich and creamy and melty, this is my favorite homemade butter recipe. With just a bit of planning ahead, you can easily make dairy free butter. It will be your favorite too.
How To Make Vegan Butter
When I say this recipe only takes a little planning ahead, I mean procuring one ingredient you may not have. This dairy free butter recipe has a short ingredient list of common items, aside from one - the lecithin. Lecithin is the emulsifier component, working to bind the ingredients into a rich flavorful butter substitute.
Here's the secret: It takes so little time to make.
Butter Types
This dairy free butter substitute has several variations:
cultured butter, like the one you can buy in the store.
hard butter, which is perfect for homemade laminated doughs.
whipped butter, that airy fluffy goodness
unsalted butter, for all the times you don't need the added salt (baking and oh hey, buttercream frosting!)
Butter Flavor Variations
If I were to add any variations, it would be the Garlic Chive Butter or the Warm Cinnamon Butter or even the Sweet Berry Butter I have made with this base recipe. More info on those soon.
Cost: Homemade vs Store Bought Butter
How much does it cost to make this dairy free butter recipe? Is it a good value?
We calculated the cost of our ingredients per use with this butter substitute. A standard butter in the store is 8 ounces, this recipe yields double that – 16 ounces or one pound.
The total: $2.95 for 16 ounces, or
$1.47 for 8 ounces (the amount sold in store).
Organic Refined Coconut Oil: $10.99 / 54 ounces = $2.43 per recipe
Almond Milk: $1.99 / 32 ounces = $0.25 per use
Canola Oil: $2.99 / 48 ounces = $0.12 per use
Lecithin: $7.59 / 96 teaspoons = $ 0.15 per use
How Long Does Vegan Butter Last? Storage Tips
My rule of thumb for freshness with this butter is to use it within two weeks of the date we make it. Immediately after I make it, I pour it into one of our favorite meal prep containers.
We use the butter directly from this container, and I'll apply a piece of tape with the date on the lid so we know how long we have to use it up!
Can You Freeze Vegan Butter?
Yes, you can freeze dairy free butter! I will refrigerate the butter in a container until solid, then carefully remove it once solid. I wrap the butter well in parchment, then place in an air tight freezer baggie, removing as much air as possible.
Freeze up to two months.
recipes using Miyoko's products
Did you make this vegan butter recipe?
Follow spabettie on Instagram and tag us with #spabettie
We love seeing your recipe photos and remakes - thank you!
Yield: 1 pound butter (2 cups)
Vegan Butter
a tried and true plant based butter recipe with variations for cultured butter, whipped butter, hard butter.
Total Time
2 hours
5 minutes
Ingredients
Instructions
Place all of the ingredients in a blender and process at medium speed for about 1 minute.
Pour into a container of your choice – something made of silicone is great, as it will pop out easily, but any storage container will do (line with wax paper first for easy removal).
Set it in the refrigerator for a few hours until hard or in the freezer to expedite hardening.
This glorious butter substitute will keep in the refrigerator for 3 to 4 weeks or many months in the freezer.
VARIATIONS:
Cultured Butter: Replace the nondairy milk with ½ cup plain nondairy yogurt, or add 1 teaspoon apple cider vinegar or lemon juice to the nondairy milk.
Really Hard Butter: This is helpful for making puff pastry, croissants, and the like. Increase the coconut oil to 2 ½ cups or substitute deodorized cocoa butter for ½ cup of the coconut oil.
Whipped Butter: Increase the canola oil by 1 tablespoon and process at high speed in the blender for about 2 minutes to incorporate as much air as possible.
Unsalted Butter: This is often called for in buttercream and some desserts. Simply omit the salt!
Notes
dairy, egg, and gluten free, vegan
lecithin note: Lecithin is an emulsifying agent generally derived from soybeans. It will help mix oil and water and prevent separation. If you can find only lecithin granules, you'll need to use two to four times the amount of the liquid lecithin called for.
Recommended Products
As an Amazon Associate and member of other affiliate programs, I earn from qualifying purchases.
Nutrition Information:
Yield:
32
Serving Size:
1 tablespoon
Amount Per Serving:
Calories:

91
Total Fat:

9g
Saturated Fat:

3g
Trans Fat:

0g
Unsaturated Fat:

6g
Cholesterol:

0mg
Sodium:

34mg
Carbohydrates:

0g
Fiber:

0g
Sugar:

0g
Protein:

0g
nutrition calculations results vary by calculator, are for informational purposes only, and are not intended to replace medical advice or treatment.
about Kristina: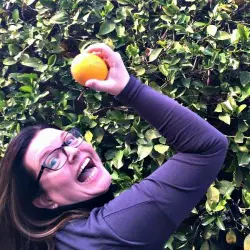 Kristina is spabettie! She found cooking at an early age, and created spabettie in 2010 to share vegan recipes. Kristina turned her culinary training into sharing vibrant vegan food! Read more...
spabettie / Kristina Sloggett is a participant in the Amazon Services LLC Associates Program, an affiliate advertising program designed to provide a means for sites to earn advertising fees by advertising and linking to Amazon.com.