these Flourless Chocolate Chip Cookies are not only vegan, gluten and grain free, they are SUPER TASTY. a quick and easy recipe to satisfy all cravings.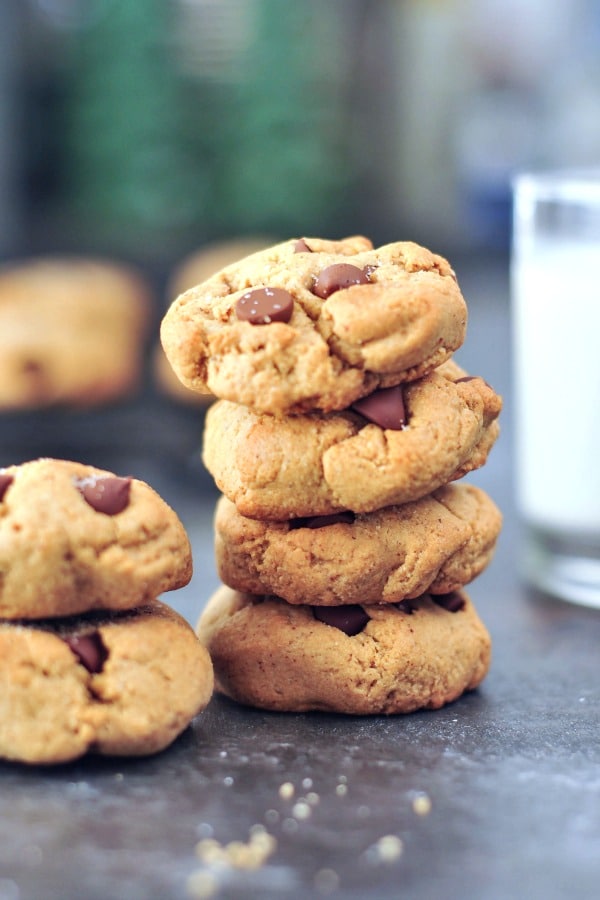 Grain Free Cookies
Mildly sweet, perfectly chewy, gluten and grain free: these Vegan Chocolate Chip Cookies have a double dose of protein with both the almond butter and almond flour.
Honestly? We have been eating these amazing cookies with morning coffee.
Sort of a breakfast amuse bouche? Or I'll grab a couple before I hop on the treadmill, when I don't really want to eat a lot before a workout. Perfect little energy bombs, that's what these cookies should be called.
I cannot get enough of them, and they are super quick and easy to make.
Everyday Seasonal Recipes
These Ultimate Chocolate Chip Cookies come from my current favorite cookbook, Love & Lemons Every Day.
This stunning book is a follow up to The Love & Lemons Cookbook. I reviewed that one three years ago – see the Crispy Shiitake BLT Sandwich recipe and my review.
I call this my current favorite because it literally has not left my kitchen counter since I received it! Here in Portland, we just had two Farmers Markets open for the season last weekend. I love to visit our abundant Farmers Markets here, for the freshest local veggies.
Love & Lemons Every Day definitely showcases all the fresh abundance of each season, and I am here for all of it.
Thumbing through the beginning of the book, the Seasonal Produce Guide lists produce availability by season, when it tastes best! Pointing out that local plants travel less and are harvested closer to their ideal time of ripeness.
I feel like this chocolate chip cookie recipe is one of the "every day" recipes in a book that really celebrates seasonal. I was able to make these cookies with ingredients I had in my pantry. Ingredients that are in my pantry year round.
Plant Based Protein
This book also highlights Plant Based Proteins with a guide to all the vegan protein sources. So many focus on protein, and this section shares the best way to get it, and also points out that many plants have protein. Spinach, kale, broccoli, even avocados – all have protein!
This palatable primer also includes a super fun section on Special Occasion Menus including Spring Soiree, Sunday Brunch, Date Night and Girls Night.
Plant Based Recipes
As far as the plant based recipes, the chapters are categorized by both meal type and dish type. I have listed a few teaser recipes you'll find in the book – I have tried or cannot wait to try, like this Creamy Sweet Corn Pasta.
Breakfast: Sweet Potato and Sage Biscuits, Breakfast Banh Mi Sandwiches, Polenta Bowls with Chimichurri
Snacks and Starters: Carrot Ginger Gyoza, Jack's Garlic Pretzel Knots, Beet Muhammara Dip
Soups: Lasagna Soup with Vegan Ricotta, Lemon Miso Spring Green Soup, Potato Leek Artichoke Chowder
Salads: Sesame Ginger Avocado Fennel Salad, Heirloom Tomato Fattoush, and a GIANT GRID OF SALAD DRESSINGS!
Dinner: Charred Cauliflower Pitas with Harissa, Japanese Udon Hot Pot for Two, Mediterranean Stuffed Eggplant, Cozy Mushroom and White Bean Potpie
Side Dishes: Tahini Collard Green Slaw, Rosemary and Meyer Lemon Focaccia, Roasted Carrots with Carrot Top Tzatziki
Desserts: Lemon Olive Oil Pistachio Cake, Raspberry Basil Blender Sorbet, Cherry Pie Chia Parfaits
Drinks: Blush Lemon Rosé Cocktail, Strawberry Peach and Basil Sangria, Tea Tails!
Homemade Extras: Quick Preserved Lemons, Lemon Salsa Verde, Vegan Ricotta, Homemade Pickles
Essential Sauces and Spreads: Vegan Caesar, Cashew Lime Sour Cream, Mint Pesto, Quick Pico
vegan cookie recipes
Raspberry Lemon Cheesecake Cookies
Gluten Free Samoa Girl Scout Cookies
Double Rich Chocolate Protein Cookie
Lofthouse Style Frosted Sugar Cookies
Vegan Chocolate Chip Cookies
from Jeanine:
When I first started working on this recipe, I was trying a temporary elimination diet where I wasn't eating dairy or grains. I was doing okay skipping out on sweets, until one day I wasn't — and I NEEDED a cookie.
So I came up with this recipe, which let me have my cookie and eat it too. I've been tweaking this recipe ever since. Not only does everyone love this cookie, regardless of any dietary restrictions, but it's also now a one bowl recipe!
Almonds give the cookies a rich consistency and nutty flavor, and while I've listed the flaky sea salt on top of the cookies as optional, I highly recommend it because it really takes these over the top.
Did You Make This Recipe?
Follow spabettie on Instagram and tag us with #spabettie
We love seeing your recipe photos and remakes – thank you!
Yield: 16 cookies
Flourless Chocolate Chip Cookies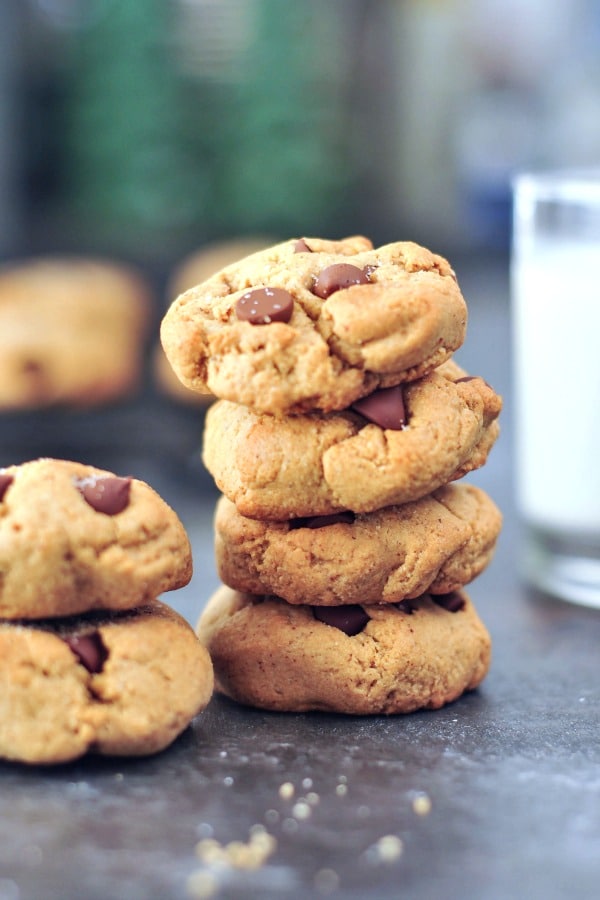 these Grain Free Cookies are vegan and gluten free and SUPER TASTY. a quick and easy recipe to satisfy all the cravings.
Ingredients
3 tablespoons water
1/4 teaspoon sea salt
1 to 2 tablespoons water, if necessary
flaky sea salt, for sprinkling
Instructions
Preheat oven to 350 °F. Line a baking sheet with parchment paper.
In the bottom of a large bowl, whisk together the ground flaxseed and water and let thicken for 5 minutes.
To the same bowl, add the coconut oil, sugar, almond butter, and vanilla. Whisk until well combined. Add the almond flour and sprinkle the baking soda and salt evenly over the mixture. Use a spatula or wooden spoon to stir until combined, adding 1 to 2 tablespoons water if the mixture is too dry. Fold in the chocolate chips.
Use a 2 tablespoon cookie scoop to scoop the dough onto the baking sheet. Press each ball down slightly and sprinkle with flaky sea salt. Bake for 10 to 13 minutes or until the edges are just starting to brown.
Cool on the pan for 5 minutes and then transfer to a wire rack to finish cooling.
When the cookies are completely cool, they can be stored in an airtight container or frozen.
To reheat frozen cookies, bake in a 350 °F oven for 5 minutes, or until warmed through.
Nutrition Information:
Yield:
16
Serving Size:
1 cookie
Amount Per Serving:
Calories:

167
Total Fat:

6g
Saturated Fat:

3g
Trans Fat:

0g
Unsaturated Fat:

4g
Cholesterol:

0mg
Sodium:

107mg
Carbohydrates:

13g
Fiber:

3g
Sugar:

9g
Protein:

5g
nutrition calculations results vary by calculator, are for informational purposes only, and are not intended to replace medical advice or treatment.
Flourless Chocolate Chip Cookies recipe reprinted from
Love & Lemons Every Day
by arrangement with Avery, a member of Penguin Group (USA) LLC, A Penguin Random House Company. Copyright © 2019, Jeanine Donofrio
about Kristina: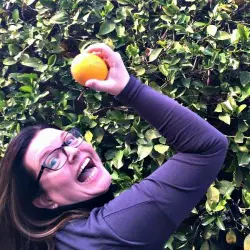 Kristina is spabettie! She found cooking at an early age, and created spabettie in 2010 to share vegan recipes. Kristina turned her culinary training into sharing vibrant vegan food! Read more…
spabettie / Kristina Sloggett is a participant in the Amazon Services LLC Associates Program, an affiliate advertising program designed to provide a means for sites to earn advertising fees by advertising and linking to Amazon.com.