these vegan gluten free Cherry Zucchini Crumb Muffins are the perfect combination of two fresh summer crops – fluffy and flavorful, with a double dose of sweet crumb topping!
Vegan Zucchini Muffins
I am really reeeeaaally excited about these muffins.
I have been baking for many many years, perfecting recipes from bagels to croissants, muffins to cakes to cheesecakes.
When I chose to remove gluten from my kitchen and most of what I eat, I had to relearn how to bake. I love doughy and dense, so I resigned myself to the thought that gluten free baking always had that result.
Recently I have made it a priority to learn the finer points of gluten free baking – what the gums do and how much to use, what flours bring what result. It is a work in progress, but I am progressing!
Fresh Cherry Muffins
These muffins combine two of my favorite summer crops – cherries and zucchini. If these were not made in my own kitchen where I know there is no flour containing gluten, I would have never believed they are gluten free. Honestly.
Jason and I have been eating these with breakfast the last several days, and each day we are both saying the same thing – how fluffy and … 'normal' these feel.
Progress. and I'm really excited about that.
Perfect Crumble Crumb Topping
Please – make these muffins.
Make that crumble topping.
I love crumb topping, did you know? Love it. When I was a kid, all desserts with a crumb topping would mysteriously end up without crumb topping. I don't know why. Wasn't me.
This crumb topping? I could eat all of it. By itself. Crumb topped with crumb. Mmm.
Go, make these. As soon as you can!
Yield: 12 muffins
Cherry Zucchini Crumb Muffins
these vegan gluten free muffins are the perfect combination of two fresh summer crops!
Ingredients
1/3 cup + 1 tablespoon warm water
pinch sea salt
2 cups zucchini, grated
1 1/2 cups fresh cherries, pitted and sliced
Crumb Topping:
1/2 cup gluten free all purpose flour
1/4 cup dairy free butter, melted
Instructions
In saucepan over medium heat (or in microwave safe bowl, ~1 minute in microwave), melt butter.
2. Add flour and sugar to melted butter, stir until combined, resulting in a thick crumbly paste consistency. Set aside.
Preheat oven to 350 °F.
Grind flax seed in blender, coffee grinder. Place 2 tablespoons flax in a bowl, add water and stir. Set aside - this will set into gel (this equals / replaces two eggs).
In large bowl, combine grated zucchini, oil, maple syrup, and flax mixture.
In same bowl, add flour but do not stir in. On top of the flour, add baking powder, cinnamon and salt, stirring into the flours before folding into wet ingredients.
Fold in cherries.
Spoon into prepared muffin cups, 3/4 full.
Top with crumble topping and get into oven.
Bake at 350 °F for 25 minutes or until inserted toothpick comes out clean.
Notes
dairy, egg, soy and gluten free, vegan
Nutrition Information:
Yield:
12
Serving Size:
1 muffin
Amount Per Serving:
Calories:

153
Total Fat:

2g
Saturated Fat:

2g
Trans Fat:

0g
Unsaturated Fat:

0g
Cholesterol:

0mg
Sodium:

33mg
Carbohydrates:

8g
Fiber:

2g
Sugar:

3g
Protein:

1g
nutrition calculations results vary by calculator, are for informational purposes only, and are not intended to replace medical advice or treatment.
Try AmazonFresh Free Trial
for Unlimited Grocery Delivery – add these recipe ingredients to your list. use code FRESH25 for a $25 off discount on your first AmazonFresh order!
about Kristina: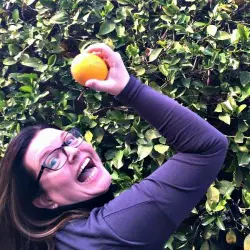 Kristina is spabettie! She discovered a love of cooking at an early age, and founded spabettie in 2010 to share vegan recipes. As the sole recipe developer and photographer, Kristina turned her culinary training into sharing flavorful and vibrant vegan food! She loves dachshunds, karaoke, drums, and travel.
spabettie / Kristina Sloggett is a participant in the Amazon Services LLC Associates Program, an affiliate advertising program designed to provide a means for sites to earn advertising fees by advertising and linking to Amazon.com.