Tropical Banana Bread with Sugared Macadamia Crumble – a unique spin on a classic banana bread, sweet and moist with flavors from the islands and a sugary crunchy top.
Tomorrow is National Banana Bread Day.
Wait, back up a minute.
Why didn't anyone tell me today is National Margarita Day!?
I guess I can still celebrate that one. and I will.
Second only to pumpkin pie, banana bread is one of the first things I learned how to bake. I had a standard for years, a variation of recipes from my mom and my grandma. Then I learned how to bake gluten free and vegan, and methods changed again. Banana bread is always good.
Nowadays I like to make it fun, get creative, add ingredients to make it different. Since I am spending so much time with him lately, this one is for my dad. and tomorrow I am actually bringing it to him, we will enjoy it for breakfast!
My dad is from Hawaii, so the recipe I made for him is tropical – sweetened with chunks of mango and shredded coconut, with a crunch of sugared macadamia crumble on top. This is divine.
Tropical Banana Bread with Sugared Macadamia Crumble
dairy, egg, soy and gluten free, vegan
makes one loaf
INGREDIENTS:
2 tablespoons flax seed, ground
1/3 cup water
1/2 cup coconut milk
1 1/2 teaspoons apple cider vinegar
1/2 cup butter (Earth Balance soy free)
1/2 cup brown sugar
1/2 cup maple syrup
3 ripe bananas, mashed
1 cup gluten free all purpose flour
1 cup brown rice flour (or use more AP)
1 teaspoon baking soda
pinch sea salt
1 mango, peeled and cubed (about 1 cup)
1/2 cup shredded coconut
sugared macadamia topping (recipe follows)
INSTRUCTIONS:
Combine flax and water, set in refrigerator to thicken. Combine coconut milk and apple cider vinegar, set aside. Cream together butter, sugar and maple syrup. Add bananas, add milk and flax mixtures, combine. Add flours, do not stir – add baking soda and salt, mixing into flour then mixing together with wet ingredients, until just combined. Stir in mango cubes and shredded coconut, pour batter into prepared loaf pan (sprayed and or lined with parchment). Top with sugared macadamia topping.
Bake at 350 for 60-70 minutes, or until inserted toothpick comes clean.
Sugared Macadamia Crumble
INGREDIENTS:
3/4 cup macadamia nuts
1/4 cup brown sugar
1 tablespoon cold butter (Earth Balance soy free)
INSTRUCTIONS:
Using a food processor or knife, finely chop macadamia nuts. Combine brown sugar and macadamia pieces, cut in cold butter until crumbly texture forms. Sprinkle in an even layer over banana bread before baking.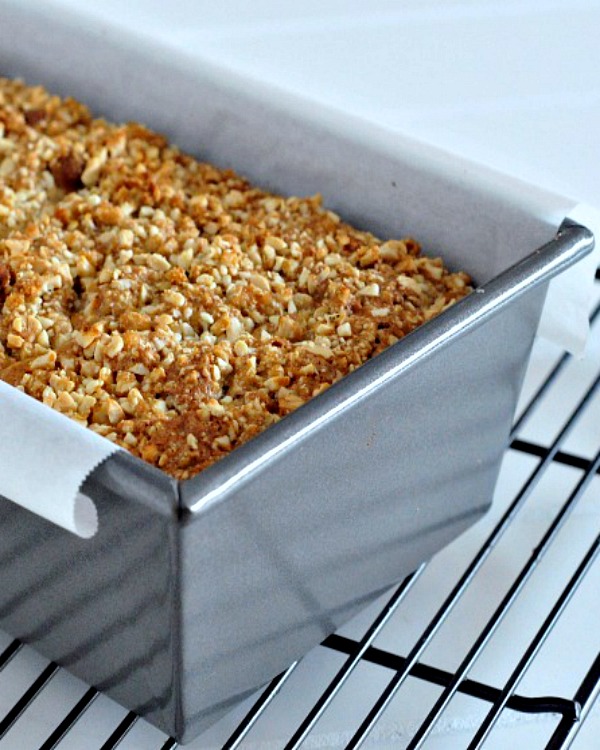 Happy National Banana Bread Day!
printable Tropical Banana Bread with Sugared Macadamia Crumble recipes: 

Tropical Banana Bread with Sugared Macadamia Crumble[/b]" thumbnail="" type="recipe"]

Sugared Macadamia Crumble[/b]" thumbnail="" type="recipe"]