these Blueberry Smoothie Jars are super quick and easy, thanks to batch cooking. on the go, tasty meal prep smoothie! bonus: the best meal prep tools
TABLE OF CONTENTS
Batch Prep Smoothies
In my kitchen, meal prep used to mean several servings of a chia pudding and a freezer drawer of ready to use smoothie ingredients. My daily smoothies were elaborate and varied, but because I planned ahead and made my own smoothie packs, it literally took me one minute to blend for breakfast.
Several years ago, a friend asked if she could hire me to plan her family's meals. Being a food blogger who actually does eat the food I make, meal planning was the last thing on my radar.
Our meals went according to my editorial calendar and work flow.
Meal prep has been all the rage for a few years. My friend didn't know or care about that, it was more that her growing family was actively focusing on changing their diet. They wanted to go vegan, and that's why they approached me.
What started as a "can you veganize this handful of family recipes?" question became a full week by week meal prep guide I would provide each month.
Because I was doing this as part of my multi faceted job, I naturally started thinking this way at home as well. Soon I was carving out time on a Sunday afternoon to plan and prep.
Meal Prepping is part of our routine, and I cannot adequately express the benefit of quick and easy mealtime during a busy week. Our dinners still consist of the food I make for blog recipes and work, and I also almost always have a breakfast and lunch ready to go.
How To Make Smoothie Jars
I love the idea of auto pilot maneuvers in the morning.
Some days, when I mean to make a glass of pre workout drink, I find myself going through the motions of making coffee before I realize what I am doing.
This blueberry smoothie recipe is beneficial when I am already in work mode (that auto pilot thing). I take the jar out of the freezer, pour the cooled contents into the blender with liquid and a banana. Blend, pour back into the jar, and I'm off and running.
Sometimes literally.
An approximate breakdown of this recipe / ingredients per jar:
½ cup frozen chopped spinach
¾ cup frozen blueberries
½ cup frozen pineapple chunks
~¼ cup hemp hearts
¼ teaspoon ground turmeric
¼ teaspoon ground ginger
How To Add Protein Without Using Powder
While this meal prep smoothie already has a decent amount of protein, I sometimes want to add more if I am using the smoothie as a light meal or post workout recovery.
I do use protein powders, but I don't always want to rely on them. And sometimes I am craving real food flavors that don't include that taste? (Sometimes I totally crave that overly vanilla flavor. You know what I mean.)
There are so many whole food protein sources for those not wanting to use powders. Some of our favorites are also easily accessible. We almost always have these on hand in our kitchen:
Almond Milk (or cashew, soy, pea...)
Peanut Butter (or your favorite nut butter. I LOVE cashew.)
Chia Seeds
Nuts and Seeds (cashews again, almonds, and flax seeds)
Tofu
Greens (spinach is our favorite, kale is a close second)
Best Meal Prep Tools
Now that we've been at this for a bit, we definitely have some ideas on the best meal prep tools.
One aspect of our meal planning is simply prepping the ingredients ahead of time. When we aren't just chopping with a knife, we often use a spiralizer, and our easy to use mandolin with gloves. (We have had the same Paderno Spiralizer for years and it is still in great shape.)
Whether we are just prepping ingredients or dividing prepared meals into portions, we have found containers we love. Large Weck Jars are great for smoothies like these, and smaller Weck jars work perfectly for overnight oats and chia puddings.
The containers Jason loves to use for work lunches are the same glass containers with lids that we use at home for all meal prep and leftovers.
Plant Based Meal Prep
Are you ready to start meal prepping, or want to add some new recipes to your weekly meal plans? This blueberry smoothie comes from Jackie Sobon's newest book, Plant Based Meal Prep.
Jackie's latest project is a labor of love and it shows. The book begins with extensive guidance through organizing, recipe labels, basics to stock your pantry, and the best meal prep tools.
In addition to the gorgeously photographed recipes, the book supplies you with weekly menus and shopping lists. Everything is spelled out for us - making this all so easy and approachable.
Some of the recipes I have tried or have marked to to try?
The Lemon Rosemary Chickpea Pasta Casserole from Week 2 menu is labeled as beginner and gluten free option. It is also fantastic - we have leftovers I am wanting to eat for "lunch" at 10 in the morning...
We also loved the Nacho Potato Bake! Perfect as a meal prep / leftovers situation, and is there for all of your comfort food cravings.
The Teriyaki Tofu reminds me of Dad in the best possible way. The Yogurt Pops give me all sorts of sweet summertime nostalgia.
The Sesame Miso Stir Fry sounds incredible, and is next on our list, as are the Blood Orange Freezer Waffles.
This book really does have all the information to streamline your vegan lifestyle. Meal planning and prepping can seem like a daunting organizational task, and Jackie's book breaks everything down into user friendly sections.
Big congrats to Jackie on another stunner! I can tell just how much of your heart went into this book - truly a work of art that now has a permanent place in my kitchen.
Vegan Smoothie Recipes
Vegan Yack Attack Recipes
from Jackie: "Smoothie jars make getting out the door during the week so much easier. This recipe is the base version of my favorite—and most commonly made—smoothie, because blueberries and pineapple are so dreamy together. I've ordered the ingredients in the recipe to make the smoothies easy to blend. I like keeping bananas at room temperature so that each morning I can add one to the blender pitcher before dumping the jar contents on top."
Did You Make This Blueberry Smoothie Recipe?
Follow spabettie on Instagram and tag us with #spabettie
We love seeing your recipe photos and remakes - thank you!
Yield: 5 servings
Blueberry Smoothie
have breakfast or a post workout snack ready to go with these meal prep smoothies! super quick, easy, and delicious!

Prep Time 5 minutes

Total Time 5 minutes
Ingredients
2½ cups (265 g) frozen chopped spinach, broken into pieces
4 cups (560 g) frozen blueberries
2½ cups (365 g) frozen pineapple chunks
1 cup (150 g) hemp hearts
1¼ teaspoons ground turmeric
1¼ teaspoons ground ginger
5 small bananas
3¾ cups (890 ml) water
Instructions
Set out five 24-ounce (710 ml) wide mouth jars.

Divide the spinach, blueberries, pineapple, hemp hearts, turmeric, and ginger evenly among the jars; screw the lids on the jars and store in the freezer.
When you're ready to make a smoothie, add one peeled banana, broken into chunks, to the blender.
Run warm water over the outside of one covered jar to help release the frozen ingredients. Pour the jar contents into the blender, followed by ¾ cup (175 ml) water. Blend until completely smooth, then transfer back to the jar and enjoy.
Notes
Freezer Friendly, 30 Minutes Or Less, Under 10 Ingredients, Vegan, Gluten Free, Soy Free, Nut Free, Oil Free, No Sugar Added
Smoothies are highly customizable, so try this recipe as-is first, then swap in your favorite fruits, spices, or proteins for different versions. During the summer, I like to substitute half of the banana for peach slices.
Recommended Products
As an Amazon Associate and member of other affiliate programs, I earn from qualifying purchases.
Nutrition Information:
Yield:
5
Serving Size:
1
Amount Per Serving: Calories: 190Total Fat: 1gSaturated Fat: 0gTrans Fat: 0gUnsaturated Fat: 0gCholesterol: 0mgSodium: 36mgCarbohydrates: 42gFiber: 6gSugar: 31gProtein: 4g

nutrition calculations results vary by calculator, are for informational purposes only, and are not intended to replace medical advice or treatment.

Blueberry Smoothie recipe reprinted with permission from Jackie Sobon and Fair Winds Press, an imprint of Quarto Publishing Group USA Inc. © 2020
about Kristina: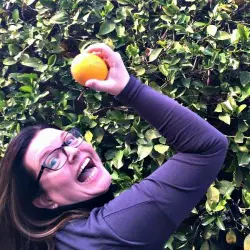 Kristina is spabettie! She found cooking at an early age, and created spabettie in 2010 to share vegan recipes. Kristina turned her culinary training into sharing vibrant vegan food! Read more...
spabettie / Kristina Sloggett is a participant in the Amazon Services LLC Associates Program, an affiliate advertising program designed to provide a means for sites to earn advertising fees by advertising and linking to Amazon.com.