the distinct flavors, colors, and textures of these Vegan Squash Recipes make them a popular choice for your dinner, baked treats, and even appetizers!
recipe collection originally published March 24, 2014
TABLE OF CONTENTS
Is Squash a fruit or vegetable?
The popular fruit that most of us prepare as a vegetable, the squash family is vast and varied. Squash have seeds, qualifying them as a fruit. Many savory preparations treat the squash as a vegetable, joining other fruits like the tomato, avocado, and eggplant.
From the farmers markets to your local grocery, squash choices are abundant with each season, giving us fresh seasonal flavors year round.
Nutrient dense and low glycemic, the versatile gourd is celebrated as both a sweet or savory dish. From dips - both sweet and savory - and appetizers to breakfasts, breads, desserts, and savory entrees, these Vegan Squash Recipes have choices for everyone.
At any given time in my kitchen, I might have several different squash varieties on my counter. Especially the kabocha, by far a favorite. Even if I don't have specific plans for one, it will end up in my grocery cart or market tote. Hoarding kabocha is a thing.
Types of Squash
Winter Squash: also known as My Favorite Squash. that fact will be evident as you browse these Vegan Squash Recipes - the majority are winter squash, including acorn, spaghetti, kabocha, pumpkin, butternut.
Summer: this variety has a higher water content than their dense cousin, winter squash. summer squash varieties include: pattypan, yellow squash, and several types of zucchini.
How To Cook Squash
Winter squash: My go to preparation for most winter squash is roasting - the first step in many of these Vegan Squash Recipes. Carefully cut into the tough exterior of the squash, scoop out the seeds and innards, and cut the squash into slices, cubes, bite size pieces. Drizzle with a bit of olive oil and season with salt and pepper. Roast in a 400 °F oven, removing to turn squash with a spatula halfway through. Cooking times vary depending on size of squash.
Spaghetti squash: generally baked or roasted, the preparation depends on your final dish. Sometimes I want to use the squash as the serving vessel, so I'll simply slice it in half lengthwise and remove the seeds and innards. Then I will roast and fill, or fill and roast - depending on the recipe. If you want spaghetti noodles, slice the other way, in short rings rather than lengthwise. The "noodles" will be longer with this slice.
Summer squash: when I use summer squash, it's usually a zucchini. I'll spiralize it and enjoy it raw or slightly warmed with sauce. My favorite way to use zucchini is in baking - muffins, bread, and fritters.
Did You Make One of these Squash Recipes?
Follow spabettie on Instagram and tag us with #spabettie
We love seeing your recipe photos and remakes - thank you!
Vegan Squash Recipes
savory entrees, nutritious breakfasts, appetizers and baked goods - this Vegan Squash Recipes collection can satisfy all cravings!
about Kristina: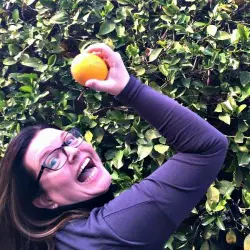 Kristina is spabettie! She found cooking at an early age, and created spabettie in 2010 to share vegan recipes. Kristina turned her culinary training into sharing vibrant vegan food! Read more...
spabettie / Kristina Sloggett is a participant in the Amazon Services LLC Associates Program, an affiliate advertising program designed to provide a means for sites to earn advertising fees by advertising and linking to Amazon.com.