The crispy cheesy vegan Quesarito recipe is a tasty plant based update on the drive thru favorite. a burrito wrapped as a cheese quesadilla - you'll love it!
recipe originally published September 23, 2017
Crispy Cheesy Vegan Quesarito
Happy Taco Tuesday!
...or Tacos Whenever Day, really.
Burrito Wednesday? I think that is a thing, too.
What happens if that burrito is enveloped by melty gooey cheese and a crisp quesadilla like shell? The Quesarito has been made popular by both Taco Bell and Chipotle, but I don't know her.
Kidding - I eat at both of those places, where it is easy to find vegan options if I am in the middle of nowhere or just have a craving! The Quesarito though - that I have to make at home with my own Vegan Queso, homemade cheeses and Meaty Crumbles.
and I have done exactly that.
Want more drive thru choices? Try this Taco Crunchwrap or the Ranchero Breakfast Crunchwrap!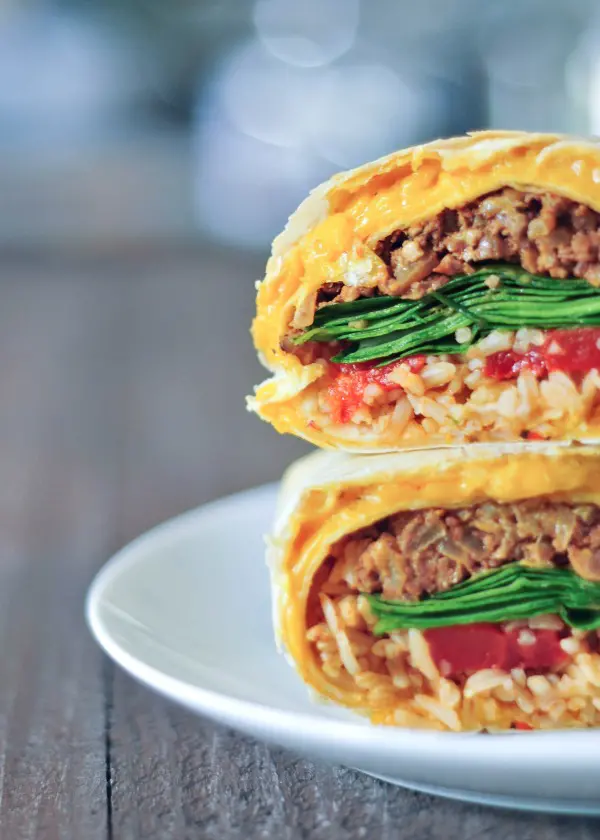 Vegan Quesarito
Much like that crunchwrap that is all the rage around here, this cheesy vegan quesarito recipe just might be as good as the real thing?
Luckily, you can decide yourself with my quick and easy recipe.
Well, quick and easy once you make the fillings, which really don't take too much time. The fillings are all components you can add to your Weekly Meal Prep Day, if you are into that sort of thing.
You can also use beans in place of my meaty crumbles, and one of the many decent store bought vegan cheeses available. Violife, Chao, and even my favorite Daiya block, Jalapeño Havarti - I am looking at you.
For my Crispy Cheesy Vegan Quesarito recipe though, I keep it as homemade and whole foods as possible. For the quesadilla portion, I used my vegan queso for maximum melty goodness. My simple spanish rice and meaty crumbles make up the filling, with a tangy sauce, cashew cream or dairy free sour cream, and often, some greens and peppers.
Add some greens to that beige burrito.
For authenticity sake, I did make one of the original - meat, queso, rice, sauce, cheese, and sour cream. Then I snapped some photos of how I usually make them - with all of those things and some spinach and peppers, either raw or roasted reds.
So good.
Either way - so good.
I also used gluten free tortillas, so that is definitely an option. My favorite - most pliable - gluten free and vegan tortillas are Siete almond flour tortillas and La Tortilla Factory tortillas. I always warm them for easier folding.
Did you make this quesarito?
Follow spabettie on Instagram and tag us with #spabettie
We love seeing your recipe photos and remakes - thank you!
Yield: one quesarito
Cheesy Vegan Quesarito
A tasty plant based update on the drive thru favorite - a burrito wrapped as a cheese quesadilla - you'll love it!
Ingredients
2 large gluten free tortillas
2-3 tablespoons grated cheese (this cheese used here)
1 tablespoon cashew cream or dairy free sour cream / yogurt
add ins: fresh baby spinach, fresh bell peppers or roasted red peppers
Instructions
Lay first tortilla flat on prep surface.
Using a knife, carefully cut about an inch from around the entire edge of the second tortilla, making one smaller tortilla. Set aside.
On the first tortilla, spread the vegan queso around the middle of the tortilla, in a circle the size of the smaller tortilla. Add 3 tablespoons grated cheese to the top of the queso, in an even layer across the small circle, reserving 1 tablespoon grated cheese. Top the queso / cheese circle with the smaller second tortilla, pressing down slightly.
Onto the middle of the second smaller tortilla, spoon a line of the meaty crumbles. Spoon the Spanish rice on top of the meaty crumbles, followed by the tangy cream sauce and cashew cream / sour cream.
Following the method in the video above, carefully fold and roll burrito tightly. Secure the edge with the reserved 1 tablespoon grated cheese. This cheese will melt and keep the burrito sealed.
Place the burrito cheese sealed side down in air fryer basket.
Crisp in the air fryer for 6-7 minutes at 370°F, or until lightly golden and crisp.
Oven baking instructions: Same assembly steps as above. Place the quesarito on a baking sheet. Bake at 350°F for 12-15 minutes or until golden and crisp.
Skillet instructions: make quesadilla layer as above. Fry in a dry skillet over medium low heat, watching carefully and turning for a golden brown crisp on each side.
Remove from skillet, transfer to prep surface. Add ingredients to middle of quesadilla in the order above. Carefully fold and roll into a tight burrito. Return to skillet to warm through, turning on each side every minute or so. Alternatively, finish in a 350°F oven for 6-7 minutes baking.
Notes
dairy, egg, soy and gluten free, vegan
Nutrition Information:
Yield:
1
Serving Size:
1
Amount Per Serving:
Calories:

514
Total Fat:

18g
Saturated Fat:

11g
Trans Fat:

1g
Unsaturated Fat:

4g
Sodium:

230mg
Carbohydrates:

13g
Fiber:

10g
Sugar:

6g
Protein:

22g
nutrition calculations results vary by calculator, are for informational purposes only, and are not intended to replace medical advice or treatment.
about Kristina: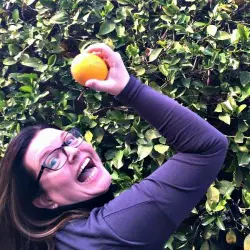 Kristina is spabettie! She found cooking at an early age, and created spabettie in 2010 to share vegan recipes. Kristina turned her culinary training into sharing vibrant vegan food! Read more...
spabettie / Kristina Sloggett is a participant in the Amazon Services LLC Associates Program, an affiliate advertising program designed to provide a means for sites to earn advertising fees by advertising and linking to Amazon.com.