these Vegan Butter and French Buttercream recipes from Miyoko are two quick and easy plant based pantry classics – once you taste them, they will be staples in your kitchen too. this dairy free butter substitute is a great value too – we calculated the cost per recipe.
recipes originally published June 18, 2015, with permission from Ten Speed Press and Random House
Miyoko's Vegan Butter
Rich and creamy and melty, this is my favorite butter if I give myself the time to make it.
Here's the secret: It takes so little time to make.
This dairy free butter substitute has several variations:
cultured butter, like the one you can buy in the store.
hard butter, which is perfect for homemade laminated doughs.
whipped butter, that airy fluffy goodness
unsalted butter, for all the times you don't need the added salt (baking and oh hey, buttercream frosting!)
If I were to add any variations, it would be the Garlic Chive Butter or the Warm Cinnamon Butter or even the Sweet Berry Butter I have made with this base recipe. More info on those soon.
Cost to Make Your Own Vegan Butter
How much does it cost to make your own vegan butter? Is it a good value?
We calculated the cost of our ingredients per use with this butter substitute. A standard butter in the store is 8 ounces, this recipe yields double that – 16 ounces or one pound.
The total: $2.95 for 16 ounces, or
$1.47 for 8 ounces (the amount sold in store).
Organic Refined Coconut Oil: $10.99 / 54 ounces = $2.43 per recipe
Almond Milk: $1.99 / 32 ounces = $0.25 per use

Canola Oil: $2.99 / 48 ounces = $0.12 per use

Lecithin: $7.59 / 96 teaspoons = $ 0.15 per use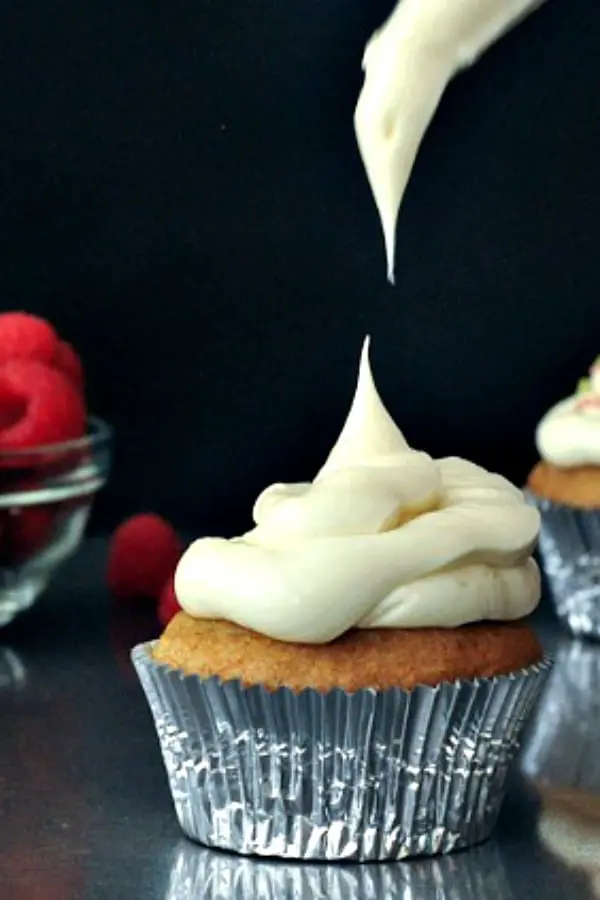 Vegan French Buttercream Frosting
I remember so well the day we made French Buttercream in a culinary class. The thing about Miyoko's Vegan Buttercream is – the method is completely different, but the flavor and consistency is GOOD.
A mild, creamy sweet frosting with a good piping ability. Once you add any sort of food coloring – natural or otherwise – that will alter the stiffness of the frosting. However, many flavor or color additions will alter any frosting, vegan or otherwise. I often use natural powdered color like a dehydrated berry that I have just blitzed to a superfine powder.
Easy Vegan Recipes
These recipes come from Miyoko Schinner's new cookbook, The Homemade Vegan Pantry – The Art of Making Your Own Staples.
I first had the pleasure of meeting Miyoko at a dinner with a group of friends back in 2012. Shortly after that, I sampled my first Miyoko cheese at an event. I immediately exclaimed, "this needs to be everywhere! you know that thing, where people say 'I'd be vegan except for cheese'? THIS will change that!"
I remember that vividly. It was Miyoko's brie that did it.
Fast forward a few years later, and luckily for everyone, Miyoko's cheese is now available – in stores and online.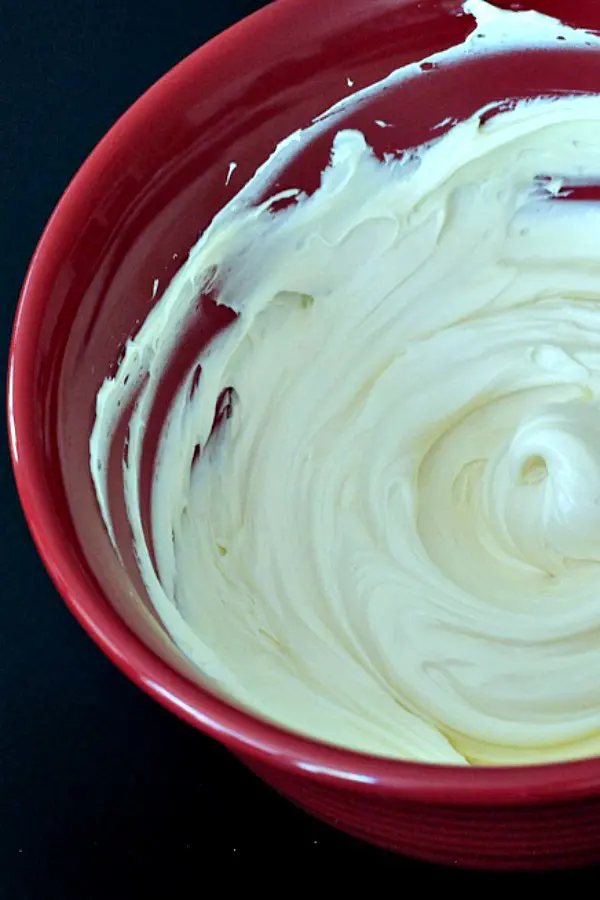 Vegan Pantry Recipes
Miyoko's book is an incredible resource.
Growing up with a mom who started cooking dinner from scratch in the afternoon, I have been looking forward to this book. My mom was doing things like rolling pasta dough on the counter and cutting noodles with a knife, and all of our cookies were from scratch.
I have had an advanced copy of Miyoko's book for a bit now, and once I sat with it and read it cover to cover, I started cooking! First up was the Classic Pancake and Biscuit Mix – which we have used for pancakes three times already – perfect pancakes.
From my recent summertime cherry tree harvest, I have made Jam: The Easy, Cheat Method and also Any-Fruit Chutney, using a lovely combination of those fresh cherries and mango. I love both of these versatile recipes, and will use them often.
This book boasts several milk recipes, a Nice, Thick Nondairy Yogurt and an Amazing Cultured Creamless Sour Cream. There are several classic dressings, a pesto, cheeses, and a meringue.
Breads and crackers and doughs, oh my! Baking mixes and recipes to use with them. Pastas and sauces and Unsteak and Unribs. This book is a powerhouse of kitchen staples, from the basic to the brilliant!
Easy Vegan Butter Recipe
One of my favorites? The dairy free butter. Glorious Butterless Butter, to be exact. I had to make that to make the recipe I chose to share, Miyoko's French Buttercream frosting.
Normally a coconut oil or avocado girl, I have been using this butter ever since first making it. I am on my second batch, having doubled the first. Rich, melty, salty butter.
This stuff on toast? Sublime.
Miyoko's French Buttercream, on carrot cake cupcakes I made for Mom's birthday?
Even more sublime. Just the right amount of sweet – natural sweet, you know? Perfectly sweet.
These recipes are easy to follow and have good results.
A note about cocoa butter – to find it in stores, you may have look outside the food aisles. I find mine in the health / pharmacy section, look for 'food grade' or simply 100% cocoa butter on the label.
Also, for the oil in this French Buttercream recipe, I used refined coconut.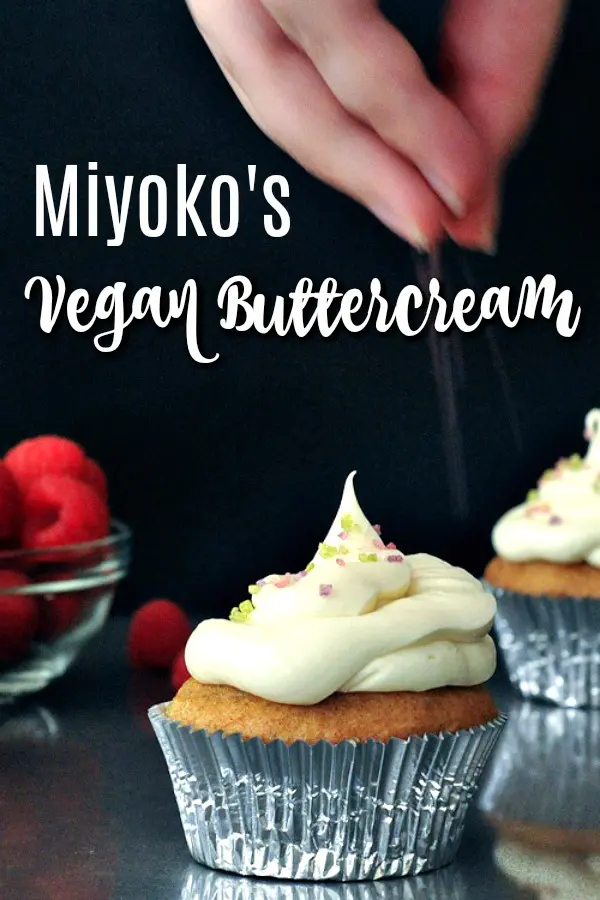 recipes with Miyoko's products
Mozzarella Stuffed Vegan Chicken Burgers
Double Cream Garlic Herb Mushroom Pie
Yield: 1 pound butter (2 cups)
Vegan Butter Recipe
a tried and true plant based butter recipe with variations for cultured butter, whipped butter, hard butter.

Prep Time 5 minutes

Additional Time 2 hours

Total Time 2 hours 5 minutes
Ingredients
Instructions
Place all of the ingredients in a blender and process at medium speed for about 1 minute.
Pour into a container of your choice – something made of silicone is great, as it will pop out easily, but any storage container will do (line with wax paper first for easy removal).
Set it in the refrigerator for a few hours until hard or in the freezer to expedite hardening.
This glorious butter substitute will keep in the refrigerator for 3 to 4 weeks or many months in the freezer.
VARIATIONS:
Cultured Butter: Replace the nondairy milk with 1/2 cup plain nondairy yogurt, or add 1 teaspoon apple cider vinegar or lemon juice to the nondairy milk.
Really Hard Butter: This is helpful for making puff pastry, croissants, and the like. Increase the coconut oil to 2 1/2 cups or substitute deodorized cocoa butter for 1/2 cup of the coconut oil.
Whipped Butter: Increase the canola oil by 1 tablespoon and process at high speed in the blender for about 2 minutes to incorporate as much air as possible.
Unsalted Butter: This is often called for in buttercream and some desserts. Simply omit the salt!
Notes
dairy, egg, and gluten free, vegan

lecithin note: Lecithin is an emulsifying agent generally derived from soybeans. It will help mix oil and water and prevent separation. If you can find only lecithin granules, you'll need to use two to four times the amount of the liquid lecithin called for.



Recommended Products
As an Amazon Associate and member of other affiliate programs, I earn from qualifying purchases.
Nutrition Information:
Yield:
32
Serving Size:
1 tablespoon

Amount Per Serving:

Calories: 91 Total Fat: 9g Saturated Fat: 3g Trans Fat: 0g Unsaturated Fat: 6g Cholesterol: 0mg Sodium: 34mg Carbohydrates: 0g Fiber: 0g Sugar: 0g Protein: 0g

nutrition calculations results vary by calculator, are for informational purposes only, and are not intended to replace medical advice or treatment.

Yield: 5-6 cups, enough to fill and frost an 8- or 9- inch 2 layer cake
Vegan Buttercream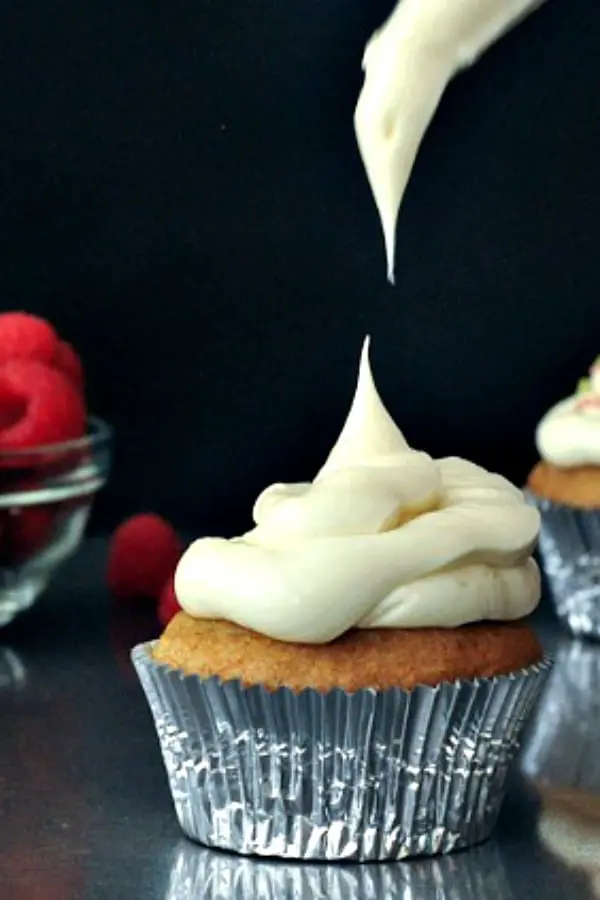 a mildly sweet vegan frosting perfect for piping!

Prep Time 12 minutes

Additional Time 2 hours

Total Time 2 hours 12 minutes
Ingredients
1 cup water
1 cup oil
8 ounces unsalted Vegan Butter
2 tablespoons Grand Marnier, Kirschwasser, Frangelico, rum, or other liqueur
Instructions
In a blender, combine water, cashews, and sugar, blend until creamy and smooth.
Add the oil and cocoa butter, blend again to emulsify to a creamy consistency.
Transfer the mixture to a bowl and chill in the refrigerator at least 2 to 3 hours; it will firm up a bit.
Using an electric mixer, whip in the butter a tablespoon or two at a time, until light, fluffy, and increased in volume by 30 to 50 percent.
Finally, add the vanilla and liqueur and mix to blend. If it does not whip up and become fluffy, it is not cold enough; return to refrigerator for 2 to 3 hours, then rewhip until you have mounds of fluffy buttercream.
Use right away to decorate your layers or refrigerate for up to 2 weeks. Rewhip before using. You can also freeze this buttercream for 3 to 4 months.
Nutrition Information:
Yield:
20
Serving Size:
1/3 cup

Amount Per Serving:

Calories: 203 Total Fat: 18g Saturated Fat: 7g Trans Fat: 0g Unsaturated Fat: 8g Cholesterol: 0mg Sodium: 73mg Carbohydrates: 1g Fiber: 0g Sugar: 1g Protein: 0g

nutrition calculations results vary by calculator, are for informational purposes only, and are not intended to replace medical advice or treatment.
Try AmazonFresh Free Trial
for Unlimited Grocery Delivery – add these recipe ingredients to your list. use code FRESH25 for a $25 off discount on your first AmazonFresh order!
about Kristina: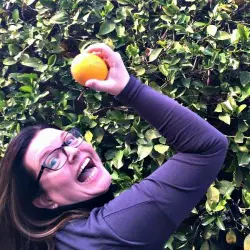 Kristina is spabettie! She discovered a love of cooking at an early age, and founded spabettie in 2010 to share vegan recipes. As the sole recipe developer and photographer, Kristina turned her culinary training into sharing flavorful and vibrant vegan food! She loves dachshunds, karaoke, drums, and travel.
spabettie / Kristina Sloggett is a participant in the Amazon Services LLC Associates Program, an affiliate advertising program designed to provide a means for sites to earn advertising fees by advertising and linking to Amazon.com.