I have had a huge interest in baking since college. My first real job, I would wake up early to make fresh bagels to bring to the office (fairly easy once you get a routine), and frequently hosted pageant parties where girlfriends would wear crowns while enjoying wine and dessert treats.
After many successes with established recipes, I must have felt my ego needed a check - I started to write my own. Years before I knew what a blog was, I created recipes. I still shudder when I think of all that was lost with a laptop death a few years ago - chills as I type that now.
Fast forward several years, adding a new challenge of baking vegan and gluten free. Friends and family subjected to enjoying flat loaf cakes with a smile, and a good stretch where all I made was variations of brownies "because I wanted the result to be dense and fudgy". Well, that part is still true.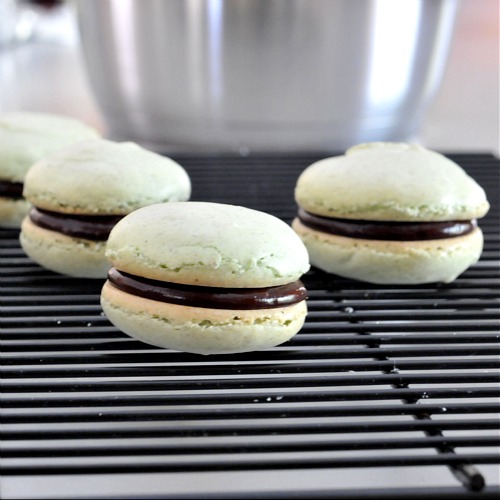 French macarons were something I did not attempt as a vegetarian, when I could have easily used eggs. Nope, I had to wait until the challenge would be much greater. After a couple not so pretty fails, I summoned the willpowder to keep going.
With attempts at clever jokes came success! With this amazing product I created a cardamom macaron and filled it with dark chocolate ganache. Then I resumed breathing. Whew.
Before I share a recipe I will be making more batches. While these tasted amazing and had the similar textures to a classic macaron, I want to perfect their appearance while hopefully making them less delicate. I want to make other bright colors (for cardamom flavored I chose a pale green). I just want more excuses to make these and have that elation again! I was giddy all day. After I resumed breathing.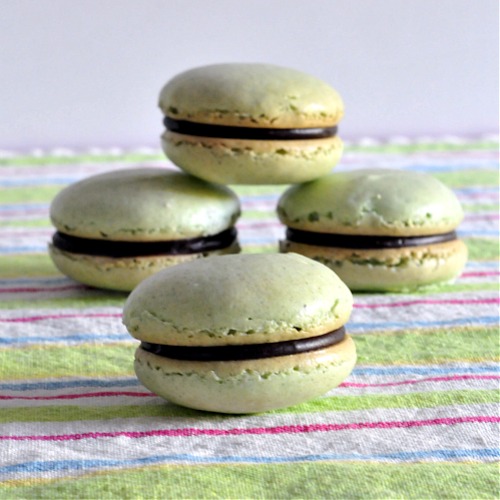 What was your last elated success, in cooking or otherwise?