These vegan deconstructed stuffed pepper bowls have all the satisfying flavor, color, and texture in an easier to eat bowl. great for lunch or dinner - or breakfast - this healthy vegan recipe is family friendly, easy to make, and antioxidant rich!
recipe originally published May 13, 2018
Gluten Free Stuffed Pepper Bowls
These bowls are one of those assembly type meals that I love to plan ahead and bulk cook for. We love the flavors so much, and could honestly eat like this every day.
Obviously our meals are more varied, but I can legit enjoy this as lunch all week long. And they are super easy, actually - all I do is cook up a big pot of quinoa (I do this most weeks anyway) and make a batch of my Versatile Vegan Meaty Crumbles recipe (often a double batch).
Then when it comes time to assemble the bowls, I slice up a bell pepper, a lemon, and some cherry tomatoes, and grab big bunches of greens.
Oh, and don't forget the hot sauce.
Super easy, super quick, and deliciously satisfying and packed with flavor and nutrients.
Oh, and don't forget superfoods.
Healthy Vegan Recipes
This Vegan Deconstructed Stuffed Pepper Bowls recipe is one of seventy five healthy and delicious meals from Nourishing Superfood Bowls - my new favorite book from a favorite old friend, Lindsay Cotter.
ACK! I cannot even express how excited, proud, inspired, and happy I am for my dear friend Linds and her stunning new book! Literally, stunning. The corner of my book is curved up from all the dogeared pages I have of favorite bowls I have already made, and delicious bowls we are eagerly anticipating and cannot wait to make.
Easy Gluten Free Recipes
I have known Lindsay for a good long while, and have always known her to be the nutrition expert she is. She also used to be my Healthy Bites dealer, ha! I sure do miss having a freezer full of Lindsay goodies at my hungry snackin' fingertips, but I am willing to make my own as I watch her do bigger and greater things!
Like this book! Nourishing Superfood Bowls shows Lindsay's natural talent and expert knowledge, and did I mention this book is stunning?!
It is. It truly is.
All of the recipes are gluten free, and many are vegan or have vegan options. There are paleo options, and grain free options too. There is a 'family style' section where the serving suggestion is just that - family style (with options for individual bowls as well). Also included - a plant based chapter, dessert and small treat chapter, a light lunch (low carb or quick to make) chapter, and a breakfast chapter.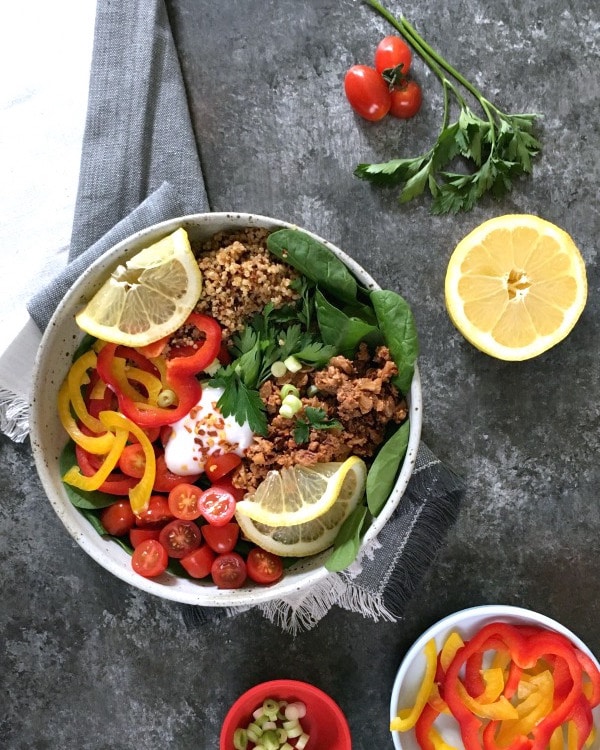 Vegan Superfood Recipes
Oh yes. Breakfast. My favorite breakfast so far is the Midnight Mocha Oatmeal Bowl. The Anti Inflammatory Superfood Smoothie Bowl is the one I make most often, though - bright and tart and perfect for what I am doing right now.
That Weekend Brunch Bowl, though. That is happening soon.
Other favorite bowls of ours, so far? I cannot stop with the Green Goddess Power Salad Bowls. and the Quick Zesty Apple Kimchi Salad Bowl - oh SO good.
It isn't all salads, though - far from it! From the Spicy Pickled Veggie Quinoa Bowls to the Kale Pesto Sweet Potato Spaghetti Bowls, hearty and flavorful are covered. Comfort food vibes abound with the Mediterranean Layered Lentil Salad Bowls and the Avocado Pesto Mexican Pasta Bowls.
The recipes we have our eye on for this week include the Korean BBQ Chickpea Bento Bowls, the Creamy Red Pepper Carrot Pappardelle Pasta Bowls, and the Loaded Sweet Potato Nacho Salad Bowls. Oh yeah.
Followed by the Rum Raisin Yogurt Oatmeal Crisp Bowl. Can't skip dessert! If you want your sweet to be something warm, the Spiced Baked Fruit Bliss Bowl is the one for you!
I'll be over here enjoying my Peanut Butter Cookie Dough Parfait Bowl...
Vegan Bowl Recipes
and THESE.
The Vegan Deconstructed Stuffed Pepper Bowls.
Well, Lindsay's original recipe in the book calls for beef, and are found under the title Deconstructed Stuffed Pepper Bowls. I know I have a vast variety of readers with different dietary preferences, and I only post vegan recipes here. (I asked Lindsay if I could sub out the beef and still share this recipe, and not at all surprising, Lindsay was completely cool and happy to have me do this. Lindsay, you are one in a million.)
There are plenty of healthy vegan recipes in this book, and even plenty that have simple vegan and dairy free options. However, after trying several recipes and having several that I wanted to share, I just really wanted to share this one.
It really is the one we make most often, and we love it so much.
this Vegan Deconstructed Stuffed Pepper Bowls recipe excitedly and gratefully shared with permission from the Nourishing Superfood Bowls cookbook by Lindsay Cotter, Page Street Publishing © 2018.
Did you make this recipe?
Follow spabettie on Instagram and tag us with #spabettie
We love seeing your recipe photos and remakes - thank you!
Yield: 4 servings
Vegan Deconstructed Stuffed Pepper Bowls
these Vegan Deconstructed Stuffed Pepper Bowls have all the satisfying flavor, color, and texture in an easier to eat bowl. great for lunch or dinner – or breakfast – these super flavorful bowls are family friendly, easy to make, and antioxidant rich!
Ingredients
3 cups (540 g) lightly steamed spinach
1 bell pepper, sliced thin
handful of fresh torn cilantro
1 green onion, chopped
handful of sliced cherry tomatoes
optional: (dairy free) yogurt or sour cream, for topping
optional: red pepper flakes, hot sauce or Tabasco, for topping
lemon slices, for garnish
Instructions
Prepare the Versatile Vegan Meaty Crumbles, as per instructions.
For the bowl, spoon the quinoa into a large bowl, followed by the spinach. Add in the ground meat mixture, and top with the sliced bell pepper, cilantro, green onion and cherry tomatoes.
Season with salt and pepper to taste.
Add toppings: (dairy free) sour cream or yogurt cheese and red pepper flakes, if desired, and garnish with sliced lemon.
Serve in one large bowl or in individual bowls.
Notes
dairy, egg, soy and gluten free, vegan
Recommended Products
As an Amazon Associate and member of other affiliate programs, I earn from qualifying purchases.
Nutrition Information:
Yield:
4
Serving Size:
1 bowl
Amount Per Serving:
Calories:

243
Total Fat:

6g
Saturated Fat:

2g
Trans Fat:

0g
Unsaturated Fat:

3g
Cholesterol:

0mg
Sodium:

128mg
Carbohydrates:

11g
Fiber:

4g
Sugar:

3g
Protein:

13g
nutrition calculations results vary by calculator, are for informational purposes only, and are not intended to replace medical advice or treatment.
about Kristina: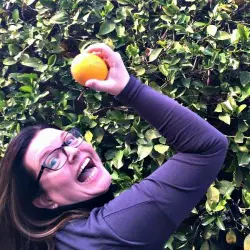 Kristina is spabettie! She found cooking at an early age, and created spabettie in 2010 to share vegan recipes. Kristina turned her culinary training into sharing vibrant vegan food! Read more...
spabettie / Kristina Sloggett is a participant in the Amazon Services LLC Associates Program, an affiliate advertising program designed to provide a means for sites to earn advertising fees by advertising and linking to Amazon.com.