Strawberry Habanero Margaritas may have a spicy heat from habanero peppers, but there is also a cool ingredient to balance the peppers. Strawberries for sweetness, a simple recipe!
______________________________________________
Growing up in Lake Oswego, we had one of those "pie house" restaurants. I loved it. From the Lyons mints and Lifesavers at the counter to the grilled cheese sandwiches and french fries on the menu, I wanted one of everything. Including the pie.
I'd sit in front of that glass case and watch so many pies rotate around and around. Tall pies. Cream pies. Fruit pies. Chocolate peanut butter pies. I could never decide which to choose. Back then, one of my favorites - by sheer size alone - was the strawberry pie. Whole strawberries stacked so tall! Amazing.
I must have enjoyed too many strawberry pies as a kid, because until two summers ago, I did not care for strawberries.
I know. A travesty.
Luckily, I have recovered. Not just because there is tequila involved.
It also seems lately I have developed a thing for habaneros. You have to be very very careful after chopping them - whatever you do, please do not get anywhere near your eye. Anywhere near your face for that matter. Trust me, I know this from experience. Possibly more than one experience. *sigh* I never learn.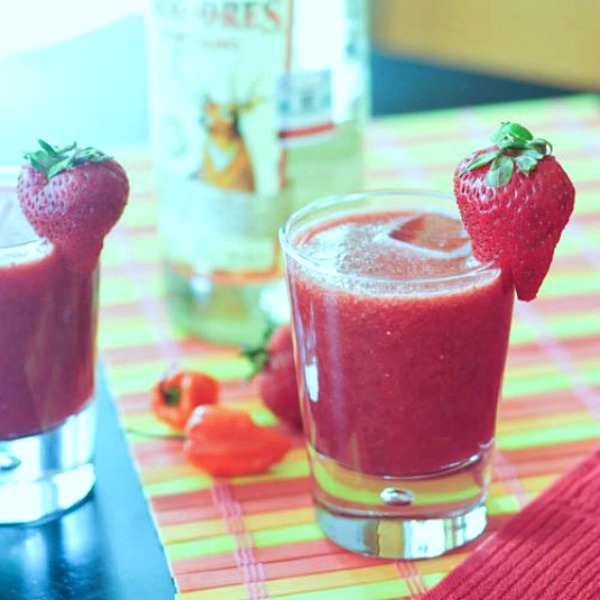 strawberry habanero margaritas
serves two
1 pint fresh strawberries, hulled
2 fresh habanero peppers, seeded
8 ounces coconut water
3 ounces tequila (Cazadores reposado)
In blender, purée strawberries and peppers until smooth. Add coconut water and tequila, pulse until combined. Pour into two glasses with one ice cube each and garnish with a whole strawberry.
Cheers - Happy Monday!