Spicy vegan chorizo sausage crumbles are a spicy and versatile plant based recipe for flavorful tacos, scrambles, stuffed peppers - the ideas are endless!
recipe originally published April 5, 2017
Spicy Vegan Chorizo Sausage Crumbles
Oh, Mama.
I've been holding out on you all. A phenomenally good chorizo spiced "meat" crumble? I cannot even.
I made this recipe and we had a side by side comparison with our favorite soyrizo. Just for flavor comparison really, because I already love the consistency of the crumble. I researched chorizo spices a bit, found some dried chiles like the favorites I experienced in Mexico, and well, we've been enjoying tacos more than usual around here.
And some pretty spicy spaghetti with meat sauce. Ha! It's really good.
The Wonder of Cauliflower!
The main components in this recipe combine well to create this meaty texture that has a perfect bite. The spices and sauces and flavors that coat these crumbles? If you are not a fan of too much spice, reduce those to your taste preference. Reduce or boost, if you love the heat!
We like it spicy, for sure. So we add a creamy cool avocado and a fresh romaine leaf is our taco shell. These tacos were drizzled with a cauliflower based cheesy queso, which easily turns into a Spicy Vegan Chorizo Queso...
Want more cauliflower?
This is so spicy good, and incredibly versatile!
make a double batch of chorizo, then make Spicy Vegan Chorizo Queso!
Did you make this recipe?
Follow spabettie on Instagram and tag us with #spabettie
We love seeing your recipe photos and remakes - thank you!
Yield: 8 servings
Spicy Vegan Chorizo Sausage Crumbles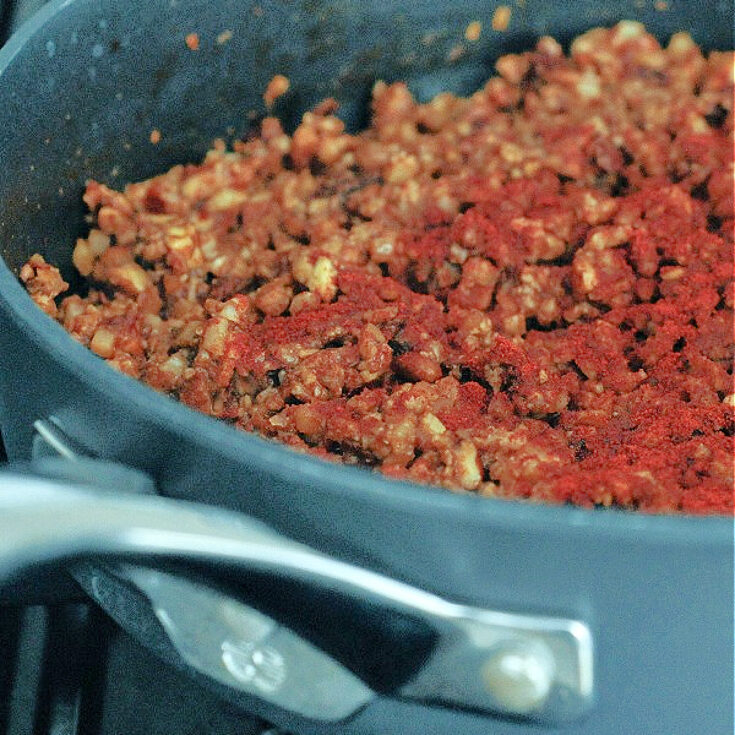 A spicy and versatile plant based recipe for flavorful tacos, scrambles, stuffed peppers - the ideas are endless!
Ingredients
1 small head cauliflower (about 9-11 ounces), chopped
1 yellow onion, peeled and minced
2 cloves garlic, peeled and minced
1 cup raw pecans, minced
3 chipotles and all adobo sauce from (7 ounce) can, minced
2 ancho chiles, rehydrated and minced
¼ cup sun dried tomatoes (rehydrated from dried), chopped
¼ cup tomato paste
1 tablespoon smoked paprika
2 teaspoons cumin
1 teaspoon oregano
Instructions
To "rice" cauliflower: add chopped cauliflower to food processor and pulse several times, to a rice size consistency.
In large sauté pan over medium heat, combine cauliflower, onion, garlic, and minced pecans. Sauté with a bit of water until softened.
Add minced chipotles and adobo sauce, the ancho chiles, sun dried tomatoes, tomato paste, paprika, cumin, and chili powder. Stir to coat. Continue to cook over medium heat until heated through. Serve immediately in tacos, as a burrito or bell pepper filling, in a scramble or spaghetti sauce.
Store in an airtight container in refrigerator 4-5 days. Wrap well for freezing.
Nutrition Information:
Yield:
8
Serving Size:
½ cup
Amount Per Serving:
Calories:

112
about Kristina: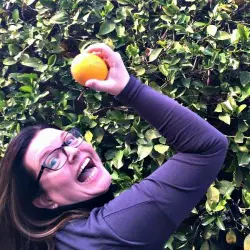 Kristina is spabettie! She found cooking at an early age, and created spabettie in 2010 to share vegan recipes. Kristina turned her culinary training into sharing vibrant vegan food! Read more...
spabettie / Kristina Sloggett is a participant in the Amazon Services LLC Associates Program, an affiliate advertising program designed to provide a means for sites to earn advertising fees by advertising and linking to Amazon.com.