Plum Pie Bites – a unique hand held two bite treat, makes a fun presentation at your next dinner, holiday, or cocktail party!
I have some fun new tart pans, and last week I bought plums and made my pie crust to make mini plum tarts.
After I had made the pie crust dough, I rolled it out and piled the whole plums next to it, so I could you know, take an "action shot" of the prep table. Then I had a whole new idea, and … well, those fun tart pans will have to wait for something else.
I wrapped the whole plums in pie pastry, taking individual desserts to a whole new level.
I pitted the plums (carefully – to keep them whole), dipped them into a sugary bath, then wrapped them into pie pastry to make mini pie bites.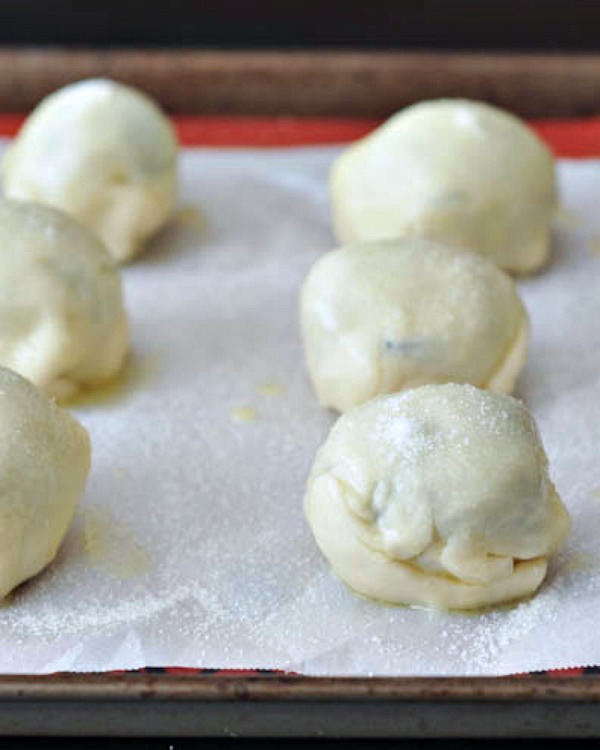 The plums should be sweet, these plums were so very sweet.
They should be baked and served warm with roasted plum ice cream.
Plum Pie Bites
dairy, egg, soy and gluten free, vegan
INGREDIENTS:
6-8 whole plums
1/4 cup granulated sugar (plus more for dusting)
splash water
1 recipe easy pie crust (vegan / gluten free)
2 tablespoons butter (Earth Balance soy free), melted
INSTRUCTIONS:
Carefully remove pits from plums, leaving them 'whole'. Combine sugar and water to form a sweet paste. Roll out dough. Dip a plum into sugary water, set on pie pastry dough and cut around plum, leaving at least an inch around to wrap (eyeball this estimation based on size of plums). Wrap pastry around plum to cover it, place seam side down on prepared (parchment, silpat) baking sheet. Repeat with remaining plums. 
Brush with melted butter, sprinkle with sugar. Bake at 350 degrees for 12-15 minutes, until crust is golden brown.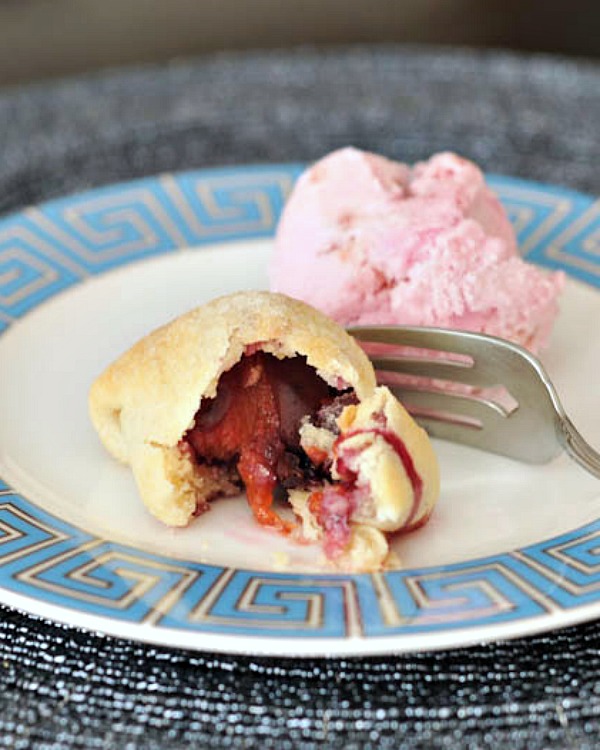 …and you know I have already done this with other whole fruit and veggies.
printable Plum Pie Bites recipe:

Plum Pie Bites[/b]" thumbnail="https://www.spabettie.com/wp-content/uploads/2012/10/Plum-Pie-Bites-spabettie.jpg" type="recipe"]