Delectably Rich Vegan Chocolate Mousse Cake - rich and fluffy layers of sweet and fruity! this recipe is a true classic cake you will want again and again!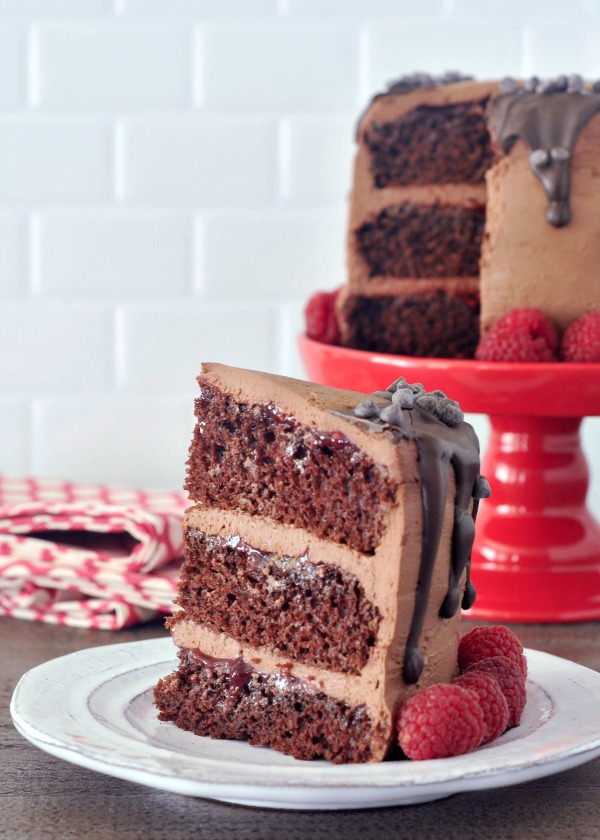 Delectably Rich Vegan Chocolate Mousse Cake
Oh hey there, rich chocolate cake layered in fluffy chocolate mousse and bright raspberry jam.
How you doin'?
My dessert cravings are generally few: cheesecake or mousse, brownies or chocolate cake. This layered lovely encompasses two of those: tasty chocolate cake surrounded by layers of rich fluffy chocolate mousse.
Chocolate mousse frosting, but really - I may have made this "frosting" as a stand alone dessert too.
You would have done the same.
Once you make this recipe, you WILL do the same.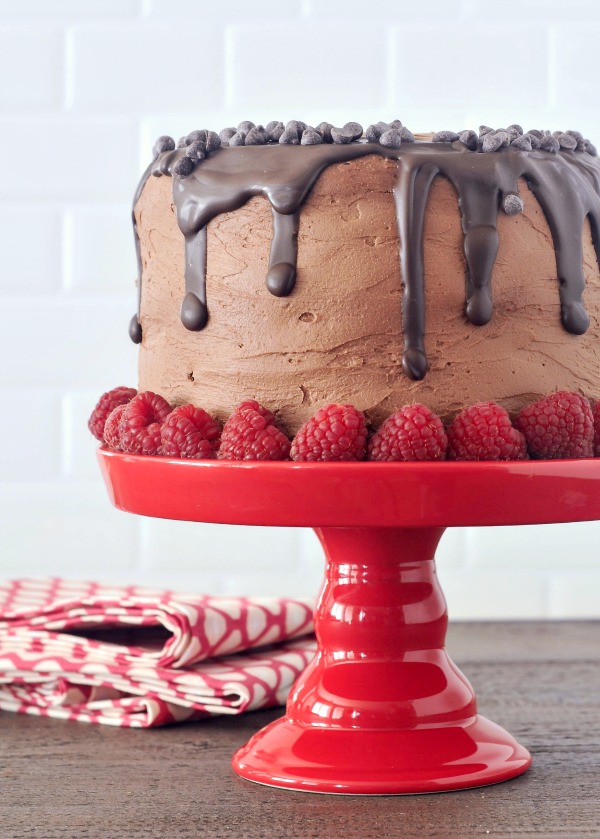 Chocolate Layer Cake
Once this cake was frosted, I melted a a few ounces of chopped dark chocolate to pour over the sides. I finished with a sprinkle of mini chocolate chips, and the fresh raspberries are a nod to the raspberry jam layered inside.
I kinda wanted to leave it like this - more of a rustic frosting, with cake and jam showing. But then I remembered how much I like that fluffy mousse frosting, and the cake to frosting ratio needed to be a bit more even on this cake.
Delicious Vegan Recipes
This Delectably Rich Vegan Chocolate Mousse Cake is one of more than one hundred seventy five fantastic recipes in Laura Theodore's latest book, Jazzy Vegetarian's Deliciously Vegan.
This informative and enlightening cookbook begins with Laura's Top Ten Lists:
Up first, Laura's Top Ten Essential Ingredients, which encompasses two pages and includes useful information, nutrients, preparation and ideas for use. I love this list and several are my essentials also. Top Ten Egg Substitutions for Baking comes next - definitely a necessity. One item on this list is new to me!
Laura's Top Ten Cheese and Cream Sauce Substitutions is a wonderful collection of micro recipes! Basics for many of us, and I know I would have referred to this constantly as a new vegan! I will still use this section often, as there are a few ideas I have not yet tried...
My favorite in the Top Ten section is Laura's Top Ten Two Ingredient Recipes. This is full of great ideas that may jumpstart your own creativity in the kitchen.
Vegan Breakfast Recipes
Which brings us to the recipes.
Breakfast comes first. From Mini Quiche Cups and a lovely Potato and Spinach Frittata to the Fabulous French Toast Bake and a Rice and Date Breakfast Bowl that I cannot stop thinking about, the breakfasts are hearty, satisfying, and flavorful.
Chapter Three is aptly named - Sunny Smoothies. Refreshing, nutritious and delicious, these fruit smoothies and bowls work well first thing in the morning and any time. My favorite so far is the Pineapple Coconut Green Delight - I will always gravitate towards flavors that instantly bring island memories...
Nibbles, Noshes, and Quick Bites is probably my favorite chapter - I do love some snackin' recipes and we all know I cannot stay away from an appetizer. Small plates for dinner, Happy Hour at Home, and entertaining - small foods and handhelds are good with me! In Chapter Four, Laura shares several of her favorite nibbles to serve - whether hosting a big party or having an afternoon bite.
Vegan Entree Recipes
Okay, nope - may I change my mind? The Sauces, Dressings, and Tasty Toppings chapter is my favorite! From several salad dressing choices and sauces to cheeses and seasoning blends, there are twenty three recipes here and I want all of them.
Marvelous Muffins and Quick Breads offers up a long list of glorious baked goods, including two of the tastiest bar recipes I have had. The Daily Green is full of fresh - fourteen salads of green.
The next three chapters are Soup's On!, Lunch, Brunch, or Light Supper, and Pasta Love. So much goodness here, and we are just now two-thirds through the book! The Tricolore Orzo Soup is on my short list to try, I am intrigued by the Carrot Chickpea Sandwich Spread, and the Sensational Stuffed Manicotti is incredible!
I plan to cook my way through the Elegant Entrées section - from Spicy Sweet Mushroom Steak Strips to the Black Bean Zucchini Burritos with Almond Crème Fraîche, everything on the list is enticing.
Near the end? Nope, not even close! The next chapter is Jazzin' Up Veggies and Grains - nutrient dense and rainbow colored vegetable side dishes. Cashew Stuffed Artichokes, White Bean and Spinach Sauté, and Colorful Confetti Bites are among the twenty four side dish recipes here.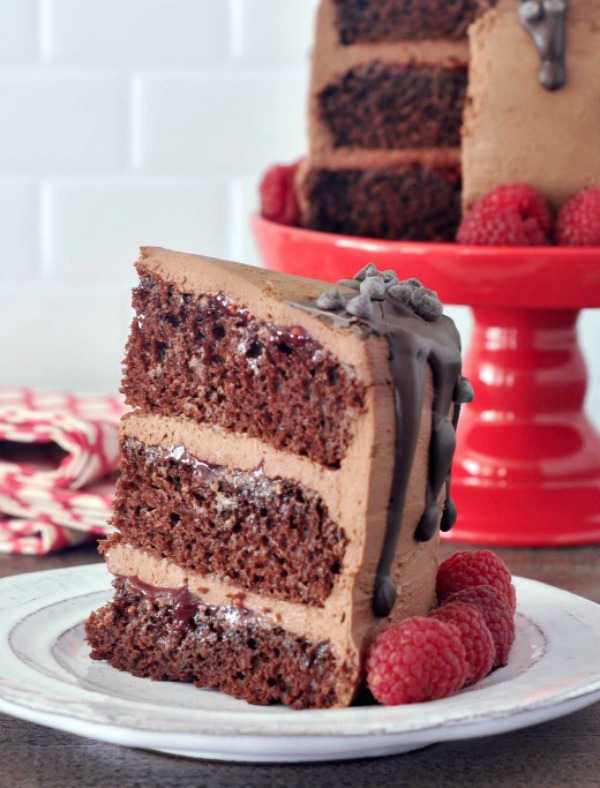 Vegan Desserts
We finally get to desserts - the Cakes, Crumbles, Cookies, and Crisps chapter is where I flipped to first. Once again, everything looks terrifically tasty.
Like this cake. First up in the dessert chapter as Divine Chocolate Mousse Cake, it lives up to the name. I can attest this one is worth the extra effort, and a decent looking frosted layer cake is my nemesis.
My unicorn.
My Eleanor.
I realize few will understand that last reference, but it is what it is.
This cake was not easy for me, AND I have already made it twice.
I have plans for a third time.
Because it is honestly that good.
If you make this cake and love it, I can bet you'd love this book! Full color and brimming with creative recipes and essential information, Jazzy Vegetarian's Deliciously Vegan really is the ultimate guide for the vegan home chef.
from Laura:
This delectable little chocolate cake is so delicious, you will have folks asking for more, more, more! If you do not already have 6-inch round cake pans, I highly recommend adding them to your baking equipment, as they are very handy for making a variety of petite cakes. Even though this cake has many steps (and takes extra time to prepare), the spectacular results are well worth the effort!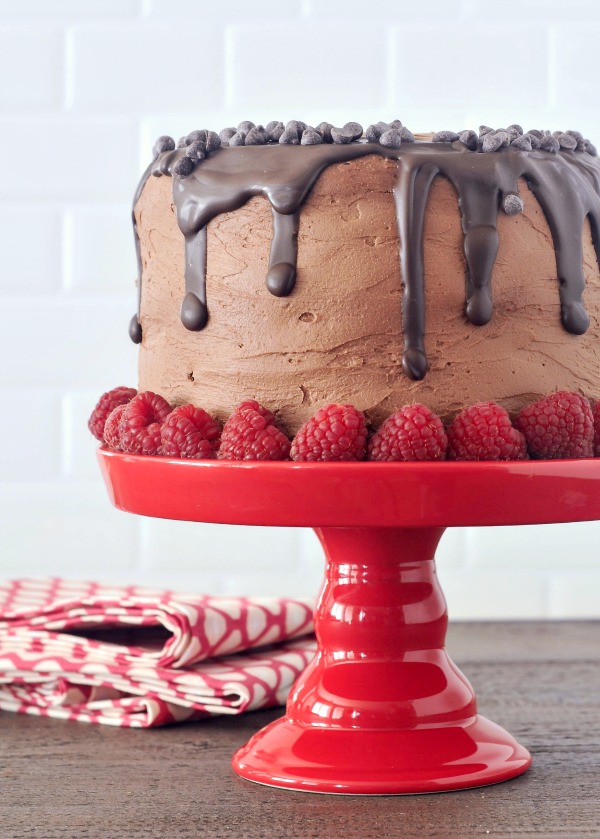 THANK YOU, Laura! this Divine Chocolate Mousse Cake recipe by Laura Theodore is reprinted with permission from and Jazzy Vegetarian's Deliciously Vegan. published by Scribe Publishing, ©2018
Yield: 10 servings
Vegan Chocolate Mousse Cake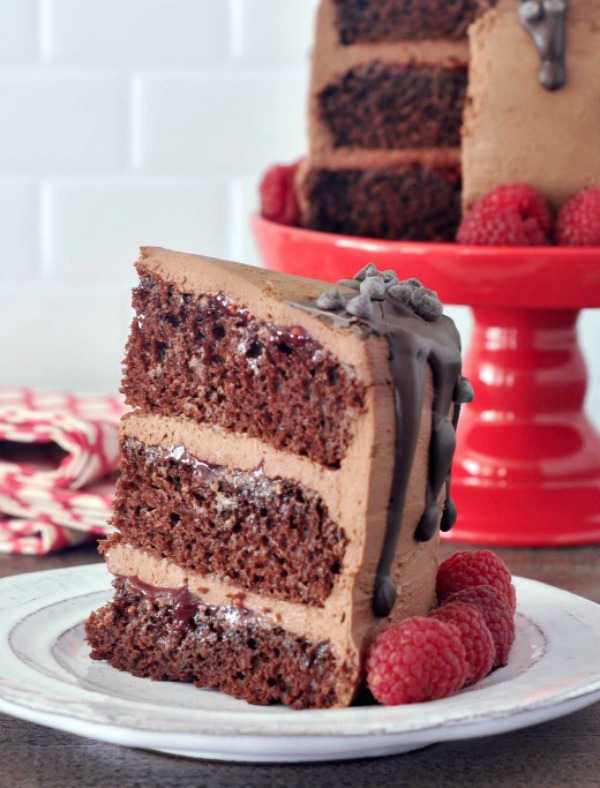 Rich and fluffy layers of sweet and fruity, this recipe is a true classic cake you will want again and again!
Total Time
3 hours
36 minutes
Ingredients
Chocolate Mousse Frosting
Chocolate cake
Instructions
To make the frosting: Heat the milk in a small saucepan over medium-low heat until small bubbles appear on the surface and the milk is simmering hot.
Put the tofu, olive oil, vanilla extract and powdered sugar into a blender, then add 1 cup chocolate chips.
Pour in the simmering milk and immediately process for 30 seconds to 1 minute, or until completely smooth.
Spoon the mixture into a small bowl, cover and refrigerate until completely chilled (about 3 to 4 hours) before frosting your cake.
To make the cake: preheat the oven to 350 °F.
Liberally coat three 6-inch round cake pans with vegan margarine. (If you are not using nonstick cake pans, line the bottom of each pan with parchment paper and liberally coat the parchment paper with margarine.)
Put the flaxseeds into a high speed blender and process into fine flour.
Put the flaxseed, flour, sugar, cocoa powder, baking soda and sea salt into a large bowl and stir with a dry whisk to combine. Add the milk, olive oil and vanilla and stir with a large spoon to incorporate.
Divide the cake evenly among the three prepared cake pans. Bake at 350 °F for 16 to 20 minutes or until a toothpick inserted into the center of each cake comes out clean.
Put the cake pans on wire racks, and run a table knife around the perimeter of each cake to loosen the sides. Let cool for 15 minutes. Turn the cakes out onto the wire racks. (If you are using parchment paper, gently and very carefully remove the parchment paper.)
Let cool for at least 2 hours before frosting the cakes.
To frost the cakes: Line the perimeter of a pretty plate with strips of parchment paper. Put one cake layer in the center of the plate. Spoon half of the raspberry preserves over the first cake layer and spread in an even layer using an offset spatula. Spoon about one-quarter of the frosting over the raspberry preserves and gently spread it in an even layer, over the preserves, using the spatula. The frosting layer will be very thick.
Put the second cake layer on the frosting and gently press down, so the cake will adhere. Spoon the remaining half of the raspberry preserves over the second cake layer and spread in an even layer using an offset spatula. Spoon about one-quarter of the frosting over the raspberry preserves and gently spread it in a thick, even layer over the preserves, using the spatula.
Position the third cake layer on the frosting and gently press down, so the cake will adhere. Spoon the remaining frosting over the top and sides of the cake and gently spread it evenly over the top and sides, using an offset spatula (once again, the frosting layer will be very thick). Decorate in a pleasing manner with the reserved chocolate chips.
Refrigerate for at least 2 hours and make certain to serve the cake well-chilled. Covered and stored in the refrigerator, the cake will keep for 3 days. (It actually tastes better the longer it stands in the refrigerator!)
Notes
*CHEF'S NOTE: If desired, you may use extra-virgin olive oil in place of the light olive oil, but the cake will be slightly denser in texture.
Recommended Products
As an Amazon Associate and member of other affiliate programs, I earn from qualifying purchases.
Nutrition Information:
Yield:
10
Serving Size:
one slice
Amount Per Serving:
Calories:

242
about Kristina: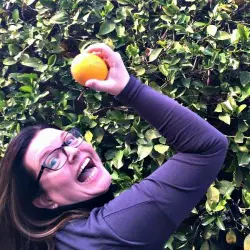 Kristina is spabettie! She found cooking at an early age, and created spabettie in 2010 to share vegan recipes. Kristina turned her culinary training into sharing vibrant vegan food! Read more...
spabettie / Kristina Sloggett is a participant in the Amazon Services LLC Associates Program, an affiliate advertising program designed to provide a means for sites to earn advertising fees by advertising and linking to Amazon.com.