the Dark Chocolate Cherry Galette is a delicious way to celebrate the flavorful fresh summer cherries! add rich dark chocolate and wrap in a quick rustic tart for a perfect dessert!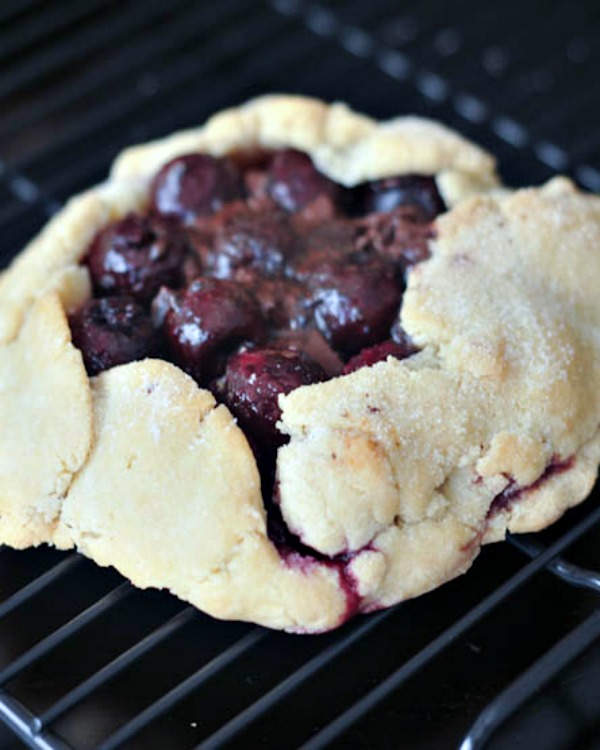 Dark Chocolate Cherry Galette
This is the first installment of Spabettie's Summer of Cherries - similar to Summer of George in no way at all.
Yesterday my new cherry pitter was my friend all afternoon. My hands are all red. I ate too many cherries. I still have two huge bowls in my fridge.
I made a batch of my easy gluten free and vegan pie crust, which then turned into individual galettes filled with a simple mixture of cherries and dark chocolate.
Every time I make this pie crust, I wonder why I was so intimidated by it. Really, it is easy if you have a little patience and trust that it will come together. It not only comes together, but it is a terrifically flaky pie crust that you would not guess is vegan or gluten free. Honestly.
What I have learned is to chill it, then work with it quickly right out of the fridge - have your fillings ready to go, so the dough does not dry out too much. If it does dry out, simply form a ball again (wet your hands to add moisture) and roll out again.
Dark Chocolate Cherry Galette
dairy, egg and gluten free, vegan
YIELD: four individual galettes
INGREDIENTS:
40-50 fresh cherries, pitted
⅓ cup sugar, divided
juice of 1 lime
6 ounces dark chocolate, chopped
1 pie crust recipe (see below)
¼ cup olive oil
INSTRUCTIONS:
Combine cherries with 2 tablespoons sugar and juice, stir until sugar is dissolved.
Divide cherries and chocolate among 4 pies, arrange in the center of each pie (see directions below), leaving an inch border.
Fold the border of crust up around filling, brush with olive oil and sprinkle with remaining sugar.
Bake at 350 for 27-32 minutes (check at 27).
Easy Gluten Free Vegan Pie Crust
dairy, egg and gluten free, vegan
YIELD: 4 individual galettes (or one double crust pie)
INGREDIENTS:
1 ½ cups gluten free all purpose flour
1 cup sweet rice flour
½ cup cold butter (Earth Balance - not soy free)
¼ cup cold water*
INSTRUCTIONS:
Combine flours and butter with dough cutter or fork.
Add water gradually* - start with ¼ cup and add by tablespoon after that until dough is forms.
Knead and form a ball, wrap and refrigerate for 20 minutes.
Divide into four equal pieces and roll into small circles. Arrange on baking sheet lined in parchment or silpat.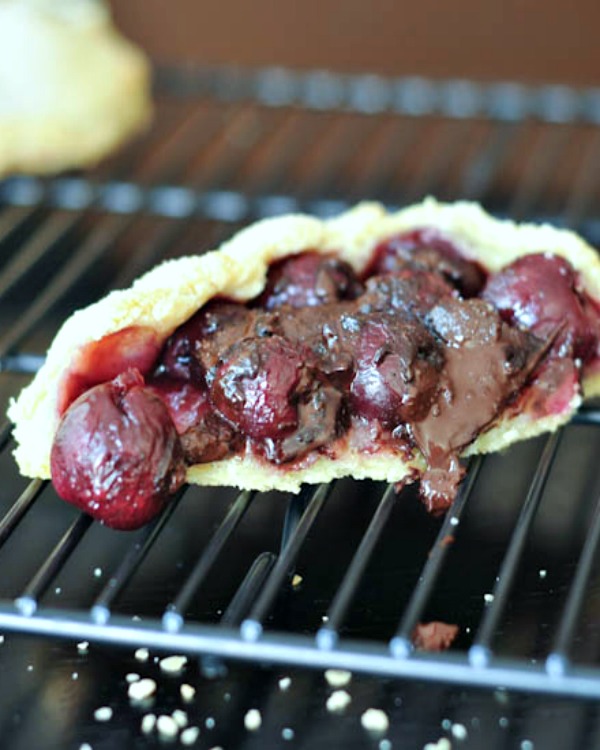 Ahem. That last photo up there? Is what happens when you break off a tiny piece of the crust to "sample". You tell yourself you'll cover it with ice cream in photos. That crust sample is good. You have another. Then another piece comes off, and it has cherry juice and a smudge of chocolate on it. Soon you are thinking "there will be way too much ice cream in this photo to look normal" and end up eating the whole thing.
That was the last photo I took and it was so worth it.