A build your own vegan chef salad bar is great for meal prepping or a party! follow this recipe as a guide for a tasty entree of fresh greens, veggies and protein.
recipe originally published March 11, 2016
DIY Salad Bar
Who loves salad like I do?
As a side salad, pretty much anything will do.
For an entree salad, I have some requirements. I need protein with my crisp cool greens. A variety of textures and flavors, and plenty of fresh veggies. And sometimes fruit.
This is my guide for serving a DIY salad bar for a party, AND a plan for your weekly meal prep for quick and easy weekday meals.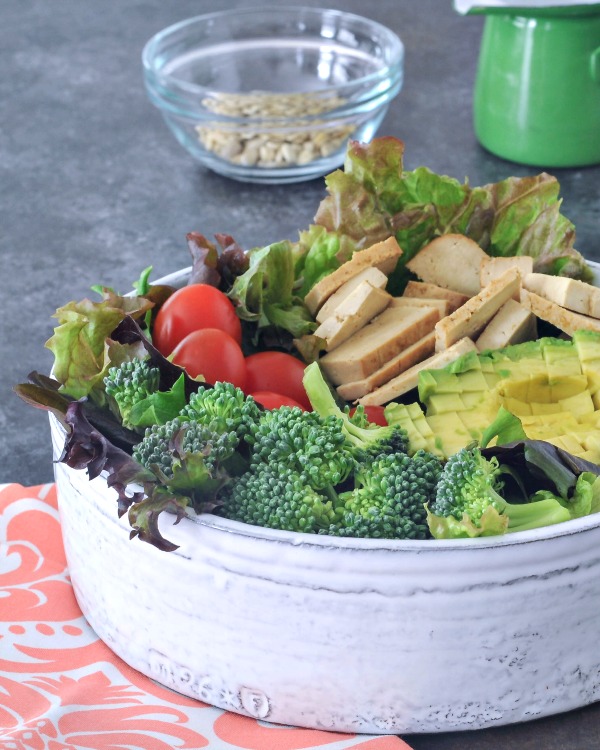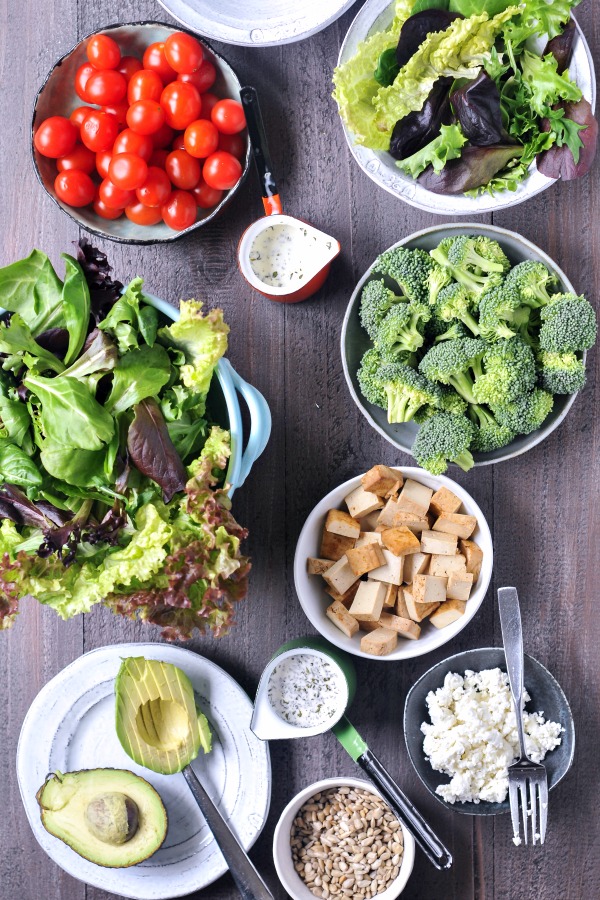 Salad meal prep
I enjoy salads all year round, but especially in the warmer months, and most especially when our fabulous Portland farmers markets open up!
Give me a large bowl (I'm talking mixing bowl or serving bowl here) piled high with greens, veggies, avocado and a warm protein - and I am happy.
Come over to my house when I have enough greens for a Build Your Own Vegan Chef Salad Bar? I am happy joyful ecstatic.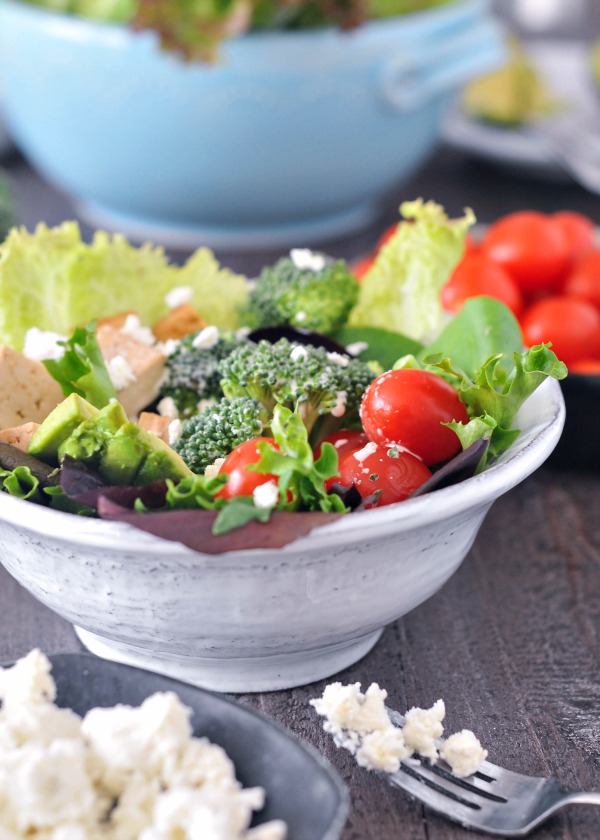 Along the lines of all things entertaining, I sure do love to set up a Serve Yourself Food Bar - tacos, salads, pasta bowls, stuffed baked potato... you name it, I'll do it!
This Build Your Own Vegan Chef Salad Bar could not be easier - simply set out bowls of each ingredient, with a stack of plates, napkins and utensils at one end.
DIG IN.
Also! For each bowl / container of ingredients, have a serving utensil. Then have another stack of extra utensils, because somehow more are always needed.
fresh salads and sunny days...
Did you make this recipe?
Follow spabettie on Instagram and tag us with #spabettie
We love seeing your recipe photos and remakes - thank you!
Yield: one salad or a whole salad bar
Build Your Own Vegan Chef Salad Bar
Ingredients
14-28 ounces plain tofu cubes / Crispy Air Fried Tofu / seasoned baked tofu
1 large bunch fresh baby spinach, washed
1-2 containers fresh organic spring mix
crumbly vegan cheese (goat cheese or cream cheese)
1 pint fresh cherry tomatoes, washed
1-2 heads fresh broccoli, washed and trimmed
1 -2 fresh whole avocado
1-2 cups Celery Ranch Dressing
sunflower seeds or other nut
sea salt and fresh cracked pepper
Instructions
Prep Salad Bar Ingredients
Prepare tofu.
Chop or rip salad greens into bite size pieces.
Using fork, crumble cheese into small pieces (or grate a shreddable cheese).
Chop or break broccoli trees into small bite size pieces.
Remove pit from avocado. Slice into strips or cubes.
Prepare dressing.
Salad Bar Assembly
Slice tofu and place in serving bowl / plate, with serving fork.
Arrange greens and spinach into large serving bowls with serving forks / tongs.
Add crumbled / grated cheese to small bowls, with small serving spoon.
Set cherry tomatoes in serving container with small serving spoon / fork.
Add broccoli pieces to serving bowls with serving utensil.
Leave sliced / cubed avocado in "shell" on a serving plate, or remove from "shells" and transfer to serving plate, with serving utensil.
Pour dressing into at least two pouring vessels, sitting on a plate to catch drips.
Pour sunflower seeds / nuts into small bowls, with small serving spoons.
Set out salt and pepper grinders / shakers.
Stack plates, napkins, and forks on one end of salad bar.
Single Salad Assembly
Layer spinach and spring mix greens in bowl.
Top with remaining ingredients and dressing.
Enjoy immediately!
Nutrition Information:
Yield:
12
Serving Size:
1
Amount Per Serving: Calories: 304Total Fat: 7gCholesterol: 10mgSodium: 171mgCarbohydrates: 9gFiber: 14gSugar: 6gProtein: 18g

nutrition calculations results vary by calculator, are for informational purposes only, and are not intended to replace medical advice or treatment.



about Kristina: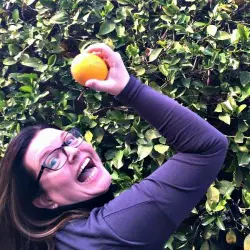 Kristina is spabettie! She found cooking at an early age, and created spabettie in 2010 to share vegan recipes. Kristina turned her culinary training into sharing vibrant vegan food! Read more...
spabettie / Kristina Sloggett is a participant in the Amazon Services LLC Associates Program, an affiliate advertising program designed to provide a means for sites to earn advertising fees by advertising and linking to Amazon.com.