Crispy air fried tofu can be air fried or baked. This light and crispy southern fried tofu is similar to a certain Louisville flavor. Oil and gluten free, so versatile!
recipe originally published September 20, 2017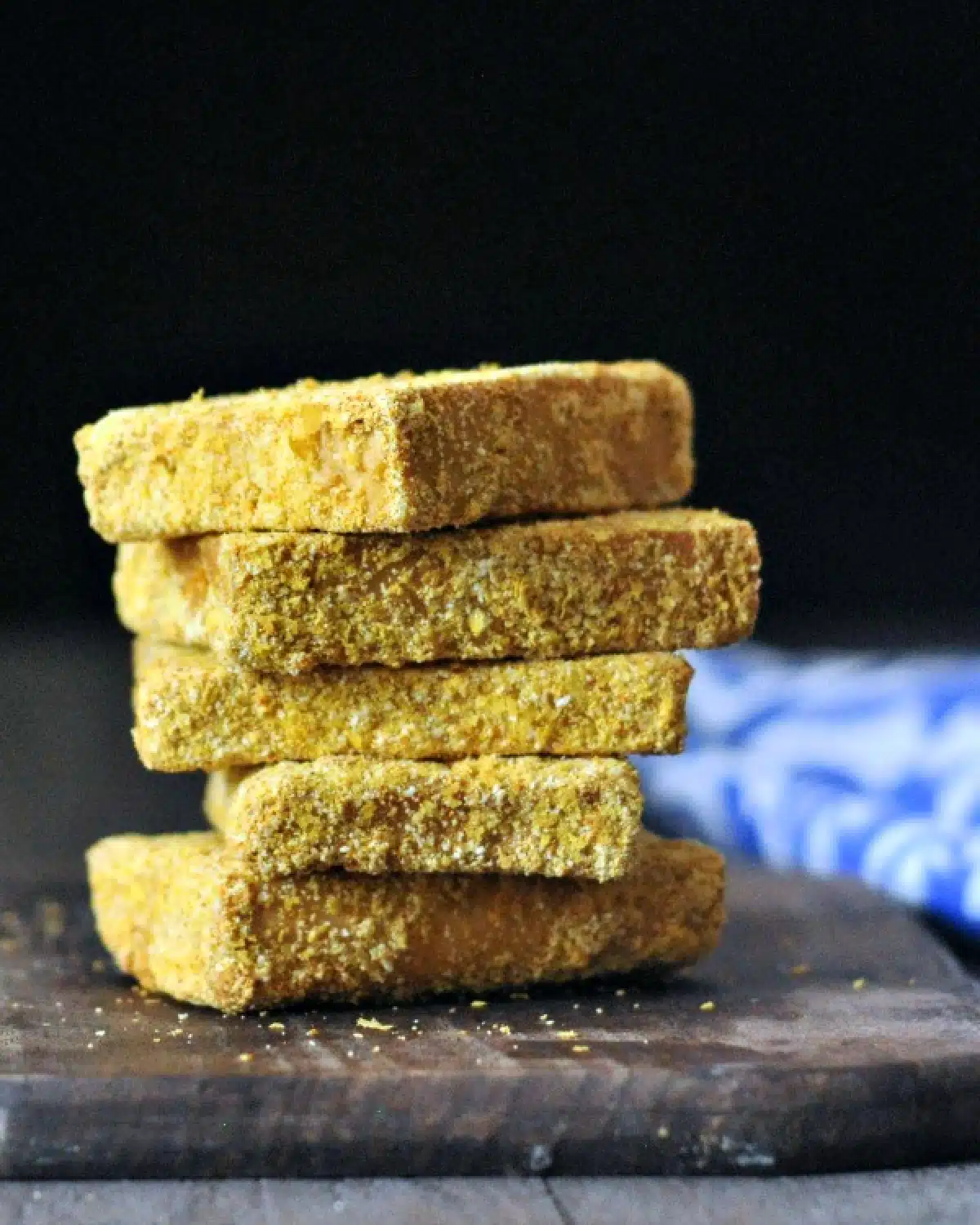 Crispy Southern Fried Tofu
Tofu lovers, assemble!
Today's recipe is one that's been rollin' around in my head for a while now - I wanted to make a tofu that at least kinda sort of resembled the flavor of a certain fried chicken from Kentucky.
You know which I mean?
I think I ate a piece when I was five. Actually, knowing my aversion to all meats but specifically poultry, even from a very young age - I think I ate a piece of the fried coating when I was five. Because honestly, all I can really remember about that place is the mashed potatoes, the shorty ears of corn, and that chicken coating flavor. A bunch of herbs and spices, right?
Anyway - the first few tries were ... okay. I ate a lot of interesting tofu this spring. Then I completely changed ingredients and approach, and this is the glorious result.
I proceeded to make this all summer long. Over and over, exactly the same. Rave reviews from my husband and several others, so here we are. I hope you like it as much as we do.
This recipe works great in the oven, but if you have an air fryer, it is my preferred method - quick and easy! I have provided instructions for both cooking methods.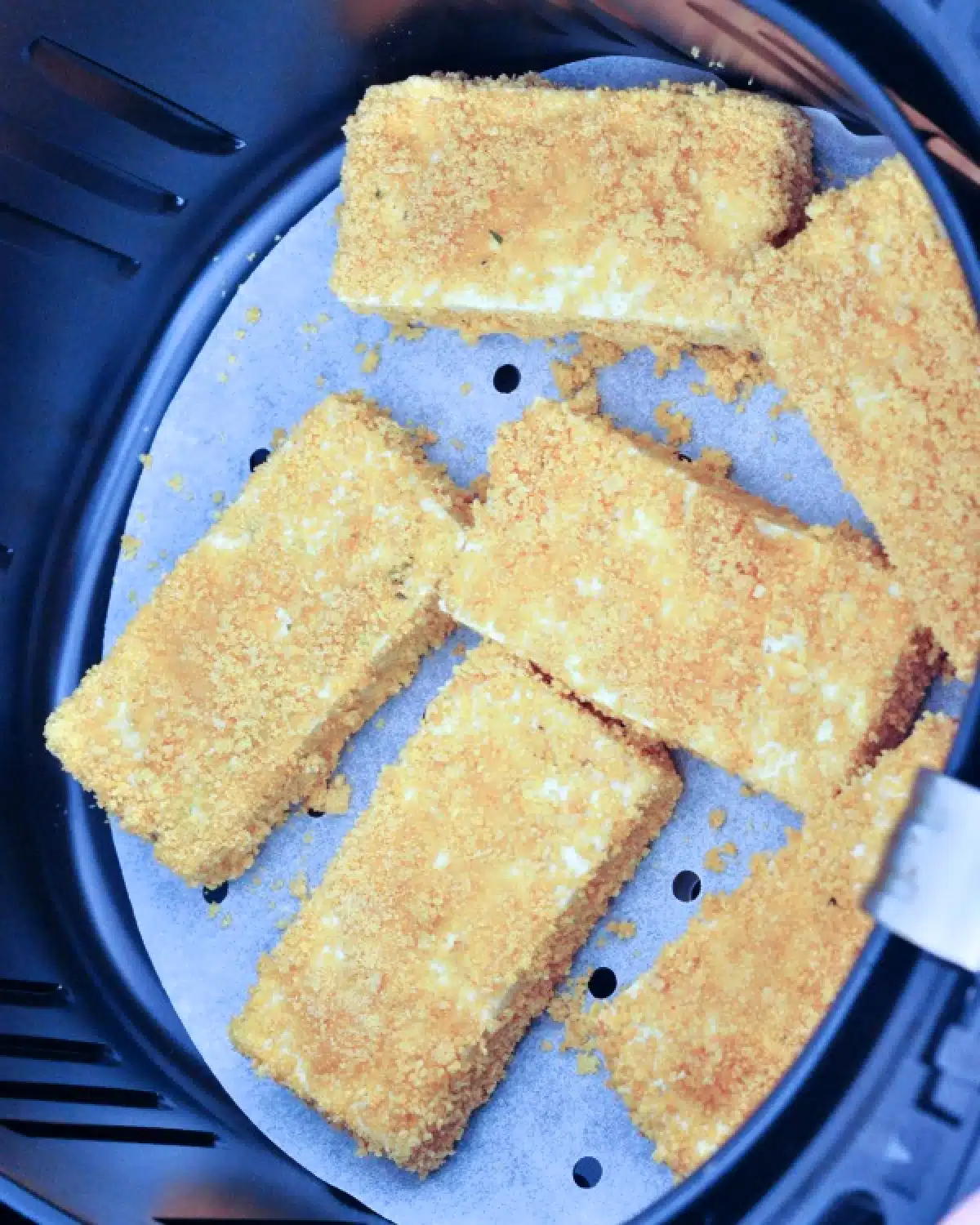 Versatile Recipe - Air Fryer or Baked
This Crispy Southern Fried Tofu is so versatile. We make sandwiches and wraps with it, and another recipe I will be sharing soon. Super crispy, but with a soft pillowy middle.
and you know what? I stopped pressing the tofu. I drain the container, let the tofu sit in there for a bit. Another tablespoon or two of liquid drains from the tofu, and that's it! I pat it dry, then slice and place straight into the marinade! I think the lack of pressing may contribute to the fluffy pillowy texture inside.
Read the whole recipe before beginning - there is marinating time. I usually do this the night before, it doesn't take long to prep, and has the whole night and next morning to marinate.
Served simply at a picnic in the sunshine: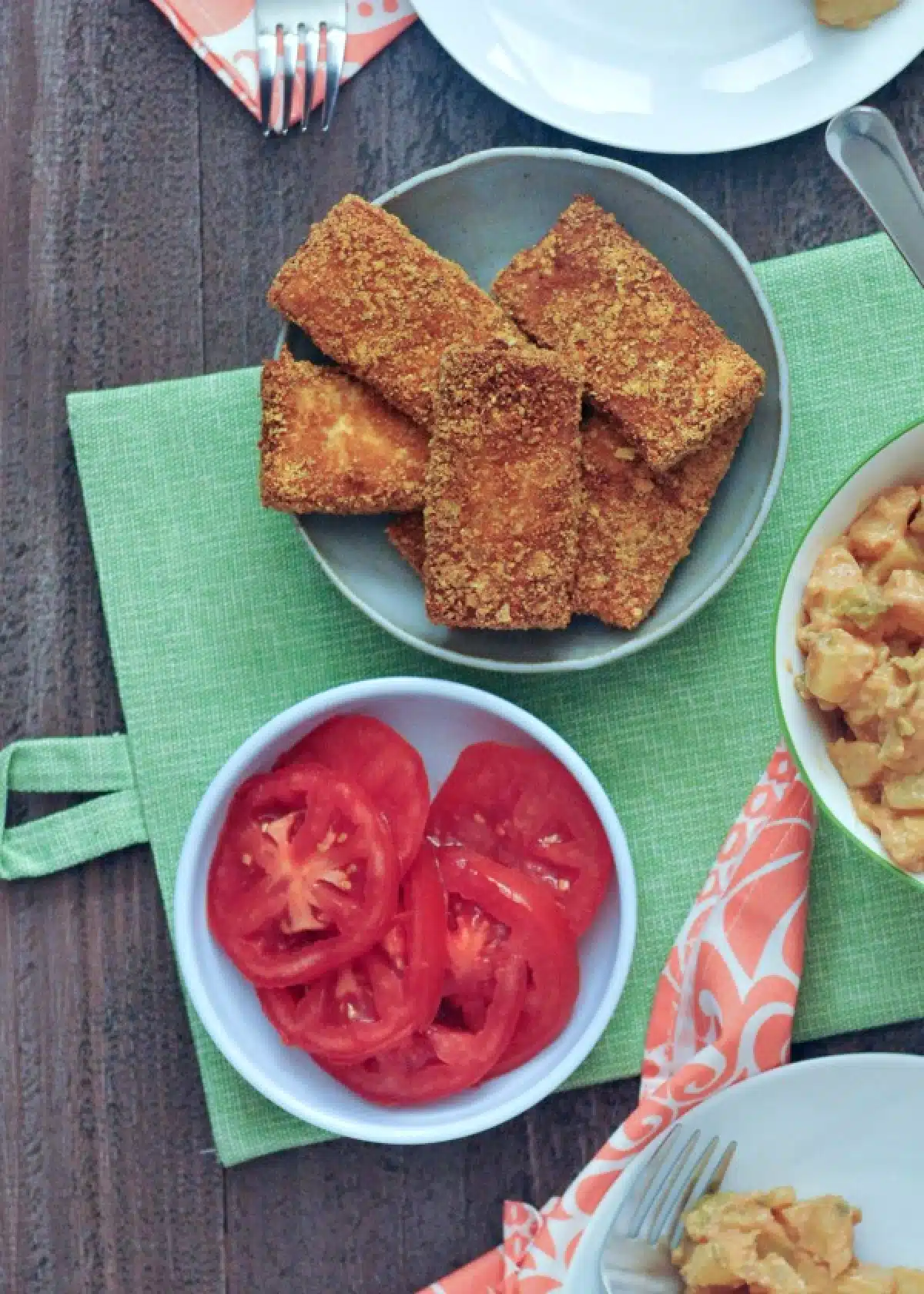 or with a coat of Easy Gluten Free Vegan BBQ Sauce: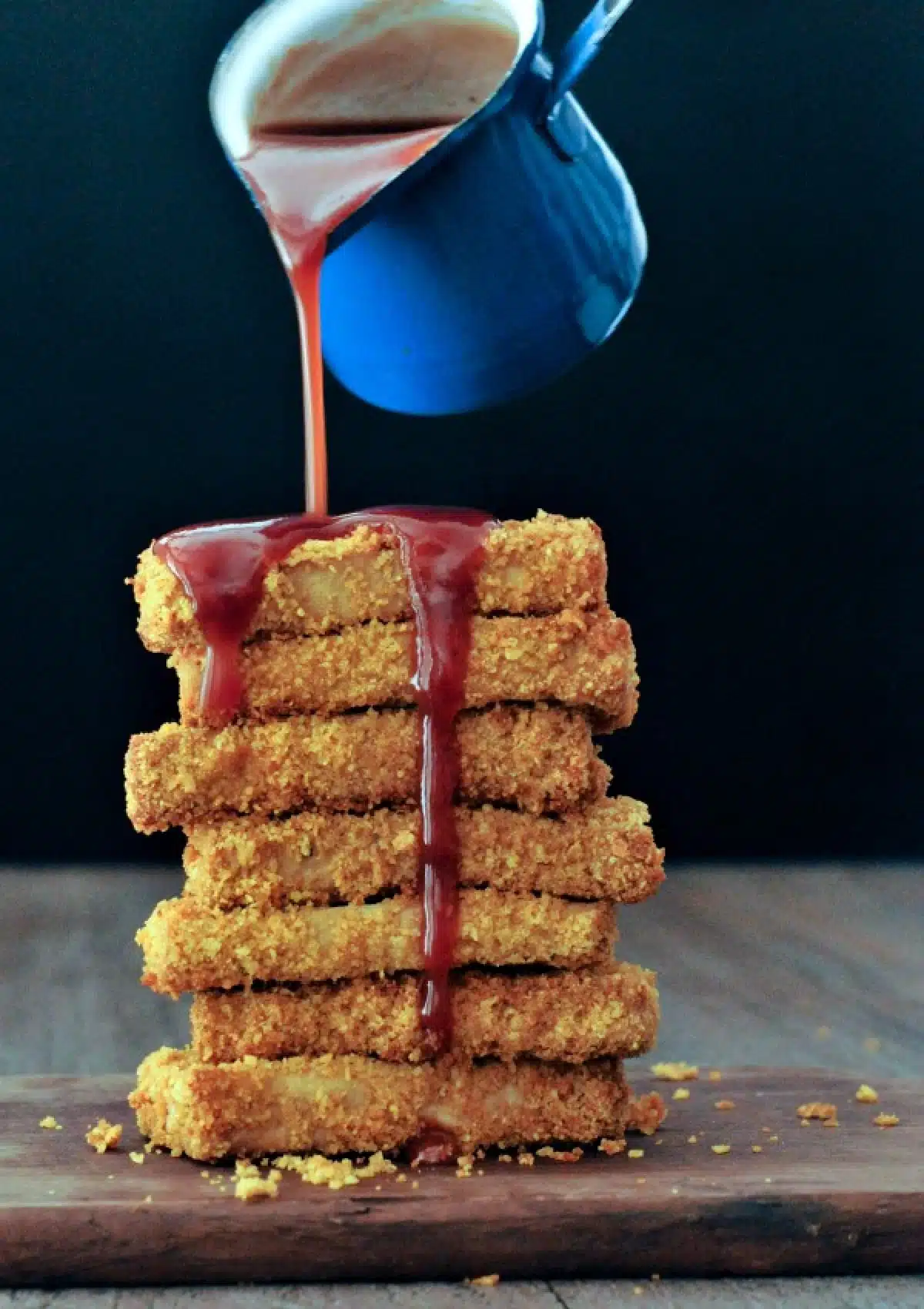 So yum! It is a quick and easy favorite!
Did you make this crispy tofu recipe?
Follow spabettie on Instagram and tag us with #spabettie
We love seeing your recipe photos and remakes - thank you!
Yield: 6 pieces / 3 servings
Crispy Air Fried Tofu
This light and crispy tofu is similar to a certain Louisville flavor. Oil and gluten free, so versatile!
Total Time
2 hours
20 minutes
Instructions
Remove tofu from package, drain water. Allow tofu to sit in container several minutes, to continue draining.
Do not press tofu. After resting several minutes, pat tofu dry with a paper towel or towel.
Slice tofu into six slabs (or cubes if you prefer).
In shallow bowl / container, combine broth and tamari. Add tofu to broth, arranging in single layer to evenly marinate. Cover and place in refrigerator, several hours to overnight.
Preheat oven to 350 °F if using oven. Line a baking sheet with parchment.
If using air fryer, prep as normal. I lined the basket with this liner to prevent sticking.
Using a blender, food processor, or baggie with a mallet, crush corn flakes to a fine powdery crumb.
In a shallow dish, whisk together corn flake crumb, nutritional yeast, onion powder, celery salt, smoked paprika and salt.
Take a slab of tofu directly from the marinade and press into crumb, coating each side. Place on lined baking sheet or lined fryer basket. Repeat with each tofu slab.
In oven, bake at 350 °F for 10 minutes. Remove from oven, flip tofu to other side, return to oven and bake another 8-10 minutes, until golden and crispy.
In air fryer, set to 350 °F and fry for 7 minutes. Remove, flip tofu to other side, return to fryer for another 7 minutes at 350 °F.
Notes
dairy, egg, oil, and gluten free, vegan
Recommended Products
As an Amazon Associate and member of other affiliate programs, I earn from qualifying purchases.
Nutrition Information:
Yield:
3
Serving Size:
2 pieces
Amount Per Serving:
Calories:

167
Total Fat:

2g
Saturated Fat:

5g
Trans Fat:

0g
Unsaturated Fat:

1g
Cholesterol:

0mg
Sodium:

324mg
Carbohydrates:

13g
Net Carbohydrates:

9g
Fiber:

4g
Sugar:

0g
Protein:

15g
nutrition calculations results vary by calculator, are for informational purposes only, and are not intended to replace medical advice or treatment.
about Kristina: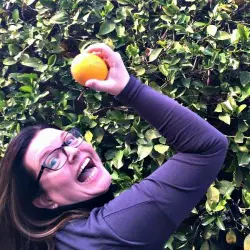 Kristina is spabettie! She found cooking at an early age, and created spabettie in 2010 to share vegan recipes. Kristina turned her culinary training into sharing vibrant vegan food! Read more...
spabettie / Kristina Sloggett is a participant in the Amazon Services LLC Associates Program, an affiliate advertising program designed to provide a means for sites to earn advertising fees by advertising and linking to Amazon.com.